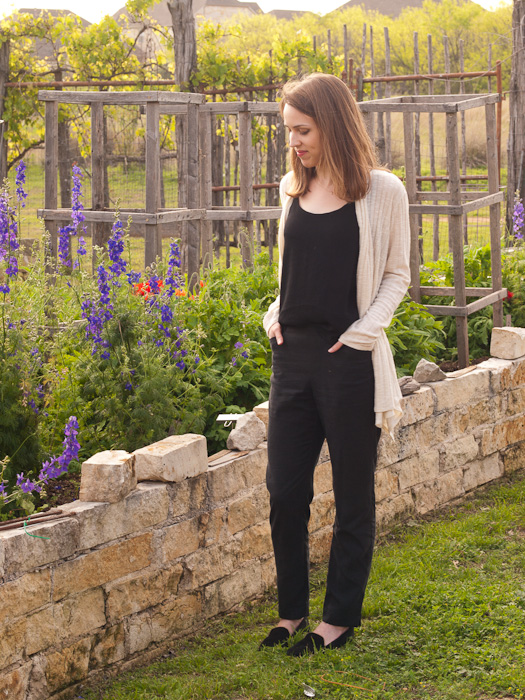 These are three of my favorite pieces that I've made recently! They may be "boring basics", but I love them and wear them constantly.
First, the pants. These are the Sadie Pant by Style Arc, a pull-on pant with a flat front and a tapered leg with a hem split. I'd never made or worn this style of pant before, but I was looking for an alternative to my usual jeans, and I'd heard that Style Arc had a good pants block.
And it turns out they do! These pants fit me really well with no alterations. I was afraid the elastic-waist style would mean that they were baggy, but they're actually quite slim-fitting. My measurements put me squarely in the size 6 and I have to do a little wiggle to get them over my hips, so keep that in mind if you're grading between sizes!
I should also note that the length was perfect on me and I'm 5'4″, so taller ladies may want to lengthen them.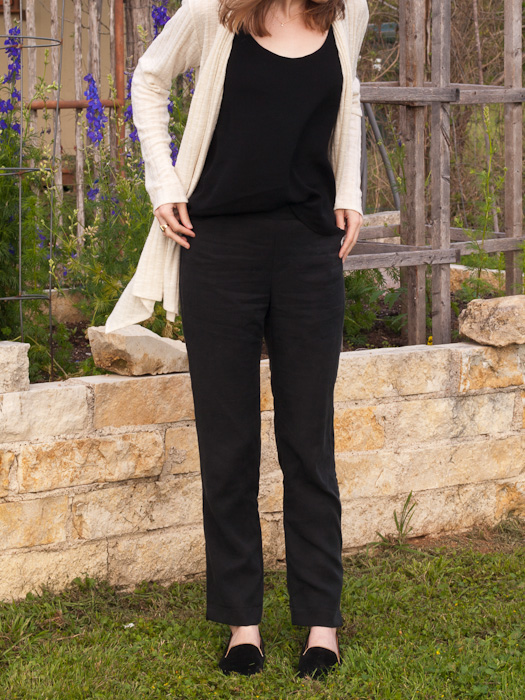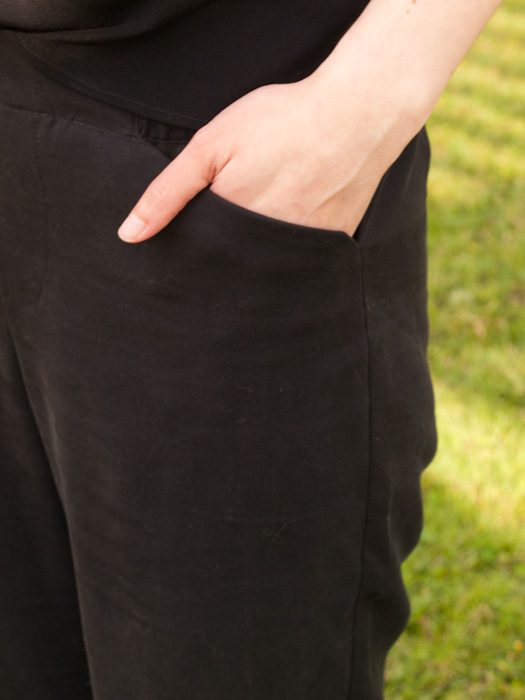 As with all Style Arc patterns, the instructions are very minimal. I had a little trouble understanding how the pockets are supposed to be formed, but I think I figured it out in the end.
Somehow I missed that the phrase "the elastic is a feature" in the description meant that while the front is flat, the elastic is supposed to be exposed around the sides and back. That wasn't the look I was going for, so I had to do a bit of finagling to create a fabric cover for the elastic and sew it in place. In hindsight, I should have just lengthened the leg pieces at the top and folded them over to create the waistband.
The fabric is an absolutely heavenly tencel twill from Blackbird Fabrics. If it wasn't so spendy I'd make all my clothes out of this stuff! It's the perfect weight and drape for these pants and I love the feel of it.
So construction niggles aside, these pants are definitely a win! They're super comfortable, but they still look nice enough to wear to work or pretty much any other occasion.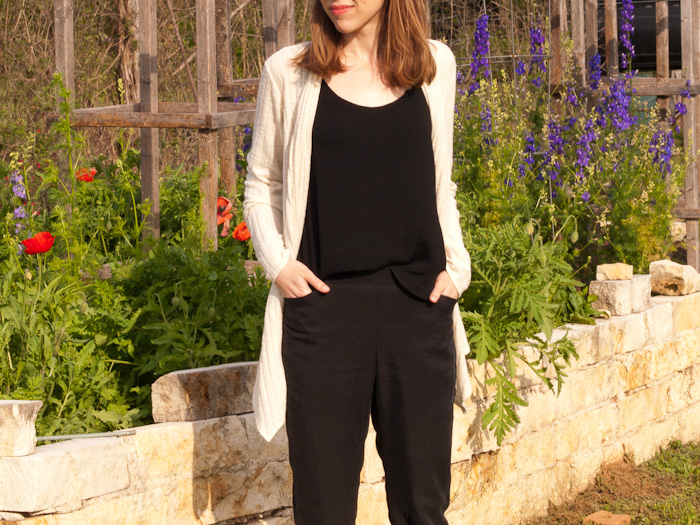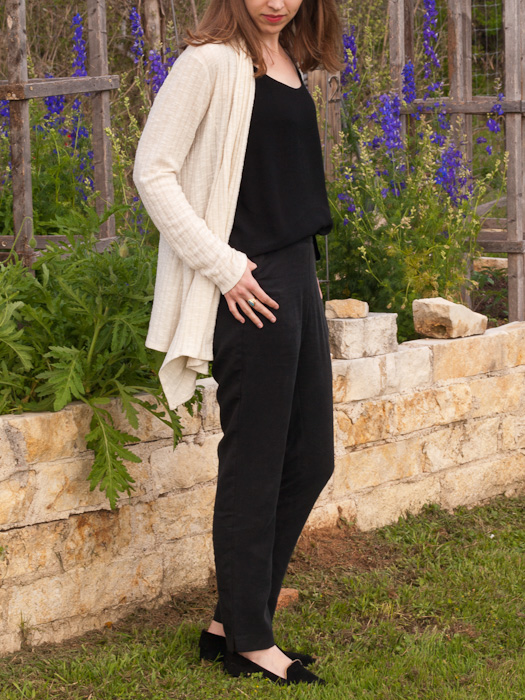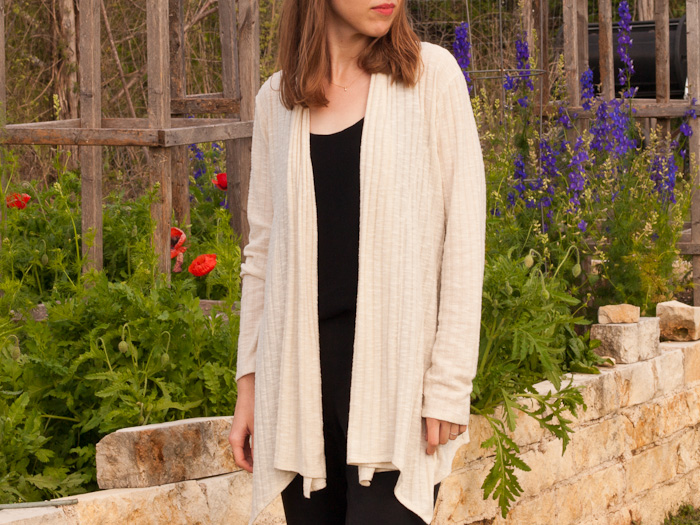 Next is the Swoon Scarf Neck Cardigan. This is a free pattern that I downloaded years ago but have just now gotten around to making up. I really like the design and it was easy to put together – what took the longest was definitely hemming all those edges.
I used a ribbed sweater knit from Blackbird Fabrics (sold out), and it's perfectly cozy – just what a cardigan should be!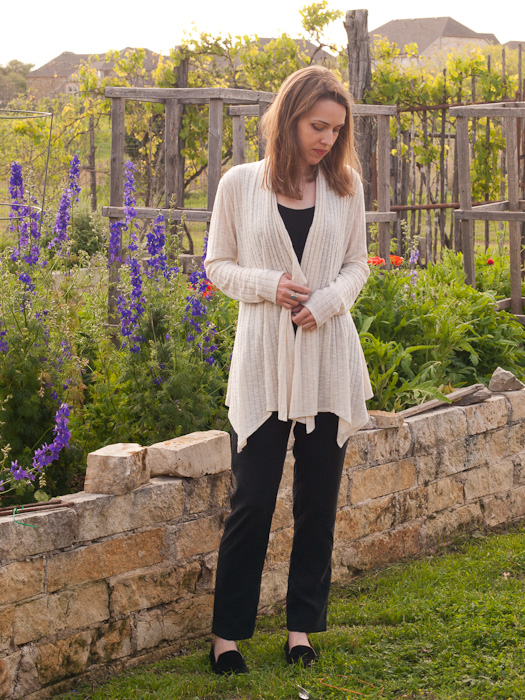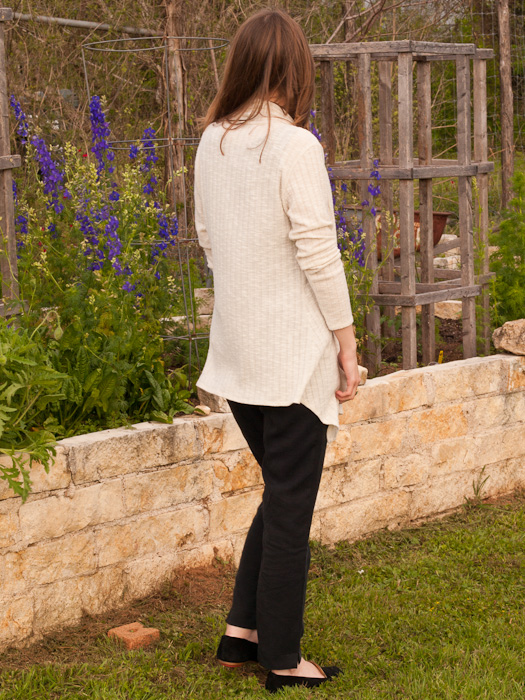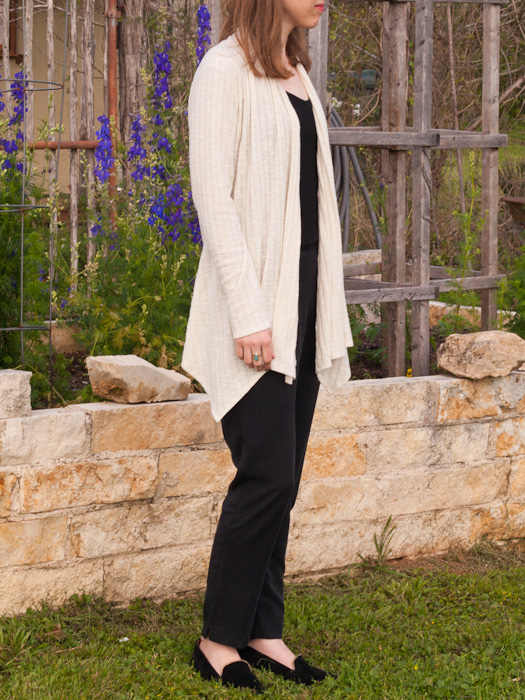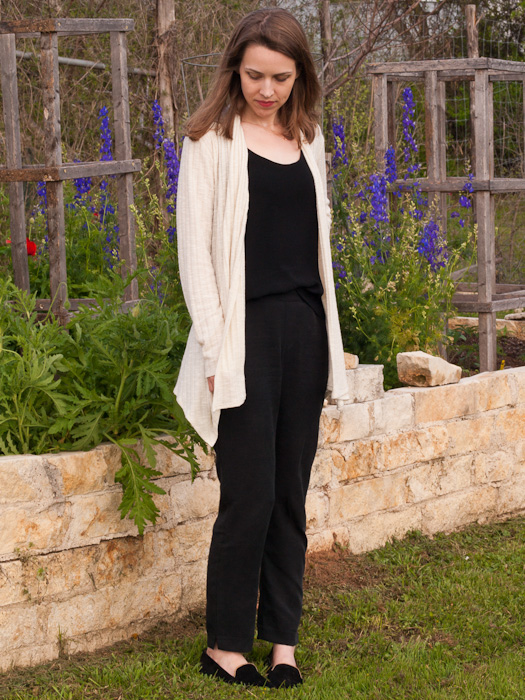 And last but not least is the Sew Over It Silk Cami. I've been needing a woven tank/camisole pattern for a while, but I could never decide which one to get. Joining the SOI PDF Club and getting to choose a pattern is what finally convinced me to try this one out.
I almost always have to make upper body fitting adjustments, so I made a muslin first. I ended up shortening it by 1/2″ above the bust and used a 3/4″ seam allowance when joining the straps. I also took 3″ off the bottom at the center front and back, blending to 1 3/4″ at the side seams (so the hem curve isn't as pronounced). So basically a lot of shortening all over!
The fabric I used is a really nice mid-weight rayon crepe from The Fabric Store – it feels very high-end.
The only other issue I had is that the facing pieces are a bit larger than the cami pieces. Maybe I'm missing something, or I made a mistake cutting the pattern out? I've already make a second version of this cami where I trimmed down the facing pieces to match, and they definitely lay inside nicer.
I like that the instructions give you a really nice finish with an all-in-one facing and French seams. I also like that there aren't any darts so it's quicker to sew. I'm really happy with the fit now, and I'll definitely be making more of these!
Hope you're having a lovely spring!
<3 Lindsay