I'm back with another post for the Perfect Pattern Parcel! I'd only planned on doing one, but after seeing all the super cute Prefontaine Shorts popping up around the blogosphere I had to make some of my own! The contrast bias trim and the curved overlapping hem totally won me over.
I wanted these to be comfy shorts for outdoorsy activities, so I thought linen would be perfect – light and cool for the summer. I was definitely inspired by Holli of Stitched's use of linen for her Prefontaine shorts as well as Kelli of True Bias's shibori summer concert tee from PPP #1. This was my first experiment with shibori dyeing as well as my first time working with linen.
I found the construction method for these shorts really interesting. I'd never thought of using jersey as bias binding before, but it works great and is nice and soft against your skin. The pockets are sewn directly to the front piece, rather than having a pocket bag. If these were dressier shorts I'd probably add one, but as-is they're fine for sports shorts.
The pattern comes with two inseam options – 5″ and 1.5″. However, I knew from making shorts in the past that my preferred inseam length is 3″, so using the instructions for shortening to 1.5″, I shortened to 3″ instead. It's pretty simple – you just have to draw your own shortening line rather than using the included one. I also overlapped the sides by about an inch more than instructed on both sides in order to get a slimmer fit.
I left off the back pockets, mainly out of laziness, but also because I didn't think I'd use them.
I've been curious about shibori dyeing for a while, and I thought this would be a fun pattern to try it out on. I used Dylon dye in ocean blue and this tutorial to dye a piece of linen and a piece of jersey. I dyed the piece of linen using the accordion method, and the jersey (for a future t-shirt) using the pleat and bind method. The great thing about Dylon dye is you can use it in the sink with warm water, rather than having to put it in your washing machine and clean it out later.
The whole process was quite fun, and cleaner than expected! My fabric didn't end up quite as dark as I wanted it to, which may be because I didn't mix the dye thoroughly enough (I found a lot of dye sediment caught in the drain stopper afterwards).
When my husband and I went on a mini-hike trying to find a good photo shoot location for my Bombshell Swimsuit, I realized I didn't have any "exercise" clothes. I do pilates at home in Forever 21 bike shorts and old t-shirts cut into tanks, but I don't have any "real" fitness wear. These shorts will help fill that gap, and I'm also planning on making Papercut's new patterns: the Pneuma bra/tank and Anima sweatpants.
Perfect Pattern Parcel #3 is only available through THIS Friday. That means you have two more days to decide! And then, yes, the blog tour will finally be over ;)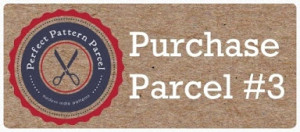 I also wanted to add a quick note about Me-Made-May. About halfway through the month I found that almost all my outfits were repeats, so I didn't bother to re-document them. I did, however, stick with my pledge of wearing at least one me-made garment a day. In fact, I've continued to wear at least one me-made garment a day ever since. Handmade clothing constitutes enough of my wardrobe now that I actually find it hard not to wear something I've made every day. And it helps that all of my favorites pieces are things I made myself. I haven't bought any new clothing (minus socks and camis) since December and last time I walked into a mall I was so thankful I didn't have to do my shopping there anymore. I'll take a fabric store over a mall any day! I'm actually planning on going the rest of the year without buying any RTW garments… wish me luck!
<3 Lindsay
I received the patterns from PPP#3 free of charge in exchange for being part of the blog tour, but, as always, all of my enthusiasm is genuine, and all opinions are my own.