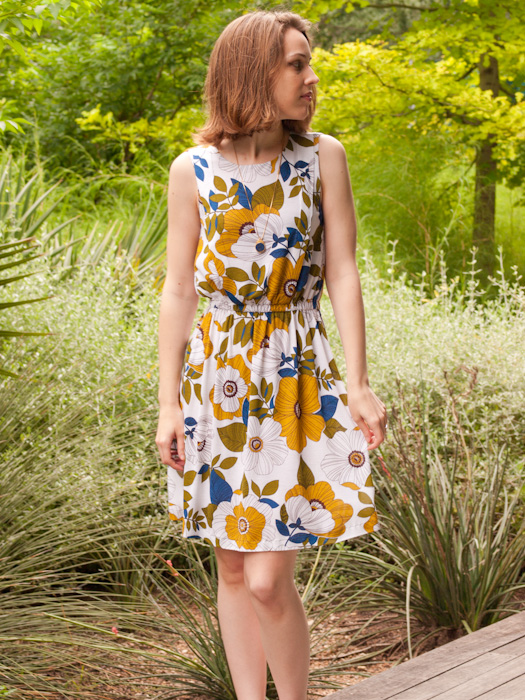 My love affair with Named Patterns continues… This time I made the Leini Dress from their Summer 2014 collection.
The fabric is a cotton jersey from Mood (sold out, but there's another colorway available here). It's not my usual style, but for some reason I was really drawn to this bold floral print. I think it has to do with the colors – navy, mustard, and olive green are some of my favorites to wear, so I think they made the print seem more approachable. And I'm really glad I decided to buy it, because I've grown to love this fabric (and dress) a lot!
I thought the print would work best with a fairly simple design, so I decided on the Leini Dress from Named. The elastic waist makes it easy to wear, but the bodice pleats and clean finish around the neckline and armholes make it a bit more interesting and polished.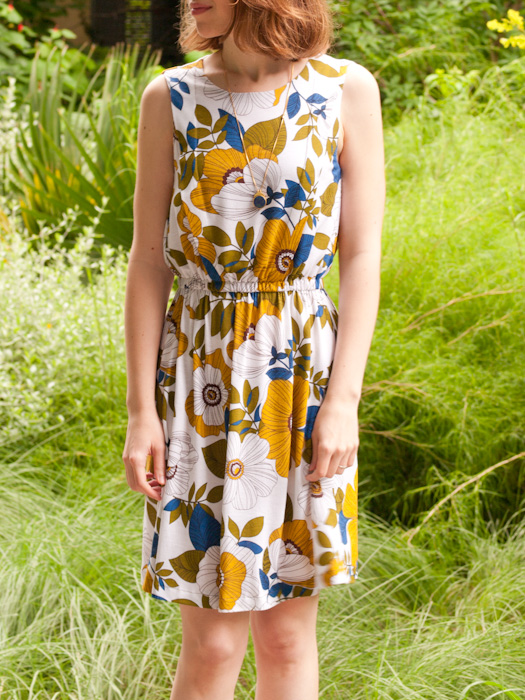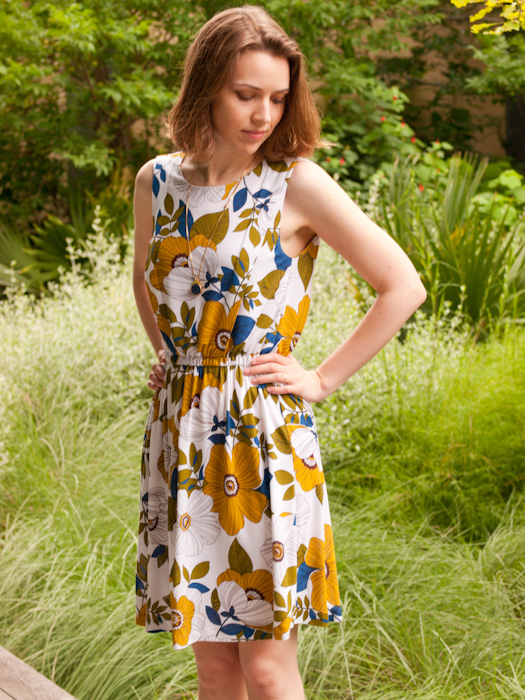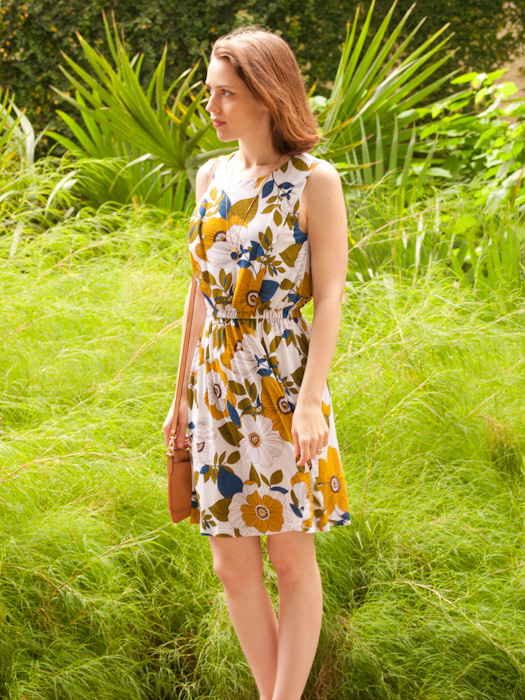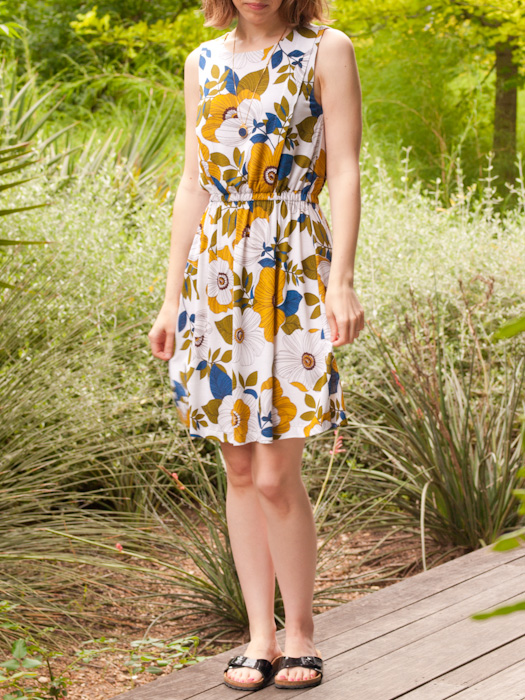 This fabric is just a touch see-through, so I had trouble deciding on how to line the bodice. I was going to use self fabric, but the outlines of the flowers were visible from the right side. I also didn't have any white jersey in my stash, and any other color would have cast a tint. Finally I hit upon using some light beige mesh I have in my stash for bra-making. It's nice and lightweight, and it allowed me to get the clean finish I wanted.
The pattern says it works with either knits or wovens, although all the other Leinis I've seen seem to be wovens. I think it worked really well in jersey, although I'd also like to make one in something like rayon challis. I used a combination of serging, zig-zag stitching, and straight stitching, based on whatever seemed appropriate at each step.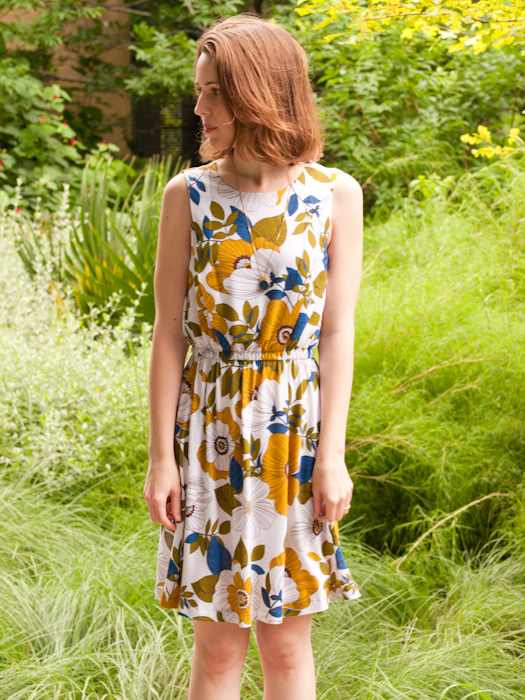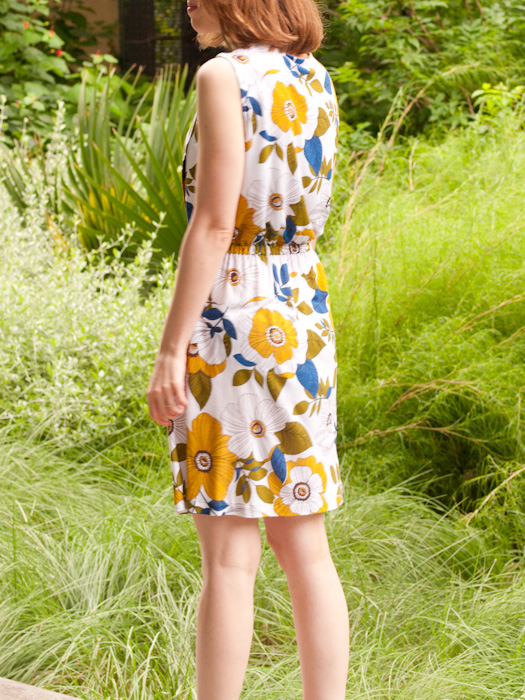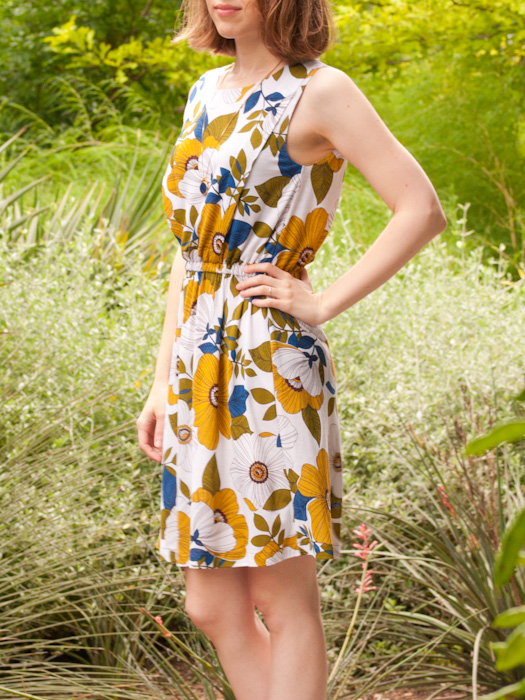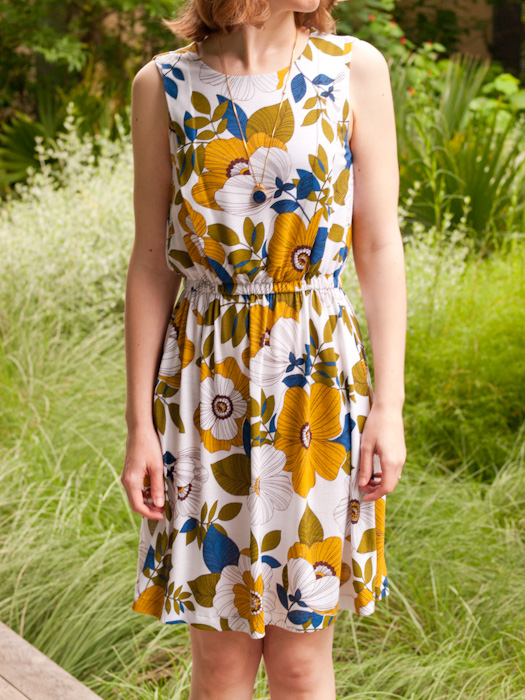 I made my usual size 34 and the only adjustment I made was to shorten the skirt by a few inches. I think the fit is meant to be a bit loose through the bodice, so you could probably size down if you wanted to, especially if you're using knit fabric. The only change I'd make next time is to raise the armhole just a bit – maybe 3/8″. Overall, I think this is a great basic pattern and would work well for anything from a casual day dress to a fancier silk number.
What's your favorite summer dress pattern?
<3 Lindsay