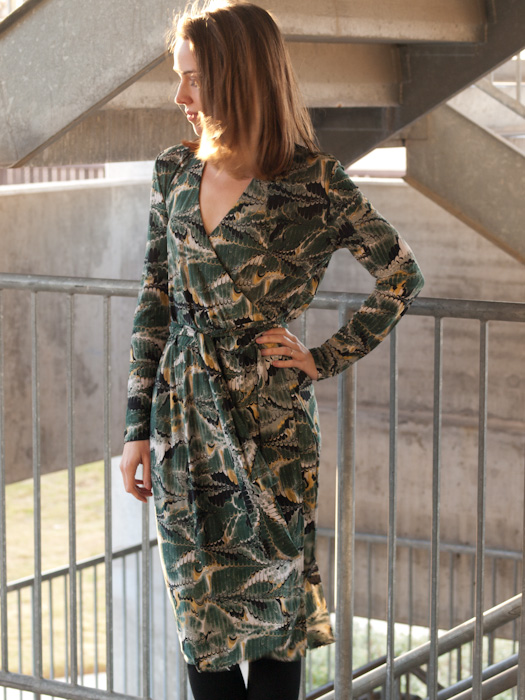 I started this dress back in November intending to wear it to Thanksgiving. With the amount of time I left myself that wasn't going to happen, so I didn't stress it and instead gave myself the new deadline of Dec. 23 so I could wear it out to Christmas tea with my family.
This is the Olivia Wrap Dress from Named – "a classic wrap dress with a slightly tulip-shaped skirt".
I'm sure you all know by now that I'm a big fan of Named and this pattern is no exception. November was a while ago so the construction details are kind of fuzzy, but I remember everything being pretty straightforward. The pattern is well designed and I love that there's no neckline gaping or skirt flashing in the wind!
This dress was kind of a wearable muslin and there are a couple things I'd change next time. The bodice is a bit roomy all over, so I think I need to both shorten it and do an SBA. I'd also probably eliminate the in-seam pockets. They're nice to have, but I don't like the way they tend to flop around and mess with the silhouette of the skirt.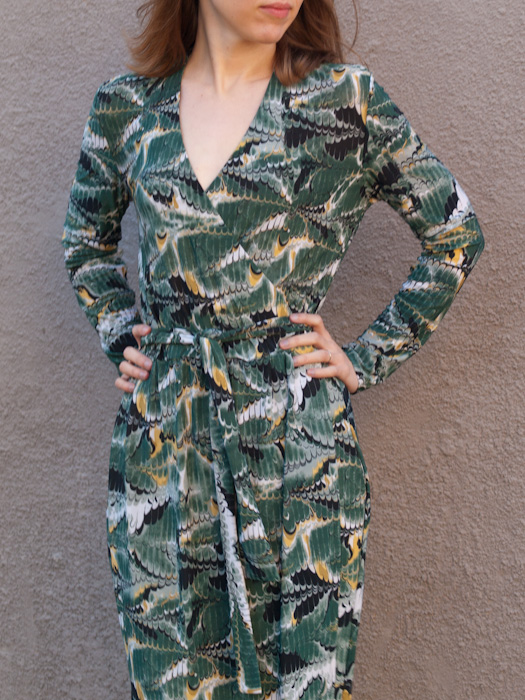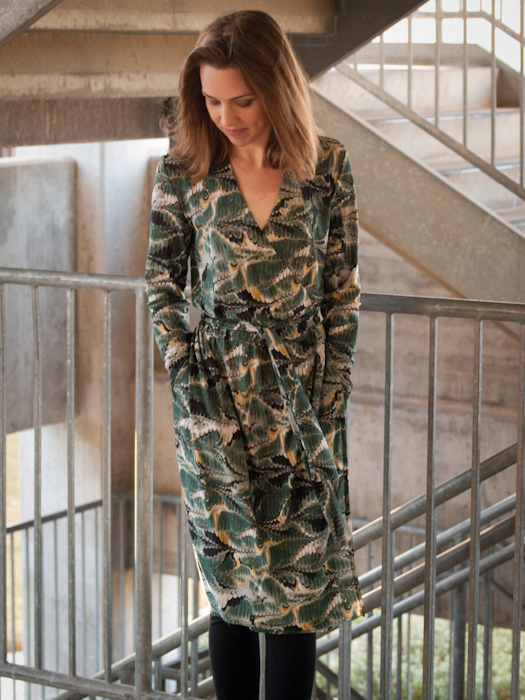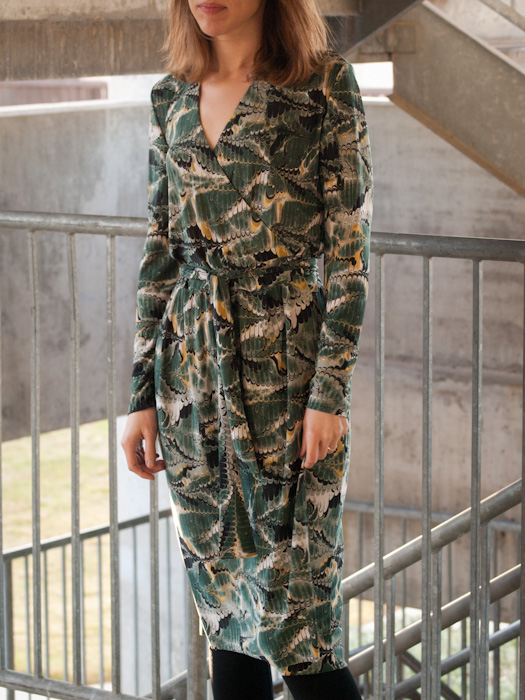 I shortened the skirt by a whopping 5″ before I cut it out because I know Named patterns run long on me (I'm 5'4″), and I thought I would probably want it to end above the knee. Actually I ended up deciding to leave the length just below the knee as the pattern intended – I think it looks a bit dressier that way. There wasn't enough length left to do a hem (and I'm lazy) so I just left it raw!
The fabric is "Silky Stretch ITY Jersey Knit Asian Scallop" from fabric.com (no longer on their site). It's a polyester fabric, which I don't normally go for, but I'd read that it works well for wrap dresses (more fluid, less robe-like). I may have to reconsider polyester because I do really like this fabric. It's silky smooth, has a great drape, and doesn't wrinkle at all – great for traveling!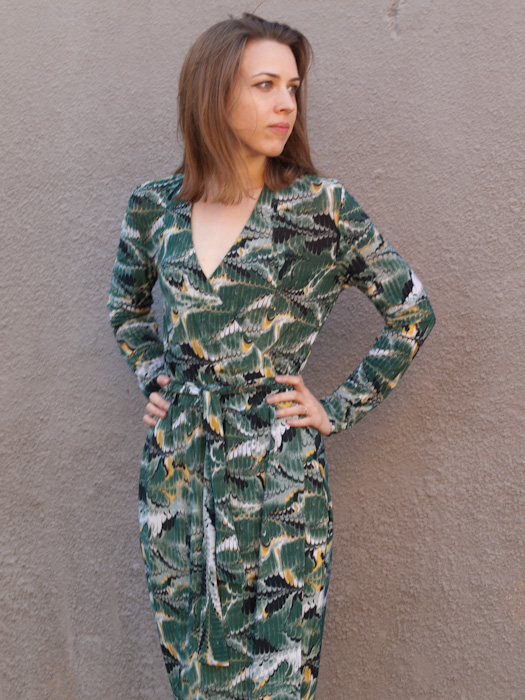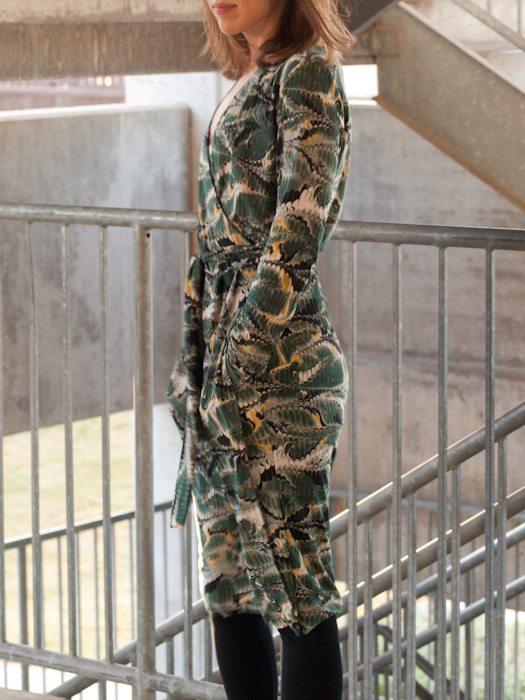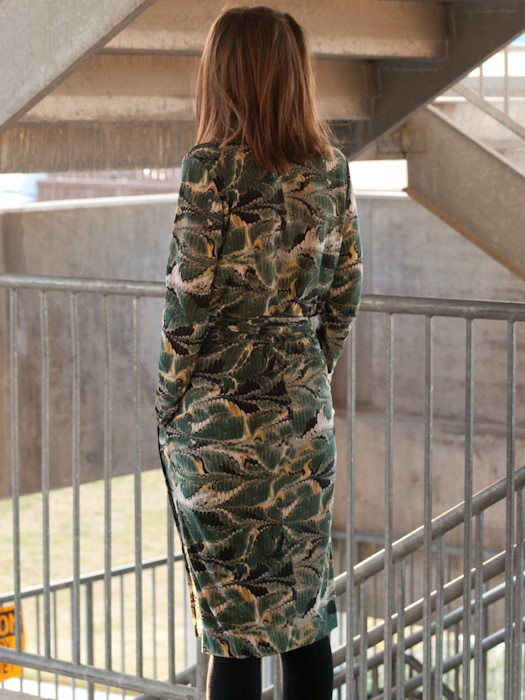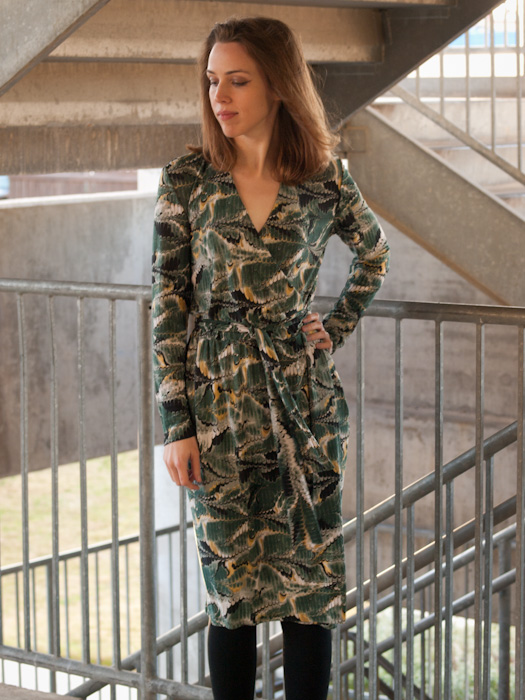 And with that I'm caught up with last year's blogging – at least of the more interesting things! In January I made my dad a shirt and I'm almost done with a pair of high-waisted Ginger jeans for myself. It never really got cold here this winter (it was in the 80s last weekend!) so I'm already planning my spring wardrobe. Anyone else dreaming of sundresses already?
<3 Lindsay