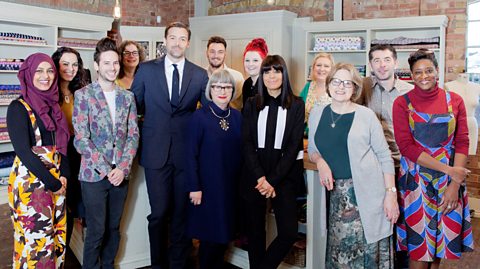 Wondering how you can watch the Great British Sewing Bee if you're not in the UK? I've seen a lot of comments on Instagram from people in other countries wanting to get in on the fun. It's totally possible (I found it in two minutes last night) as long as you're a bit tech-savvy and don't mind breaking the rules. I should state up front that this is murky legal territory, but the fact is that there's no legal way to watch GBSB in the US or most other countries. As such, I'm not going to provide direct links, but I made the following tutorial in case you want to search on your own.
*UPDATE* If you're just looking to watch the current season, you can now find them on YouTube right here. Try out Methods 1 or 4 if you want to watch past seasons.
Method 1:
Step 1: INSTALL AD BLOCKER. I can't emphasize this enough. If you don't currently have an ad blocker installed on your browser DO NOT attempt the following steps. I firmly believe everyone should have an ad blocker installed anyway. It's super easy to do – just google search "ad blocker [your browser (safari, chrome, etc.)]" and click on the first one that comes up. It's free, only takes a minute, and you'll never have to watch an ad on youtube again!
If you don't have ad blocker installed and turned on then you're going to see tons of ads and pop-ups, likely lewd, possibly loud, during the following steps. You'll also probably get a virus. Be careful out there.
Step 2: Go to www.thewatchseries.to and do a search for the Great British Sewing Bee. The show page should come up, which you can then click on to see links to episodes from the past couple seasons. Episodes are usually uploaded within a few hours of airing.
Step 3: Click on the episode you want to see and you'll see a long list of links. It's up to you which link to click on – they're all generally about the same, although sometimes links are broken. This is where you really need to make sure you have ad blocker on, because as soon as you click you'll be taken to an external site that'll likely be pretty ad-heavy. Make sure you click the real "play" or "watch" button – some sites may try to trick you with a fake one.
And that's it! The episode should load on the page and you can play it right there – no need to download it first.
Note: there are similar sites to thewatchseries.to out there – if you do a google search for "great british sewing bee streaming" or something like that you may find a site you like better.
Method 2:
You can install a plug-in in your browser that makes it look like your IP address is coming from the UK. Then you'll be able to watch the GBSB episodes on the BBC iPlayer. This won't work, however, if you're wanting to watch episodes from previous seasons, as they only stay up on the iPlayer for 30 days.
This article is a few years old, but it explains some of your options: http://www.makeuseof.com/tag/access-bbc-iplayer-online-video-internationally-free/
I've used expat shield and similar programs with limited success. I think TunnelBear might be a good one, but don't quote me on that. It's been a couple years since I've tried this method, so I can't really recommend any particular course of action here – just know it's an option if you're interested!
Method 3:
YouTube. It looks like there are a few episodes from the first season up on YouTube now, but nothing more recent. There are always a lot of fake videos on YouTube – make sure not to click a link from a video description that promises to take you to the episode! I'm not really sure why the BBC takes down GBSB episodes when they allow plenty of series to stay up… I always watch QI and University Challenge on YouTube.
*UPDATE* Some kind soul has been uploading the current season to YouTube: find it here.
Method 4:
BitTorrent. Definitely more complicated if you're not familiar with it, and more obviously illegal of course. I won't explain it here but you can look it up if you're interested.
I hope that was helpful! Please note that I'm just trying to spread the sewing love here, and I'm not advocating doing anything like this for shows you're able to watch legally in your country. I'm not interested in hearing any moral arguments in the comment section. I'm sure it would be helpful to other readers, though, if you share which method works for you or if you know of another way to watch it which I haven't mentioned!
<3 Lindsay