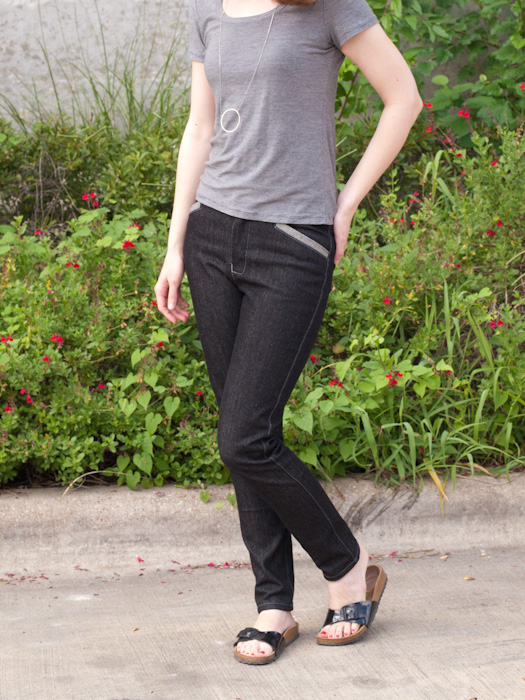 A while back I was contacted by Deer & Doe to see if I wanted to review their new jeans pattern, Safran. Being a fan of both the company and jeans in general, of course I couldn't say no!
I had some black Cone Mills denim from Threadbare Fabrics in my stash, and this seemed like the perfect pattern to use it with. First I made a shorts-length muslin out of denim scraps from previous pairs of jeans. I determined the only major alteration I needed was a swayback adjustment, so I went ahead and cut out the good stuff.
Now, I should tell you that I'm not the biggest fan of high-waisted pants. Part of the reason I made a muslin was to test out how comfortable the high waist would be. I made a pair of high-waisted Gingers last winter, and while I like them, they definitely don't get worn as much as my lower-waisted pairs. The Safran muslin seemed more comfortable than the Gingers at the time, but there'll be more to this story…
I also compared the Safran pattern pieces to the Ginger pattern pieces, and you can tell they're drafted from a very different block. For what it's worth, this is the jeans pattern I've had to make the fewest adjustments to to get a good fit.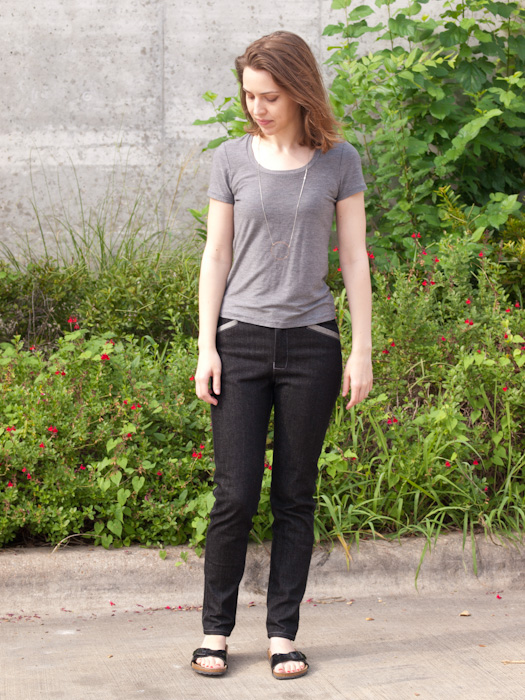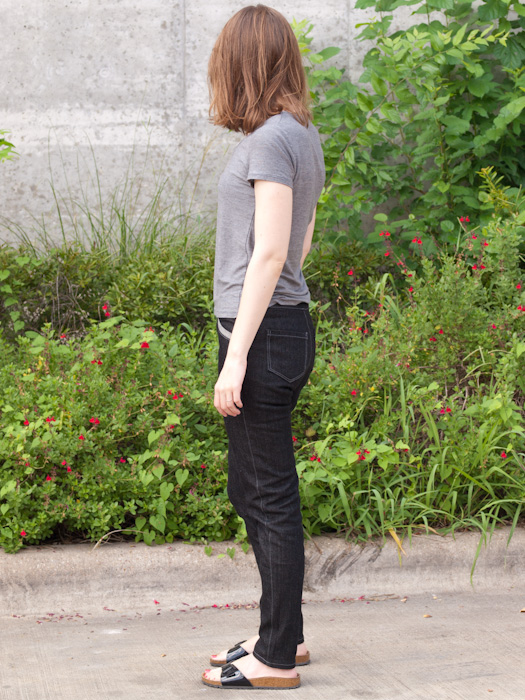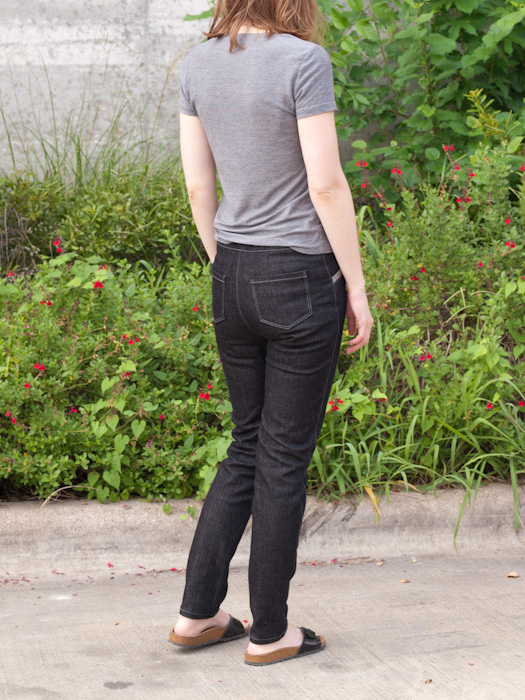 Construction was really easy and straight-forward due to a combination of great instructions and my prior jeans-making experience. My only deviation from the instructions was to use Heather's fly tutorial, just because it's my tried-and-true method. I think the only tricky part is making sure the welt pockets line up correctly. I used the wrong side of the denim for my welts, like I did on my pairs of Jamie jeans.
When sewing the crotch seam I varied the seam allowance from 7/8″ at the upper rear (for a swayback adjustment) to the normal 5/8, to just 3/8″ around the crotch (because when I baste-fitted the legs it was a little tight in this area). I also shortened the legs by an inch or so.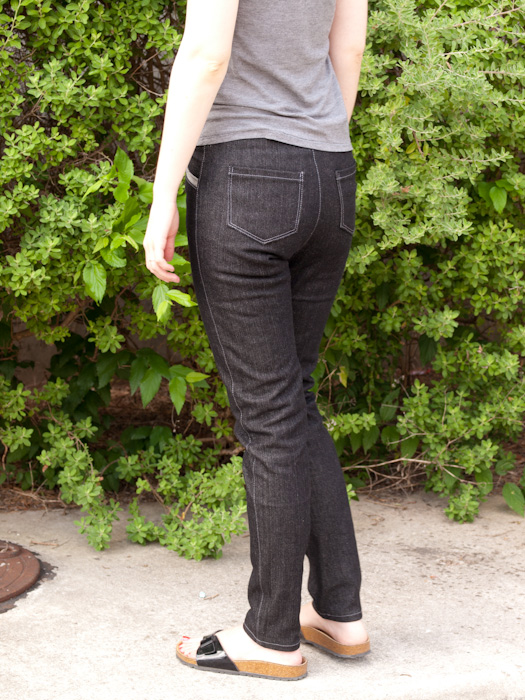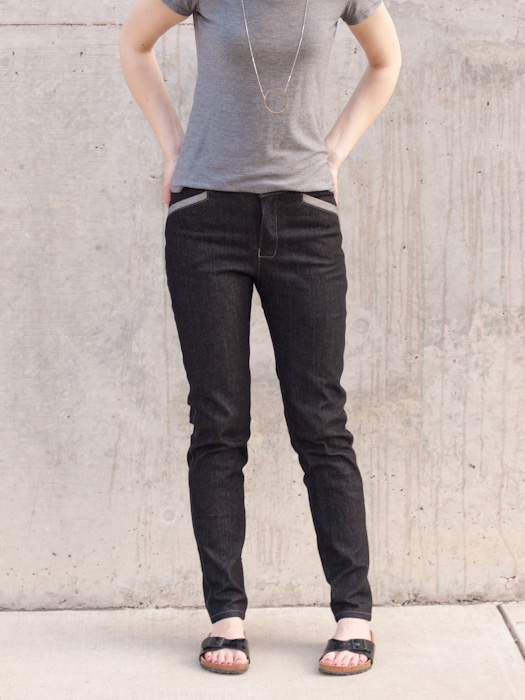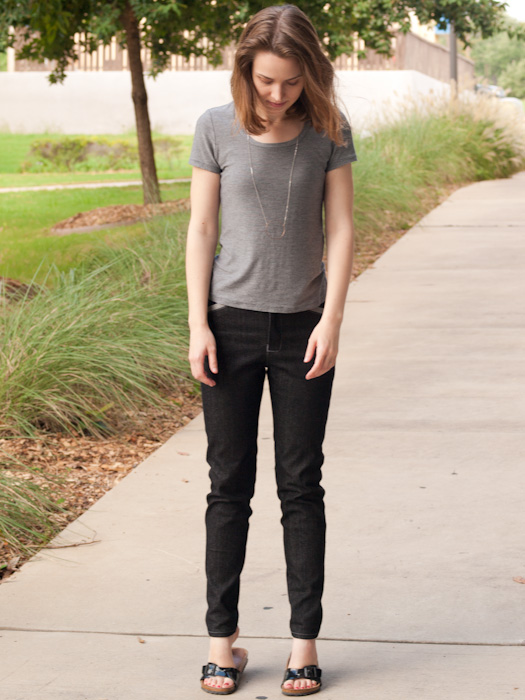 Everything seemed to be going well up till I attached the waistband and tried them on. And here's where I realized my mistake. I had assumed that all Cone Mills stretch denim was similarly stretchy and would work for any stretch jeans pattern. It turns out that's not the case. I tested the denim from my muslin and it had 20% stretch, the minimum called for in the pattern. Then I tested the denim I was using, and it only had 10% stretch. Oops. This didn't negatively affect the fit anywhere else, but it meant the waistband was super uncomfortable when I sat down. I have a low tolerance for constrictive clothing, so I knew this wasn't going to work.
And that's why these are mid-rise Safrans. I cut the waistband off, and then cut off another 5/8″ all the way around. After the new waistband was attached, this meant the rise would be 1.25″ lower, and comfortably under my belly button. I cut my new waistband out using the low-rise Ginger pattern and didn't use any interfacing (I'd used knit interfacing on my last waistband). The Ginger waistband includes extra length on the ends, so I knew I'd be able to get it to fit. And luckily it worked! I'm sure that's not the proper way to convert jeans to mid-rise, but I have to say they're much more comfortable and wearable now, and I don't think the proportions look wrong.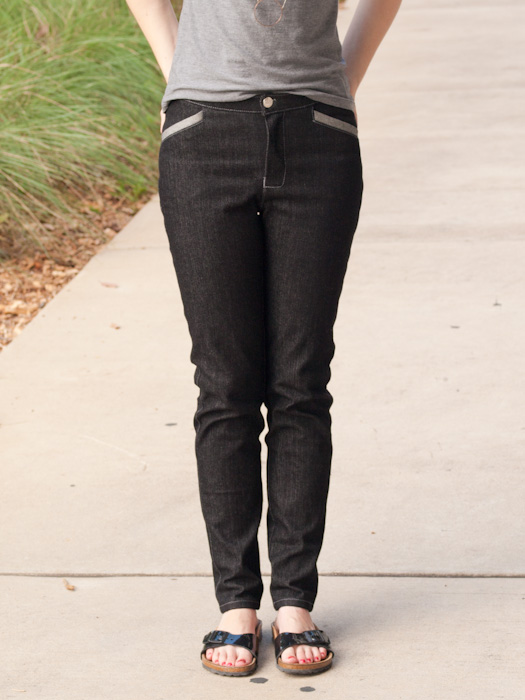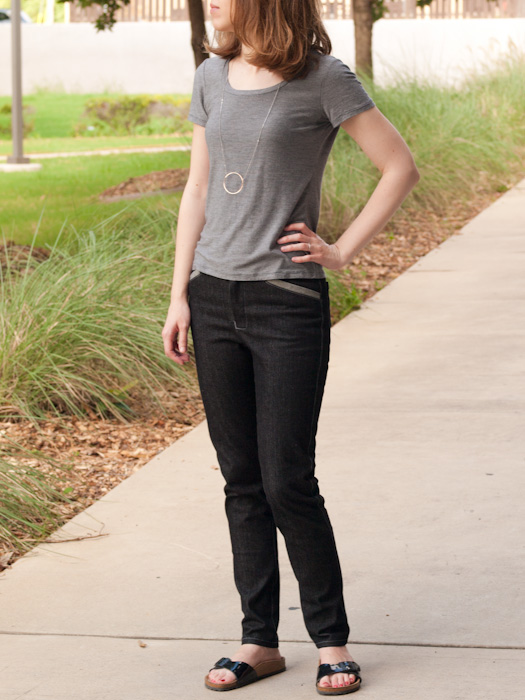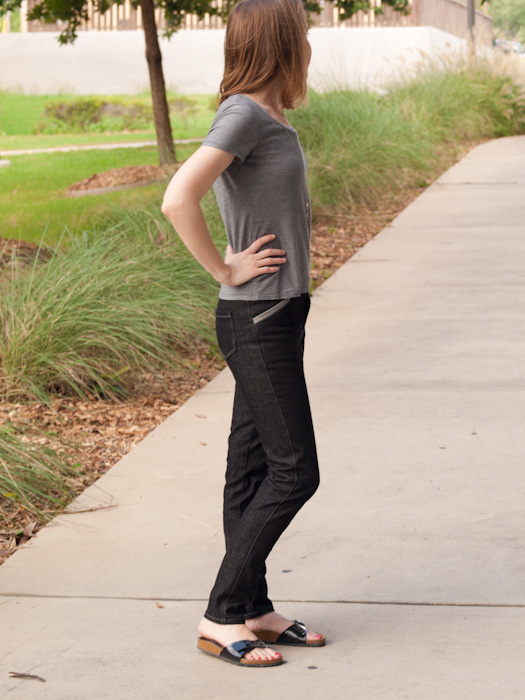 The back waistband gapes slightly, but other than that I'm really happy with the fit on these jeans. I'd be curious to try this pattern in a stretch twill (with the proper stretch percentage this time), although I do have to say I think I'll stick with the mid-rise.
I made View A, except for the belt loops. I did add them originally (as they're sewn into the waistband), but after the waistband fiasco I didn't want to deal with them again.
I wear jeans all the time, so I'm really happy to have another great pattern to add to the mix! I've realized though that I've never made any kind of pants besides jeans. I think the Emerson cropped pants have a really cool look, so I may try those out soon. Do you have a favorite pants pattern?
<3 Lindsay