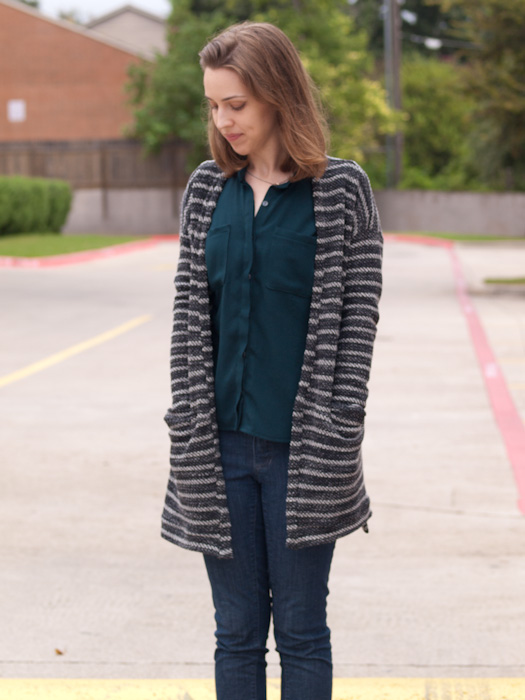 Fall is here, and I couldn't be more excited to wear cozy sweaters and drink hot tea again! This year I got a jump on my fall sewing when Michelle asked me to be a part of the Style Maker Fabrics fall blog tour.
The Melilot Shirt recently rose to the top of my queue when I realized how perfectly versatile it would be for school and work situations. I chose this teal rayon twill to make it up in and I'm super happy with that decision. It's a color I love (but for some reason wasn't in my wardrobe) and this rayon is super soft and has a lovely drape. It's mid-weight, so not sheer at all, and it's perfect for this type of blouse.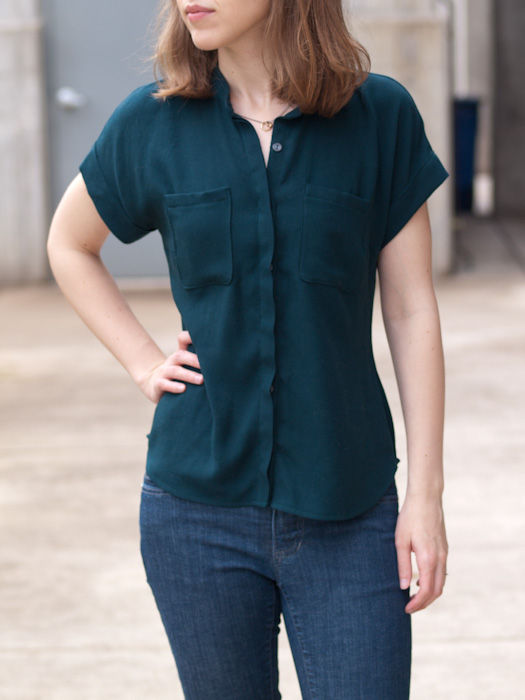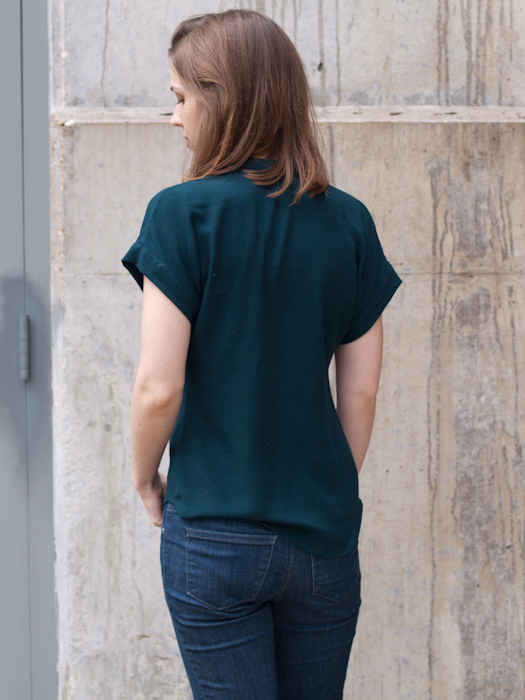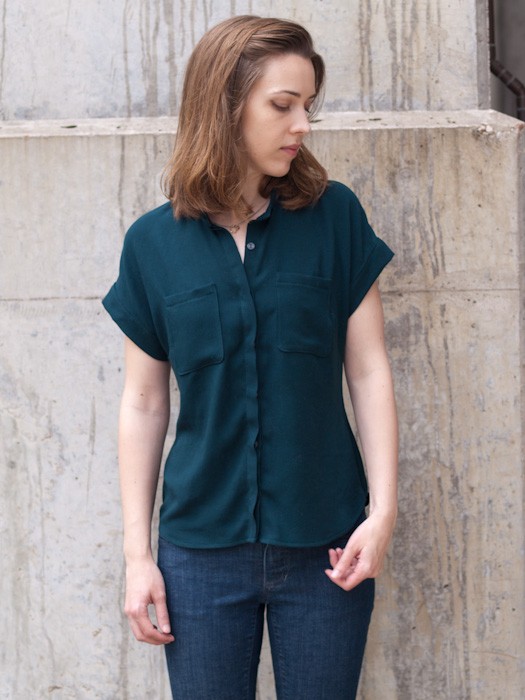 The only alterations I made to the pattern were to shorten it by 2″ in the front and 3″ in the back, and to space out the buttons more so I only used six. My measurements are between 34 and 36, and for this pattern I decided to size down since it's fairly loose-fitting. I'm really happy with the fit. It's relaxed and comfortable, but it still has a nice shape. I love how the instructions are written to give every part of the shirt a clean finish, even the insides of the pockets. I'm also a fan of the deceptively tricky-looking concealed button placket, which I'd never done before. All the little details of this pattern really add up to a very luxe-feeling garment.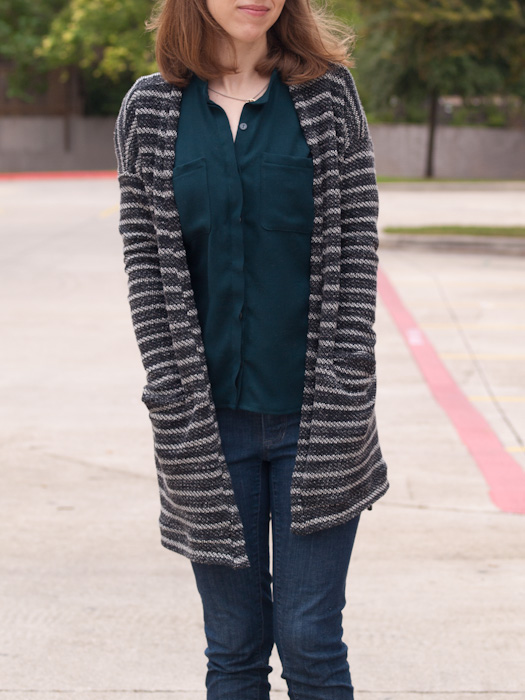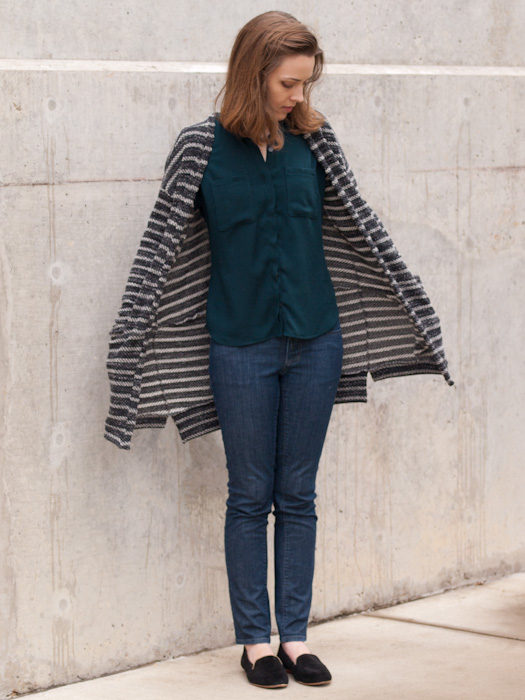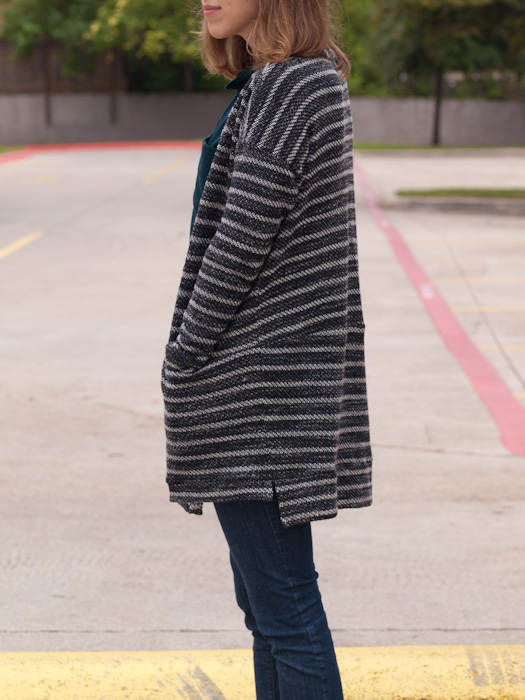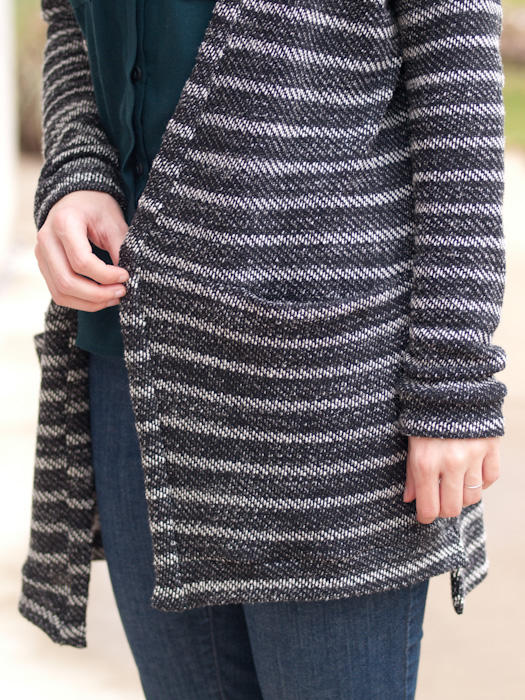 The Driftless Cardigan also shot up the queue recently, mainly because the AC at my new job is freezing and cardigans are an absolute necessity! I ordered this lovely squishy sweater knit from Style Maker Fabric's fabulous selection. When it arrived I decided I liked the wrong side of the fabric just as much as the right side, and I was torn about which one to use. They both had great textures, but I finally decided on using the wrong side of the fabric because the stripes were a little bit more muted, which I felt fit with my style better. You can't go wrong either way though!
As with all Grainline patterns, Driftless had great instructions and was a breeze to sew up. My favorite feature is the pockets – they really up the cozy factor!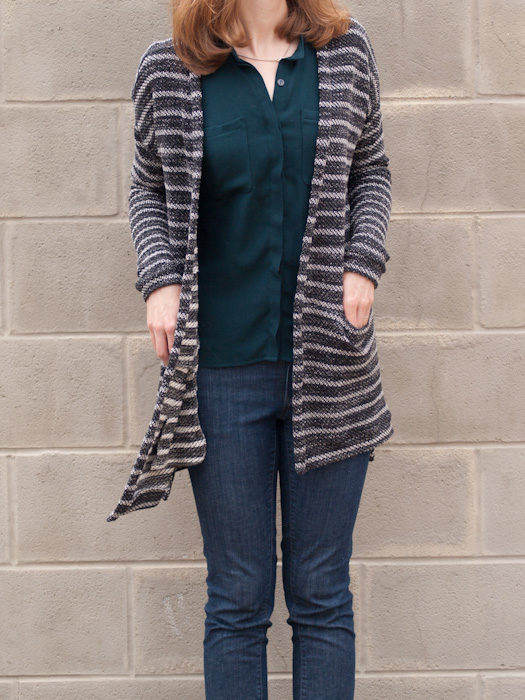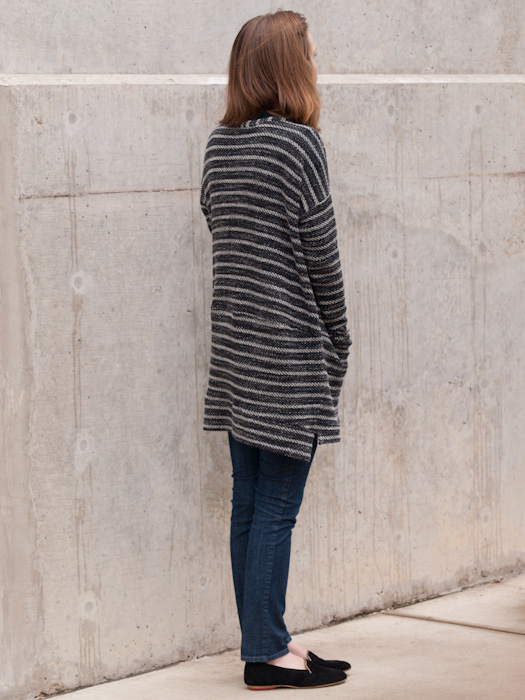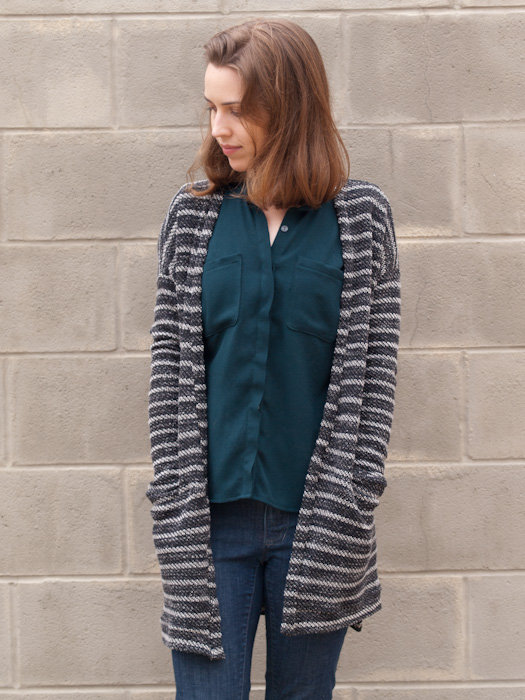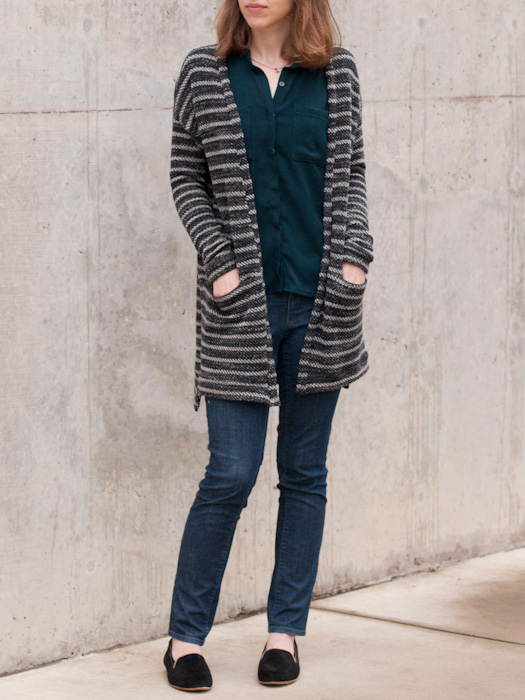 I'm really happy with both of these makes – I think the patterns and fabrics were perfect for each other! I'm planning on sewing up another Melilot this fall with a linen/silk blend from Miss Matatabi, and another Driftless with some mustard merino I got at The Fabric Store last December.
If you'd like to follow along with the rest of the tour, you can check out the line-up here. I've already gotten some major fall style inspiration from the other bloggers! Abbey of Sew Charleston will be up next tomorrow!
<3 Lindsay
*Disclaimer: The fabrics in this post were provided by Style Maker Fabrics. All opinions remain my own.*