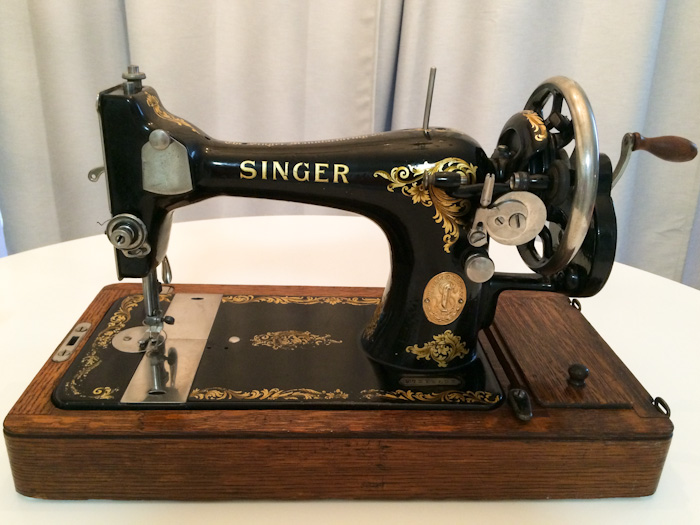 Hello! This is Lindsay's husband Nathaniel guest-blogging a few prefatory remarks about my experience cleaning up an old sewing machine: specifically, a 1916 Singer model 128 with "Rococo" style decals, hand-crank, and bentwood cover.  Lindsay's parents ran across this beauty at an antique store in small-town Texas and the deal was just too good to pass up. According to the Singer Serial Number Database, it (F7213523) was born in the Clydebank, Scotland factory sometime in 1916, making it exactly a century old this year! Though the 128 is a 3/4-size version of the 127 and technically "portable" (i.e., it has a handle), this machine is made of solid steel and weighs in at 27 pounds, not including the case, cover, or crank! It is among the earliest 127/128s, which were produced from ~1912 up until the 1960s.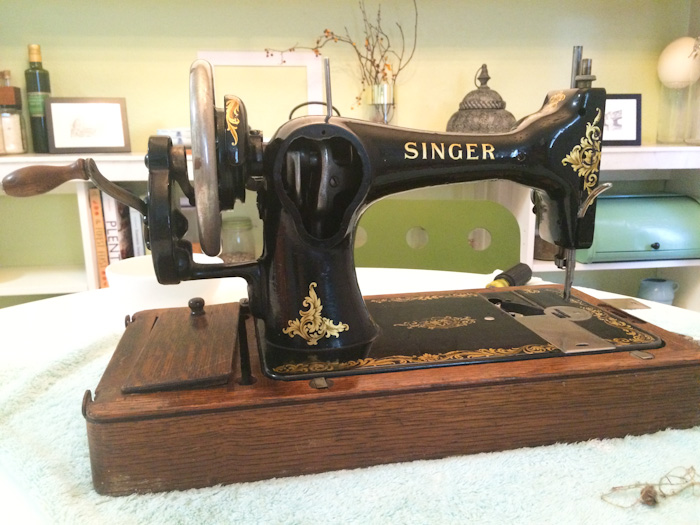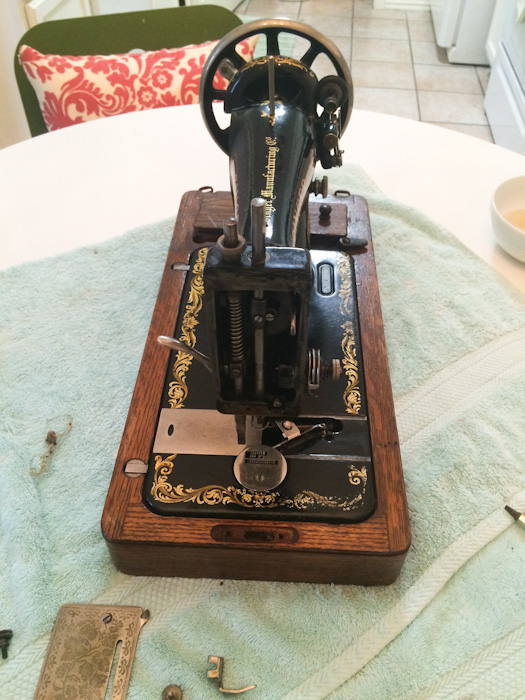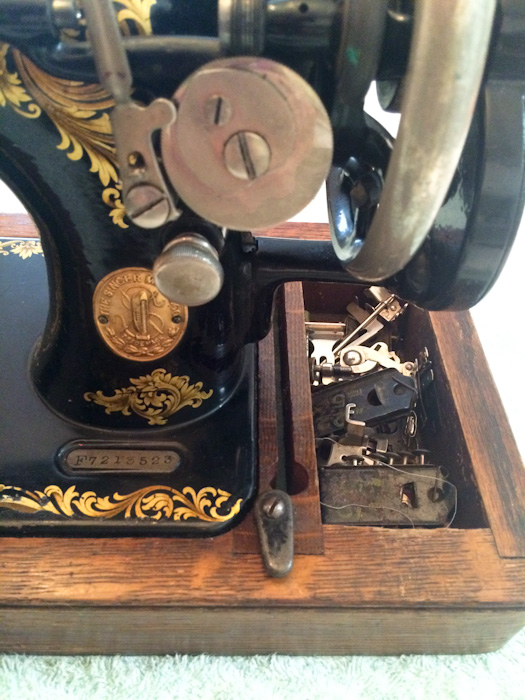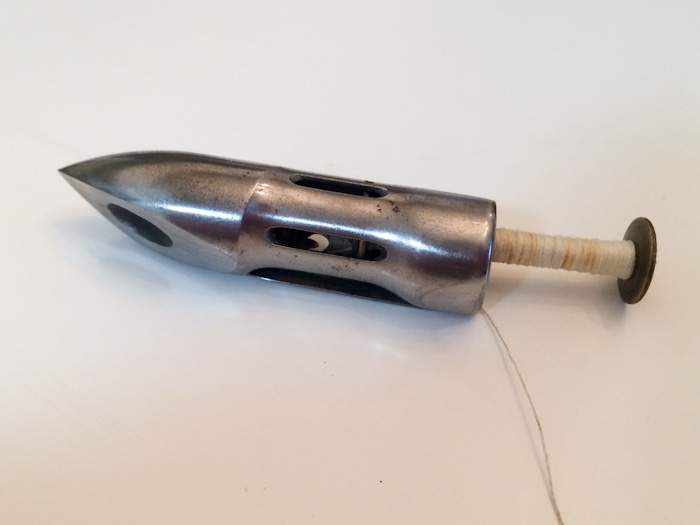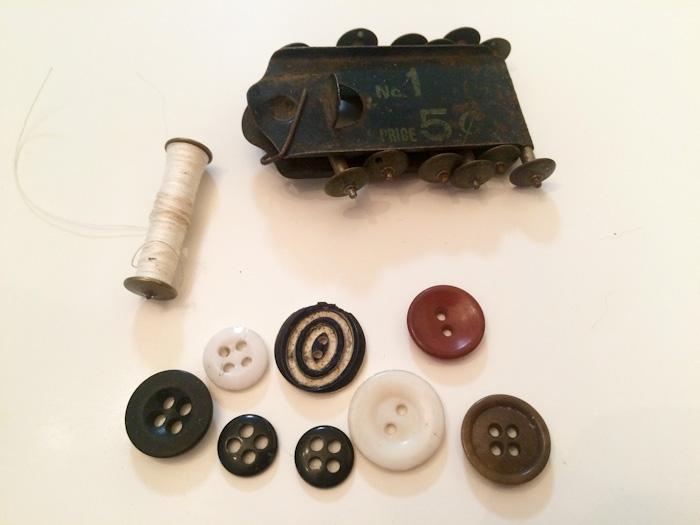 The thing was in really decent shape to begin with, but it was rather dusty withal and some parts needed a good de-gunking. Plus, the wood had gotten rather brittle with age and had stray scuffs/flecks of paint here-and-there. To begin, I simply wetted a cotton rag with warm, slightly soapy water (about a dime's worth of dish soap to a pint of warm water) and went over the whole thing thoroughly. Then I removed all the face-plates, the foot, the tension-disk assembly, and the sliding plates that cover the shuttle. I soaked all of these, in addition to the various other attachments (hemmer, binder, tucker, ruffler, etc) in boiling water with a dash of OxyClean-like product for about 5 minutes, after which I dried them all thoroughly. Caveat lavaretur: these cleaning procedures worked for me, but your results may vary; please take care!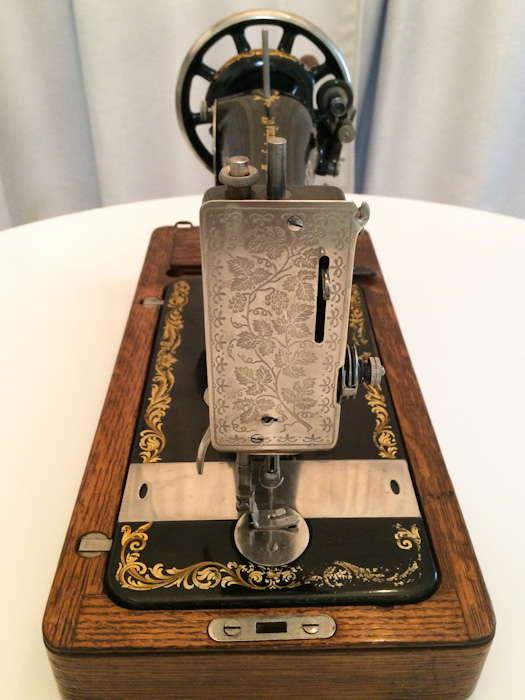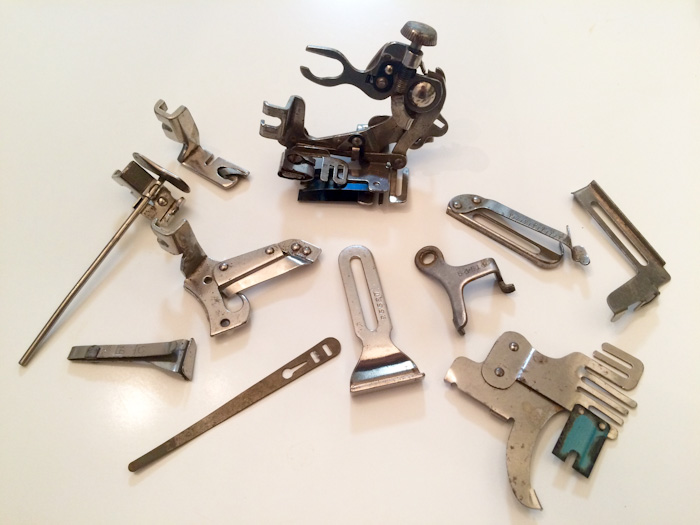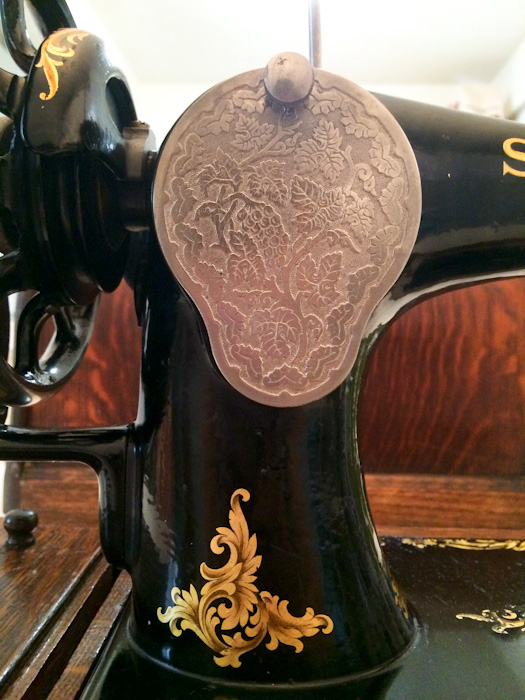 I wanted to clean all the wood up nicely, but first I needed a bit of fine-grained sand paper to gently rub off any marks that the soapy water couldn't tackle. Next, it was time to shine, but I was afraid to use a store-bought furniture polish: instead I made my own! Easiest thing in the world: if you can make your own salad dressing, you can make this DIY-wood polish. In fact, it's really nothing more than a vinaigrette: you mixed one part cheap olive-oil with one part white vinegar (some recipes use more vinegar than this; I also added a couple drops of essential oils to mask the vinegar smell). Put this 1:1 mix in a spray-bottle, spritz some onto a cotton cloth, and rub it uniformly into the old wood one area at a time. Simply repeat this process until your wood is clean, dark, and shiny! I did this all over, inside and outside, bentwood cover and all. Emboldened by my success with the wood, I also used the "house dressing" to go over the black Japanned parts of the machine (including the decals, gingerly) which resulted in a lustrous shine tip-to-tail!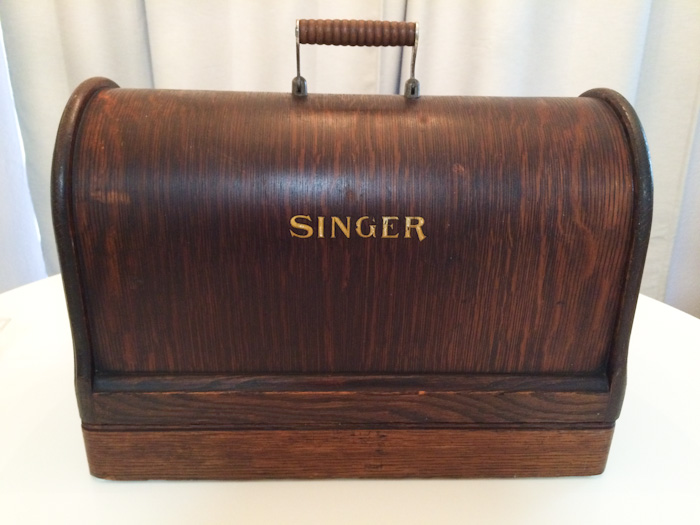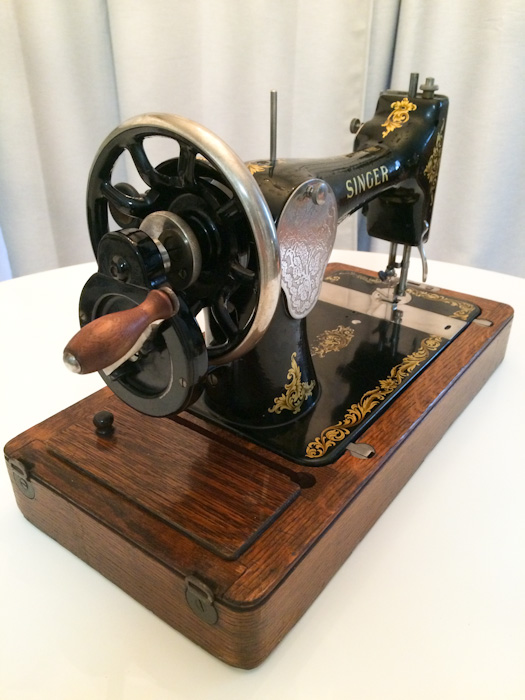 After all of the metal parts had completely dried, I attempted to polish them up using Blue Magic brand "metal polish cream". I chose this over other options at the auto-parts store because it claimed to work on all metal types. While I was able to get a nice shine on the face-plates, I had a tougher time with the balance wheel and the hardware pieces. Also, I'm not sure what type of metal the different parts are made of, but I would not recommend using this stuff on the gold "Singer badge" on the side of the machine above the serial number: it made it shinier, but I think it also made it more silvery (and less gold-y), which is unfortunate! Before putting all the polished baubles back on, it was advisable to give the machine a good oiling; in fact, the manual (1930 ed; 1951 ed) says "To ensure easy running, the machine requires oiling and if used continuously it should be oiled every day. With moderate use an occasional oiling is sufficient" (pg 16). The manual is really clear and easy to read; it also includes detailed, hand-drawn diagrams including one that indicates where to apply the oil. WD40 is good for de-gunking, but never oiling (and don't get any on the surface of the machine, or it will eat away the lacquer and dull the decals). Though other lubricants may be serviceable, it's always safest to use sewing-machine oil.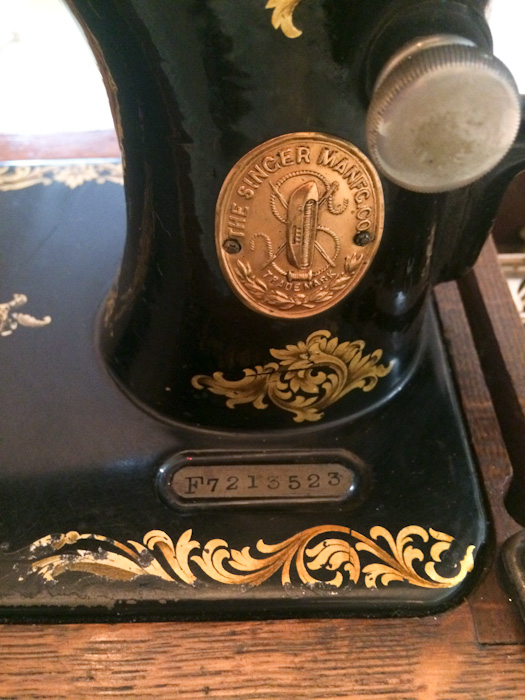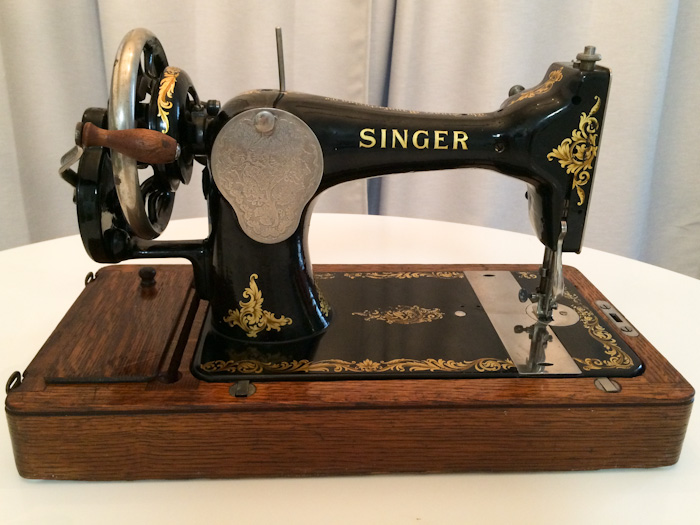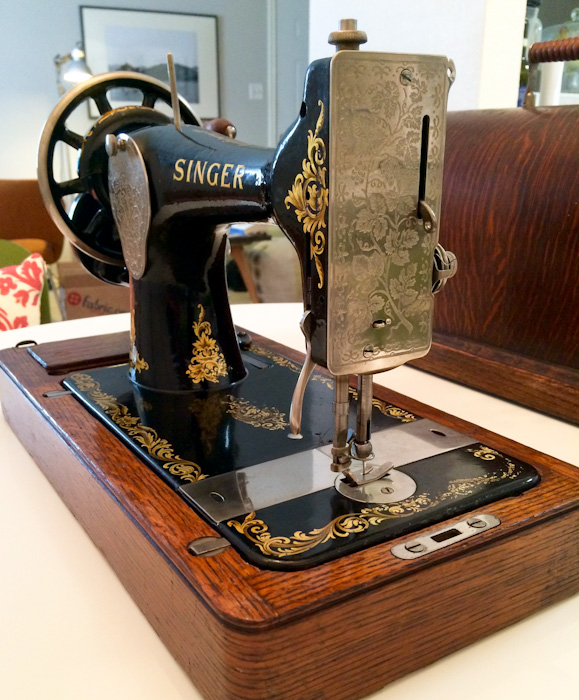 Thanks Nathaniel! He did all this for me one week when I was really busy at work – isn't he the best?
I'd never seen one of these vintage machines up close before, so it's been really fun to learn how it works. It's actually remarkably similar to a modern sewing machine, as you can see by the diagram below. I love that all the various parts are exposed so that you actually understand how it works and do repairs on it. I imagine it must be similar to working on an old car before everything was computerized and hidden away.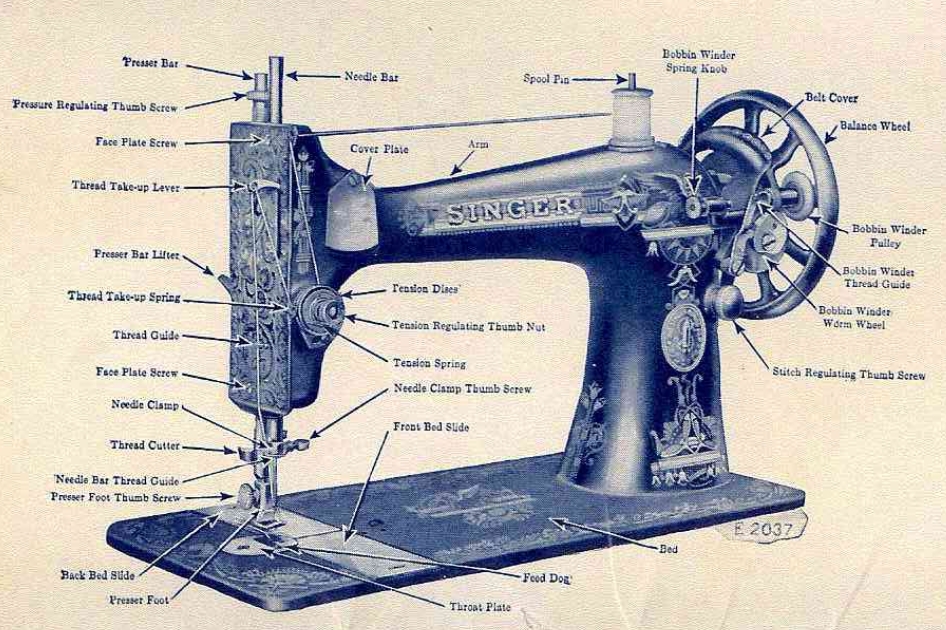 We took a few short videos of the more interesting bits:
Bobbin winder:

Threading the shuttle and needle:

It's kind of hard to see the stitches in this video, but just for fun I tried sewing through 24 layers of fabric on the three machines I own. First on my very basic first machine, a Brother XL2600, then on my Pfaff Ambition 1.0 (which I love), and finally on the 1916 Singer. The Brother has a walking foot on it, but still obviously had some trouble and made a lot of noise doing it. The Pfaff sewed through it beautifully and the Singer didn't have trouble either, though I still need to work on sewing more smoothly and adjusting the stitch length.
Machine demo/comparison: 24-layers

We're not experts by any means, but hopefully some of you will find this post useful or interesting! Do you own any vintage sewing machines? And if you do, do you sew with them on a regular basis? I'd love to hear any tips!
<3 Lindsay