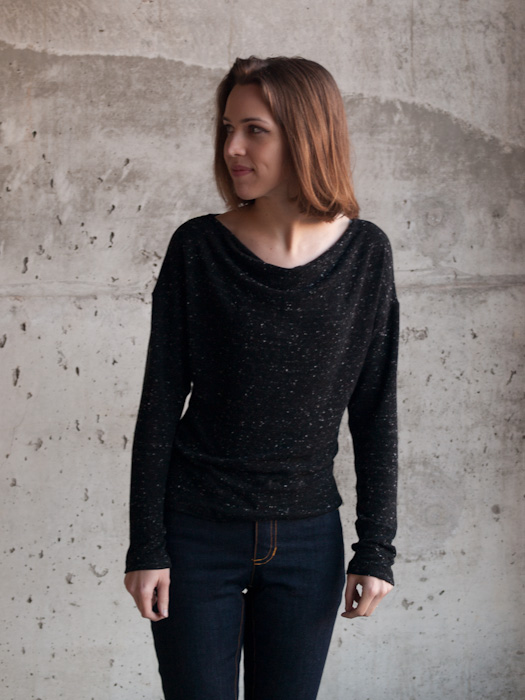 An old pattern and a new pattern!
My shirt is the Cate's Cousin top from Style Arc. This is my second time using a Style Arc pattern – I bought a few of their knit top patterns during a sale a while ago, and last month I made the Alexi turtleneck. I haven't blogged it yet, but I do like the pattern. I made it from a maroon merino jersey I bought at The Fabric Store in LA, which is also where this fabric is from. This one's mostly rayon (nice and drapey), but it has a bit of wool in it too.
I was always kind of put off by Style Arc's website, but they now have an Etsy store with all their digital patterns that's easier to navigate. I think the main drawback is that their designs aren't modeled so it can be hard to picture how they'll actually look, and reviews by bloggers are few and far between. Their instructions are pretty minimal but seemed sufficient for non-beginners. Granted, I made some pretty simple tops, so I'm not sure what their instructions would be like for something more complicated. One strange feature is that when you buy the pattern you only get 3 sizes (4-6-8 or 10-12-14 for example) and each size is in a separate PDF file – not very handy if you need to grade between sizes. I also found it odd that the symmetrical front and back pieces of both shirts were full size rather than having a "cut on fold" line down the middle. I didn't particularly mind, but it would have saved paper to just print the half size pieces.
This shirt came together easily and the fit seems true to size. I've never made a cowl before, so it was fun to see how that's constructed. It's definitely a comfortable and wearable shirt, but I'm not totally sold on the style. I'm not sure if either dropped shoulders or cowl necks are the best looks for me. I love the fabric though, so I'm sure I'll be wearing it anyway!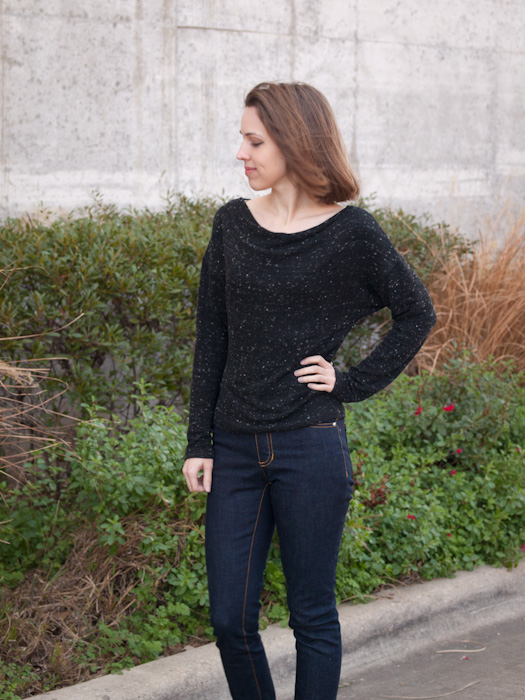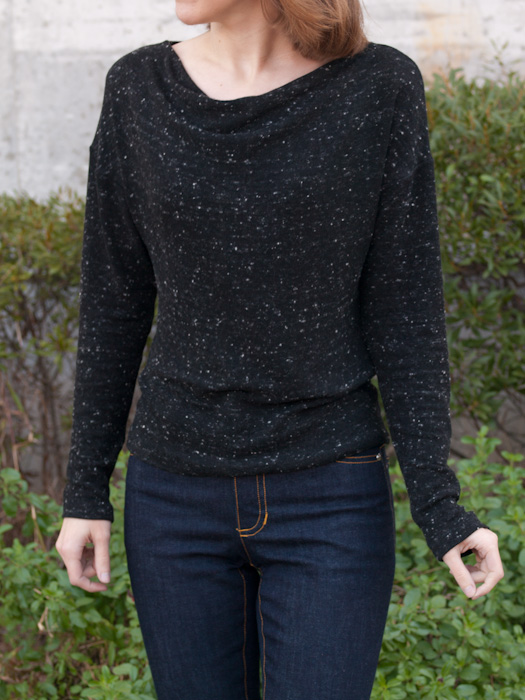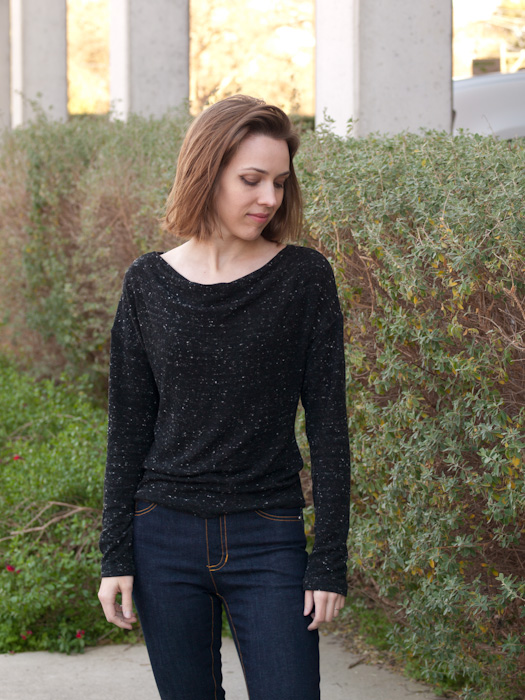 This is my second pair of Ginger Jeans. View B this time with the high waist and skinny legs. When I basted them together the legs were a bit *too* skinny through the calves, so I used a 3/8″ (rather than 5/8″) seam allowance from the knee down. I used Cone Mills denim from Threadbare Fabrics which seems to be great so far – I'll have to see how well it ages before I can reach a final verdict. Thanks to my Pfaff (I bought a used Ambition 1.0 a few months ago!) I think this is my best fly insertion and topstitching yet! My Pfaff also came with a "hump jumper" and I love that little gadget – it works like a charm when going over multiple layers of denim.
The fit is pretty good on these. I think there's just a smidge too much fabric at the inner thigh (or somewhere in the crotch region). There also seem to be a lot of knee wrinkles, but I'm not sure if that can be corrected or if that's just the way it is with skinny jeans. Any thoughts?
I'm glad I tried out the high rise, but I think a mid-rise is still my favorite height for jeans. On my next pair I'll use Heather's tutorial to make something in between Views A and B.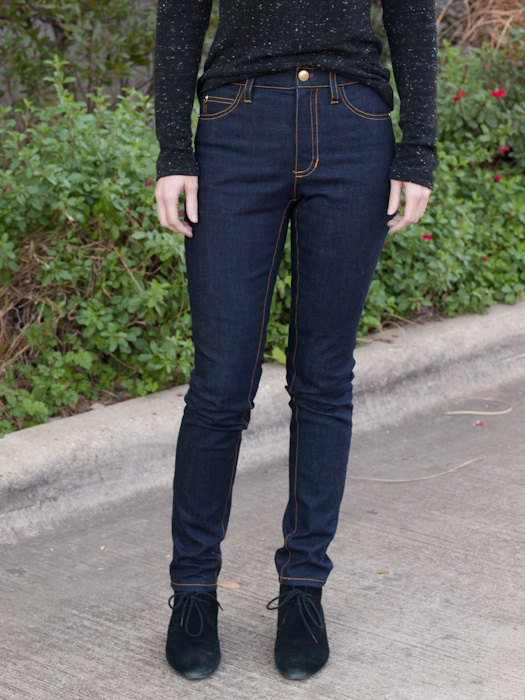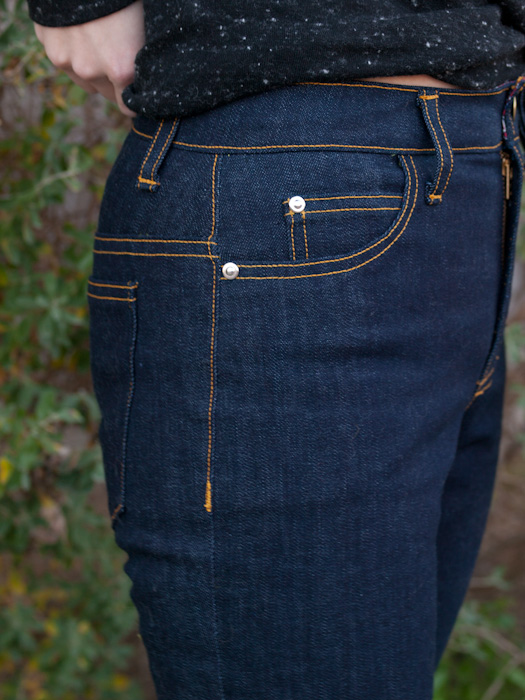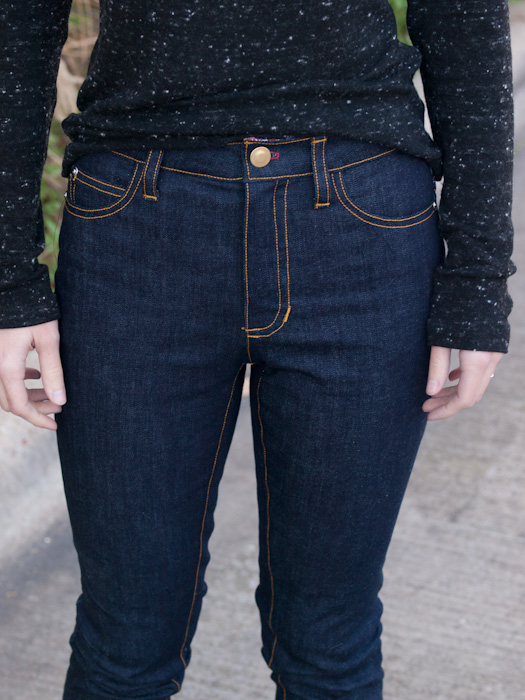 With the weather warming up I definitely feel like my sew-jo's returning. I plan on doing a quick Wardrobe Architect run-though and getting my thoughts (and fabrics) in order. Lots of sewing ahead!
<3 Lindsay