I've been interested in making a quilt for a few years now, but somehow making clothing always seemed more tempting. When a local fabric store went out of business last year I picked up a couple bundles of coordinating fat quarters with the intention of finally learning to quilt. The bundles took care of the hardest part – choosing which fabrics to use! Months passed, but eventually I decided on making a log cabin quilt – an easy design good for beginners.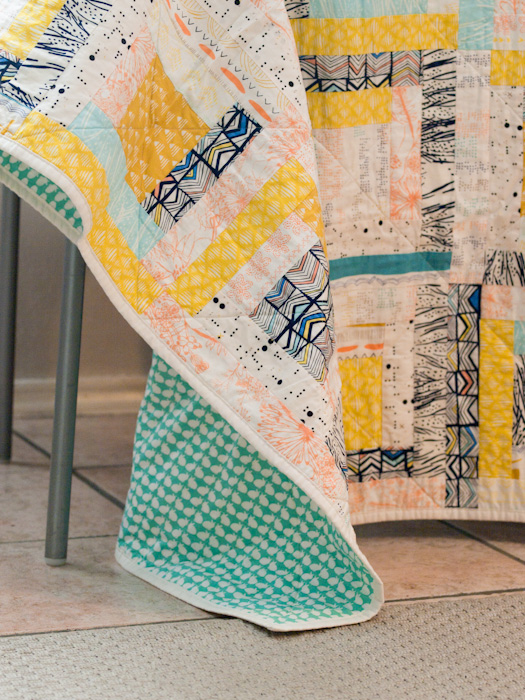 I checked out the book Modern Log Cabin Quilting from the library for inspiration and guidance. I ended up doing a classic log cabin design using some of the dimensions from the book: 4.25″ center squares and 1.75″ logs for a finished block size of 9.75″. I then made as many blocks as I could out of the fabric I had and ended up with a 4 block x 5 block throw size quilt.
Making the blocks was actually pretty fun. First you cut a bunch of long strips of fabric (the "logs"), then you sew as much as you need on one side, cut off the extra (which you'll continue using on other blocks), turn the block, and repeat. It's best to do the same step on multiple blocks at once, so you can get a good rhythm going.
After I finished the blocks I tried to arrange them so that the same fabrics weren't touching on adjacent blocks. Then I sewed all the blocks together.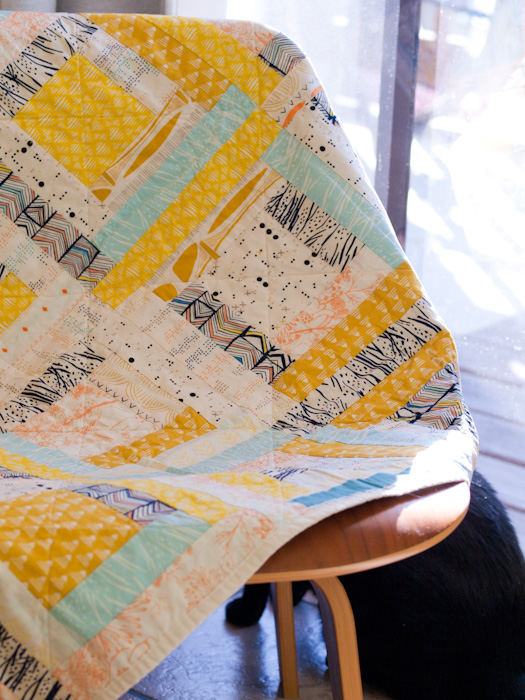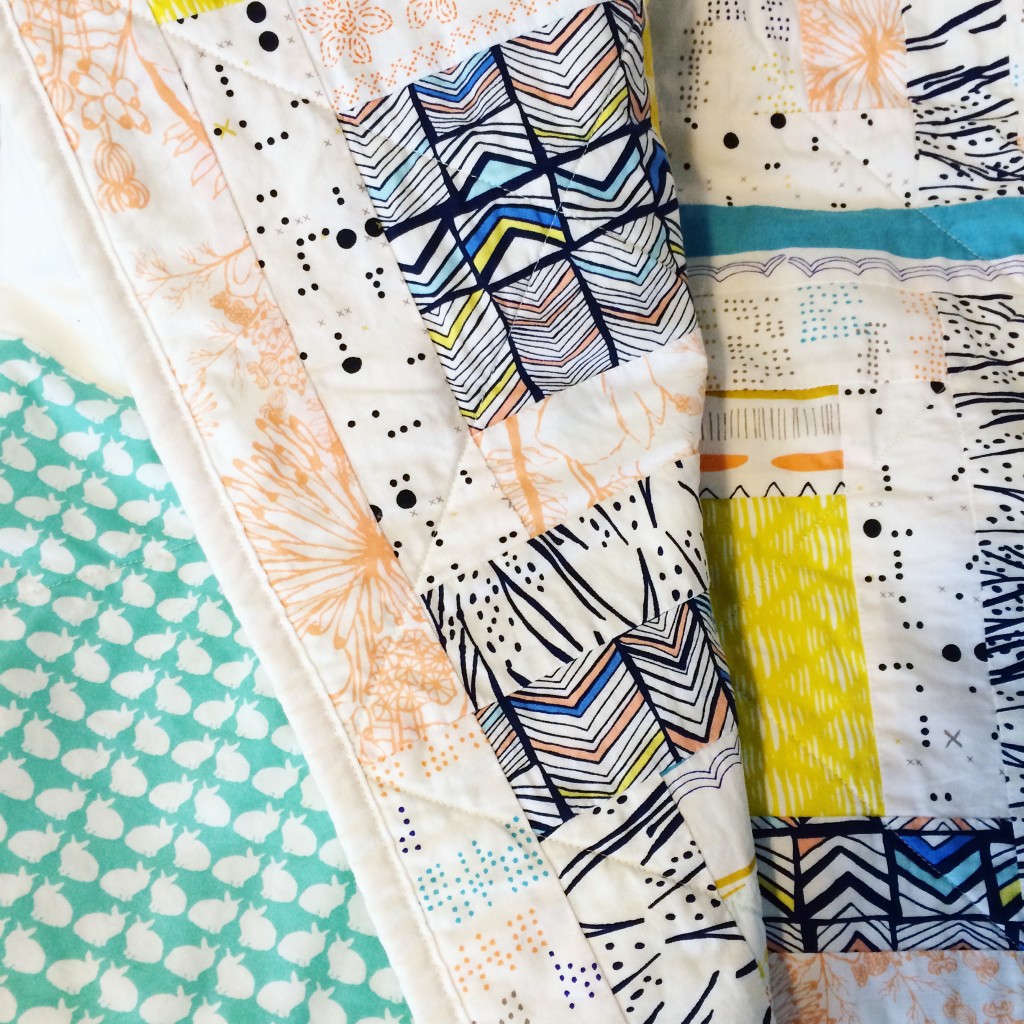 The bundles were all Art Gallery fabrics by Leah Duncan. They're definitely good quality fabrics and easy to work with!
For the backing I couldn't resist buying a yard of this Art Gallery bunny print! There wasn't enough to cover the whole back, so I broke it up with a couple wide ivory stripes. I made the bias binding out of the same ivory fabric.
For the quilting itself I did diagonal lines in both directions that meet in the center of each block. My little machine isn't meant for quilting, and I definitely wouldn't want to do a project larger than this on it. Even with a walking foot it was difficult to keep the quilt moving smoothly through the machine – the weight of it kept messing with the thread tension and stitch length. Now I can definitely see why there are quilter-specific sewing machines!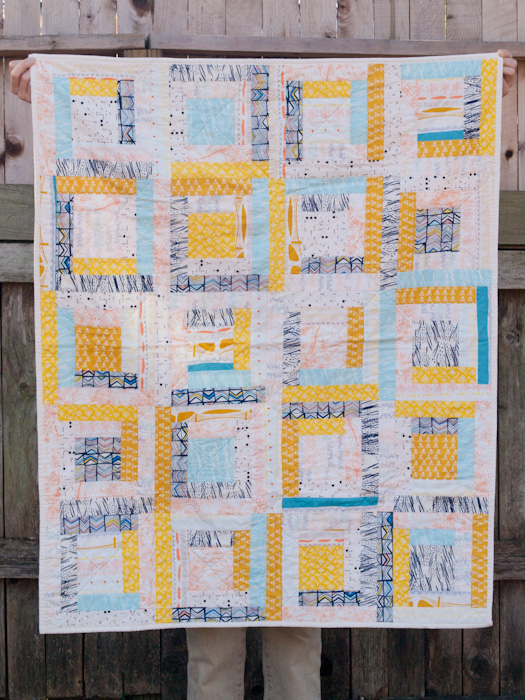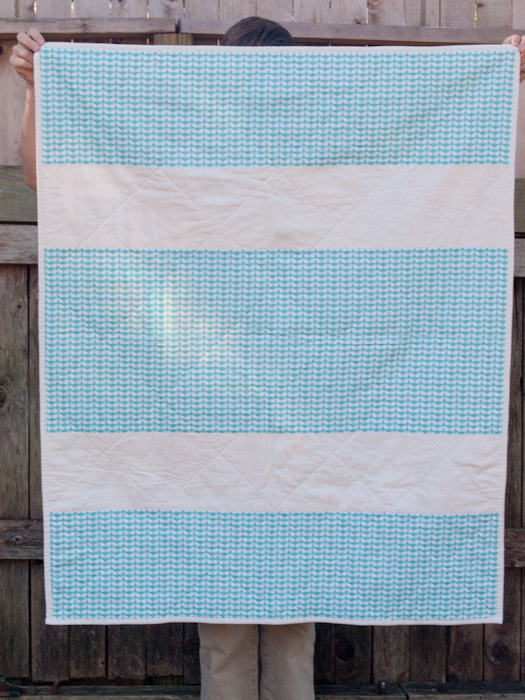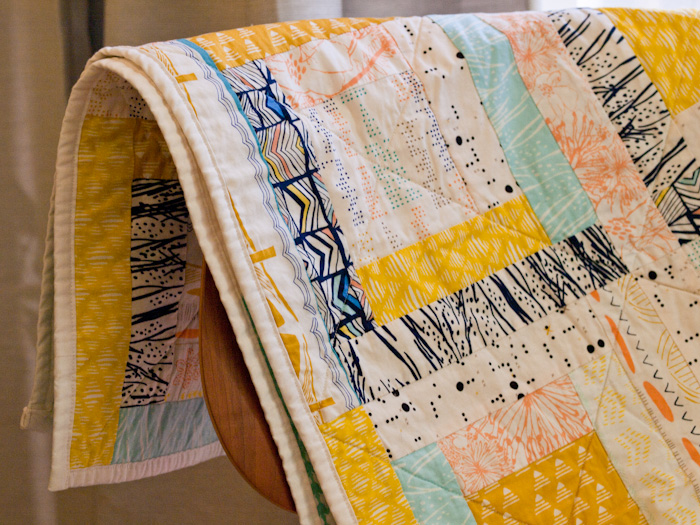 As soon as the quilt was finished I washed and dried it, and the fabric shrunk up nicely. I like the pop of color it adds to my living room, and it will certainly be nice to cozy up with now that it's finally getting cold!
It was fun trying something new and I definitely learned a lot. I don't foresee making many quilts in the future (especially not big ones!)… although I have had my eye on this constellation quilt kit for a while. I have a feeling hand-quilting will be an entirely different adventure!
Do you prefer to stick to clothing, or do you enjoy other types of sewing as well?
<3 Lindsay