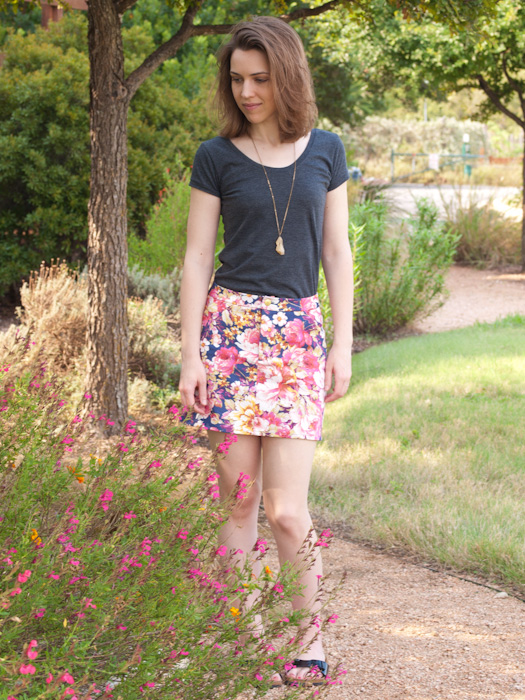 A couple months back I won runner-up in a contest on Kollabora and was able to choose four patterns from their site. So I went a bit Grainline crazy and picked up the Scout Tee, Portside Duffel, Tiny Pocket Tank, and Moss Skirt. This is the first of my Grainline makes: a floral Moss mini!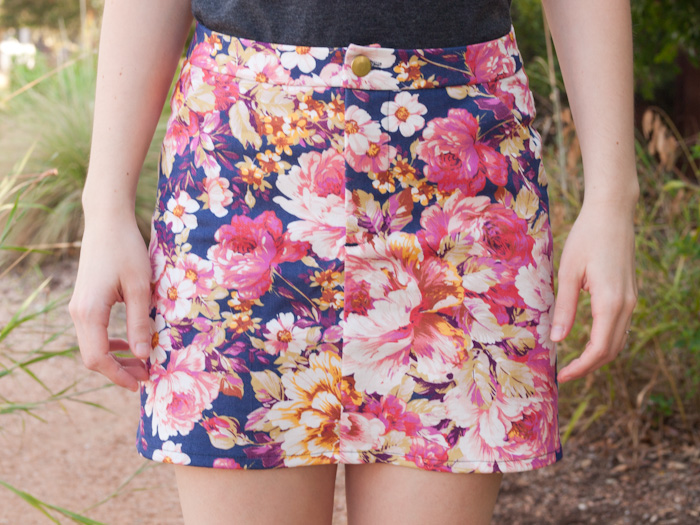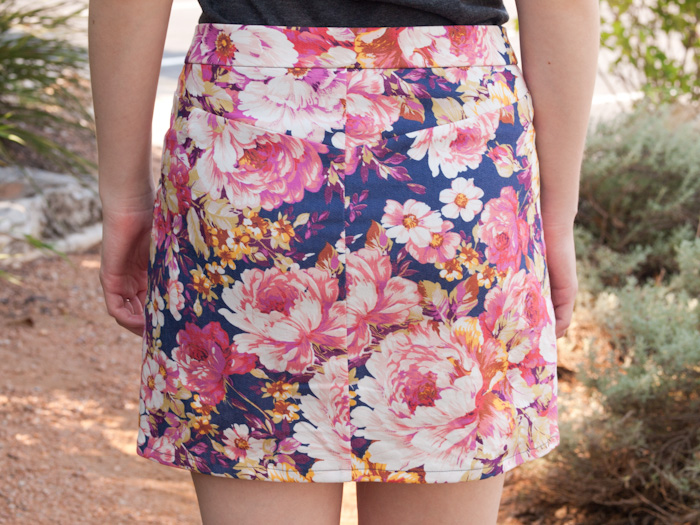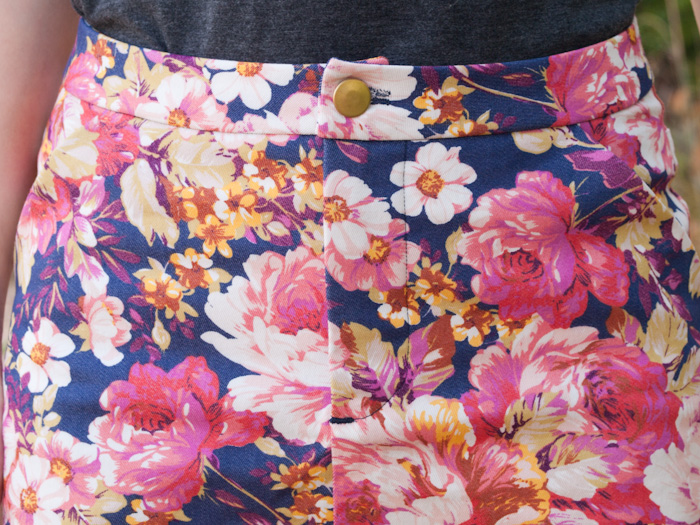 The Maritime shorts are such a staple pattern for me that I was keen to give the Moss skirt a try. I usually either wear shorts or dresses in the summer, so I was hoping for a skirt versatile and casual enough to fit into my wardrobe without much fuss.
Based on my measurements I made a size 0 with no alterations and the fit is spot-on. The curved waistband makes for a really nice fit around the top, and I love the roomy slash pockets. And I think I'm finally getting the hand of fly zips – this one went in pretty smoothly.
The fabric is a stretch cotton/poly twill from fabric.com. I have to say it's not the best quality… although I do love the print! It's fine to sew with and wear, but it tears incredibly easily. When I was opening up the buttonhole I hardly touched my seam ripper to the fabric and it zoomed right through the buttonhole and off to the side by about an inch. And when I used my awl to make a hole for the jeans button it started to tear before I even applied any pressure – fortunately it was in the right spot! To fix the buttonhole I just kind of made a new buttonhole around the tear. So now there are two kind of connected buttonholes, but you can't really tell unless you look at it super closely.
Luckily I got the end of the bolt (and almost a yard of extra fabric) with my order, so if this one does ever tear I can always make a new one!
Speaking of which, this was a very fast make. I easily finished it in a weekend.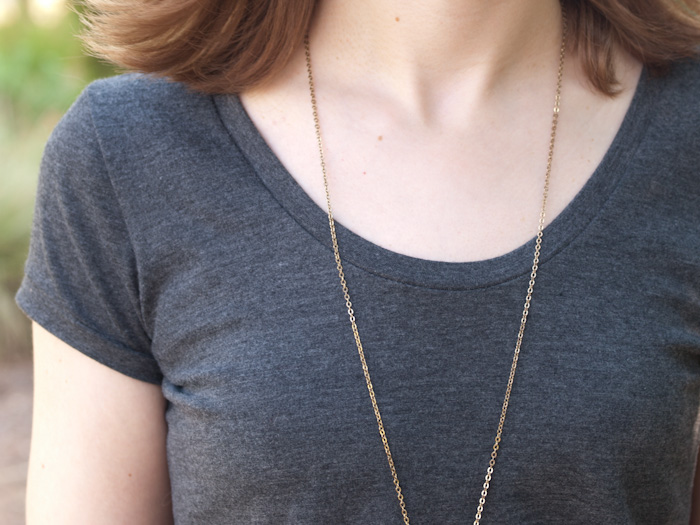 I also made this t-shirt using my self-drafted Phlox pattern. It's replacing my favorite t-shirt of the same color that I made last year, and which started pilling pretty badly. I made this shirt using the fabric from an oversized American Apparel scarf and the cotton/poly blend fabric feels like it's really nice quality, so hopefully this one will hold up longer!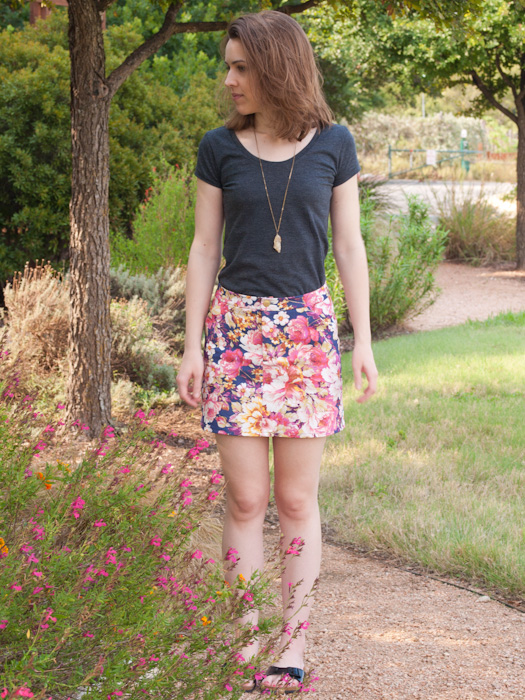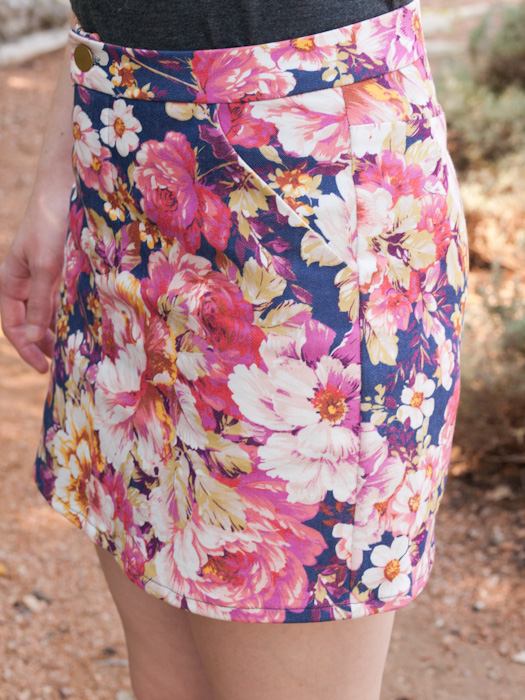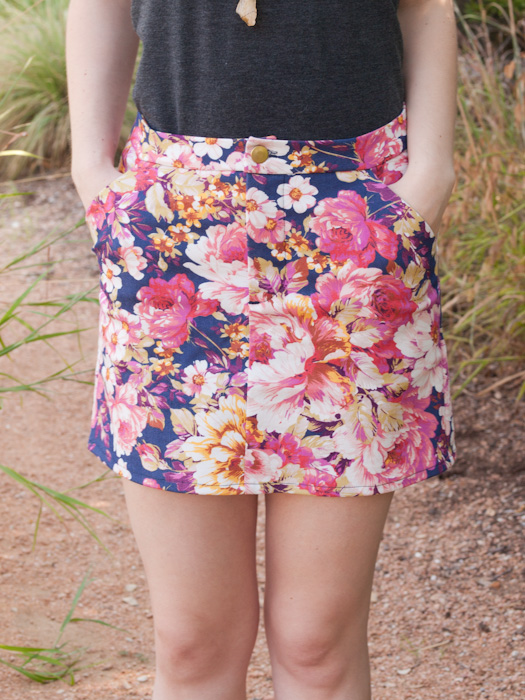 Overall, I'd say it was a success! This skirt has already gotten a fair amount of wear. I'm thinking of making one or two more this fall, maybe in denim or corduroy?
Which Grainline pattern is your favorite? I think I'd have to go with the Archer shirt since I've made it so many times!
<3 Lindsay