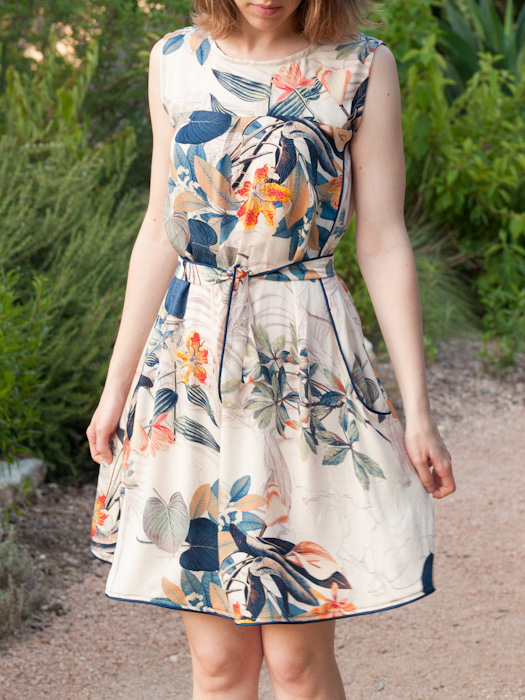 I fell for Pauline Alice's new pattern, the Xerea Dress, the moment it was released. Shift and tent dresses (views A and B) aren't my usual style, but I loved the design details so much that I thought it was worth a try.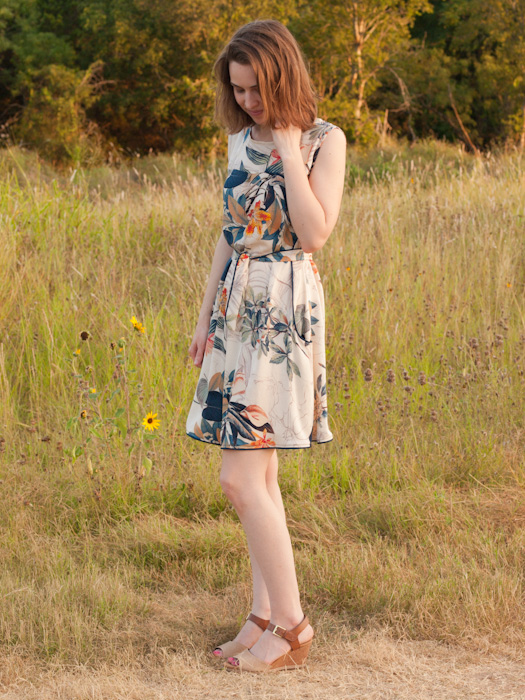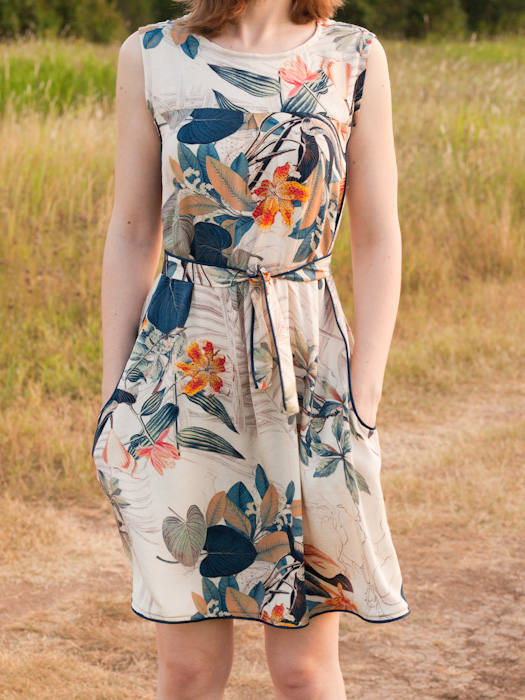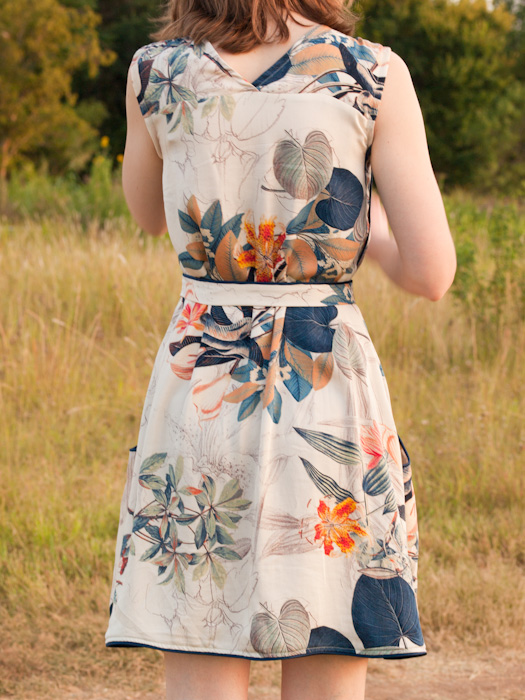 The pattern came together pretty easily. The instructions are fairly brief, but they're thorough and easy to follow. The two variations come as different PDFs that are 21 pages each. There was an issue (now fixed) with the pleat lines not being marked at the right spot, but I'd just assumed I stretched out the fabric and adjusted accordingly.
I tried using "snug hug" seam binding instead of bias tape for the neckline and armholes, and it seemed to work okay. The neckline doesn't quite lie flat, but I don't think it's too noticeable.
The deep pockets are my favorite design feature and I wanted them to stand out, even with a busy print, so I decided to add some navy blue satin piping. I used it on the hem as well and I like the way it added a bit of structure.
I ended up not loving the loose silhouette on me, but there's an easy fix for that – a belt! Luckily I still had my scraps, so I just cut a long rectangle and sewed piping along the top edge. Sorry – I forgot to take an un-belted picture!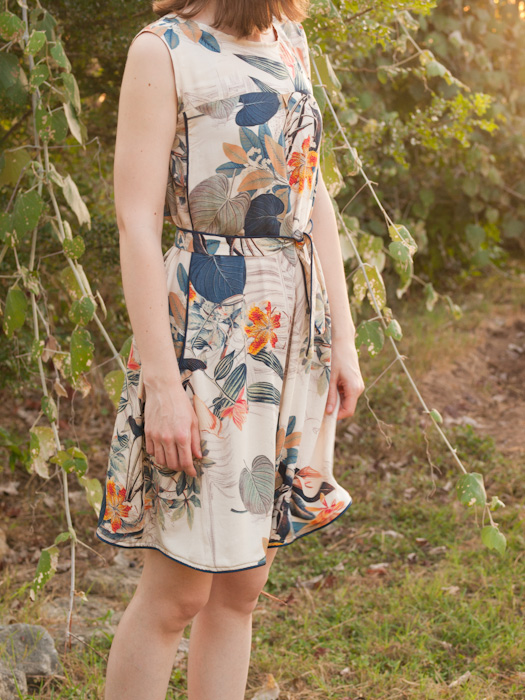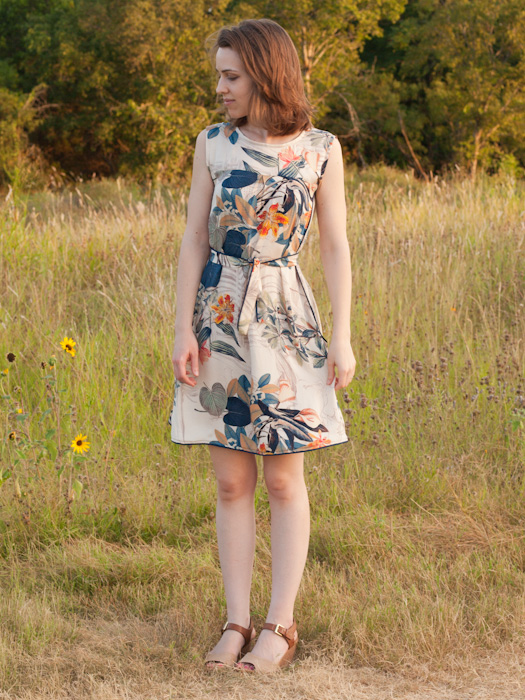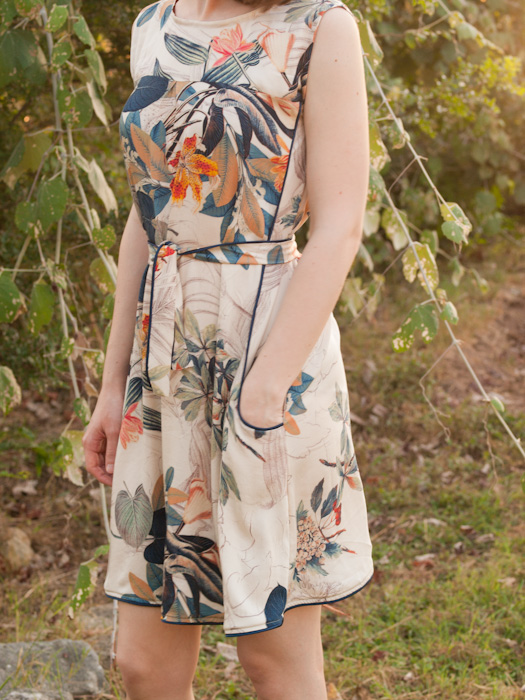 This gorgeous fabric is a printed rayon from Blackbird Fabrics. It's the perfect weight for a dress and it feels so nice to wear. I just received my second order from Blackbird Fabrics (more rayons!) and again I'm really impressed both with the quality of the fabrics and the surprisingly fast shipping from Canada.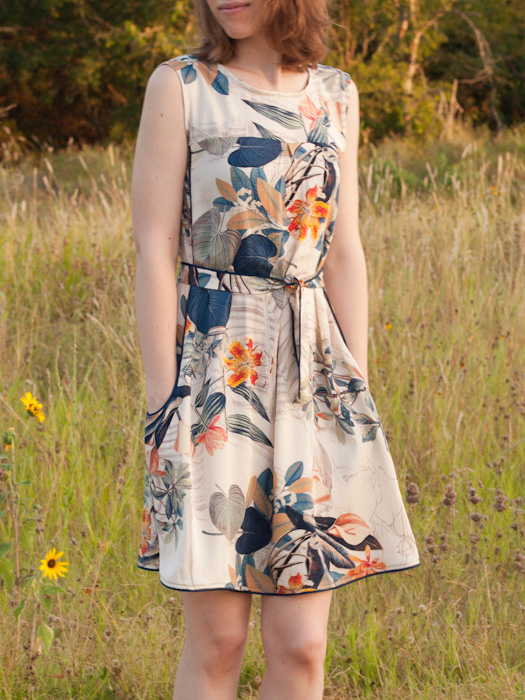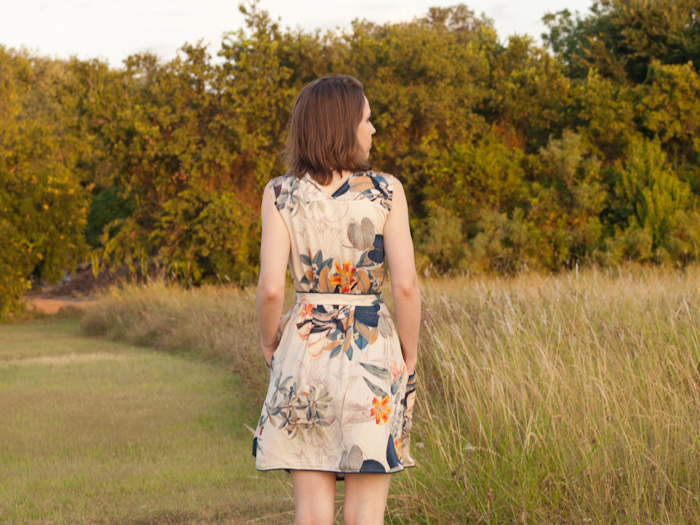 Even though I ended up changing the silhouette, I love the way this dress turned out! It's a garment that's easy to wear, but it still feels special because of the fabric and the piping.
This may be the end of my dress-making streak – I've made six this summer! Although I am still interested in trying out View A of this pattern, the shift dress with short sleeves. Maybe for once I'll do a muslin to see if I like the silhouette before I jump in feet first!
There are a few tops, skirts, and shorts I want to make before the end of summer. Plus I still need to blog some separates I made weeks ago. Lots to do as always. Hopefully I won't let another five weeks pass before my next post!
Are you finishing up your summer sewing, or are you already planning for fall?
<3 Lindsay