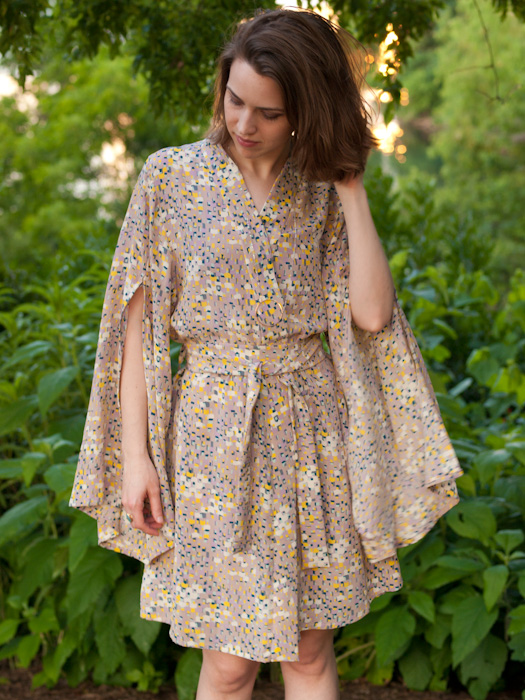 No time like a wedding to bust out the silk, right?
A few weeks ago I posted the silk Belladone dress I made to wear to a wedding rehearsal dinner, and now this is the main event: the Wedding Guest Dress. As soon as I RSVPed I started plotting what I would wear… I wanted to make something fun and out of the ordinary, that I wouldn't normally have a good excuse to make. What immediately came to mind was Named's Asaka Kimono pattern – which I'd fallen in love with the minute I laid eyes on it – and this seemed like the perfect occasion to try it out!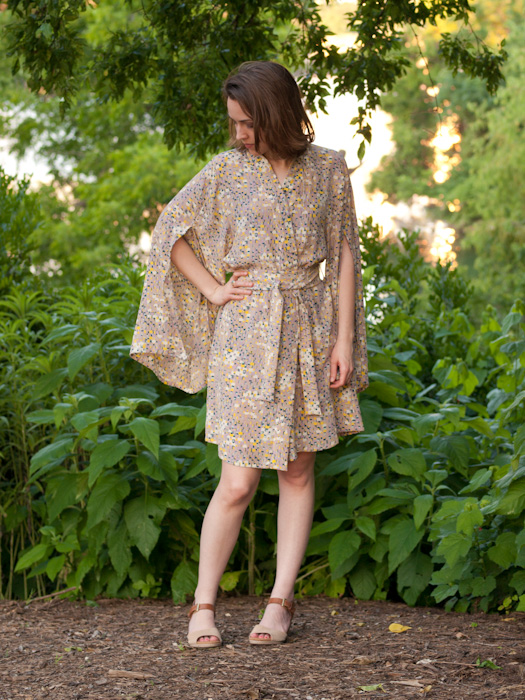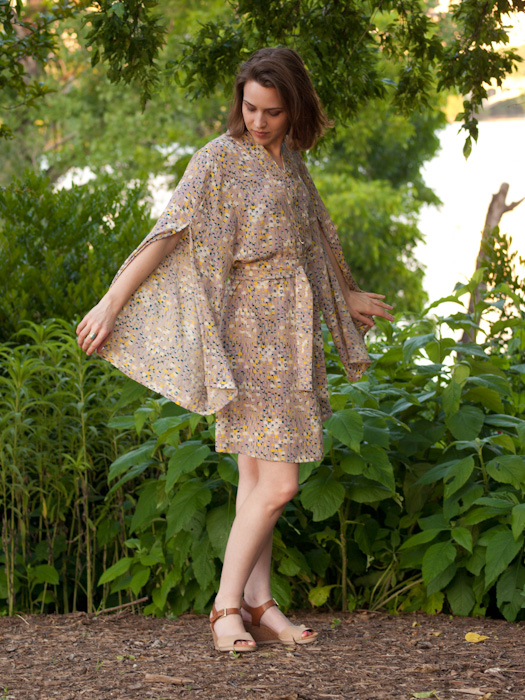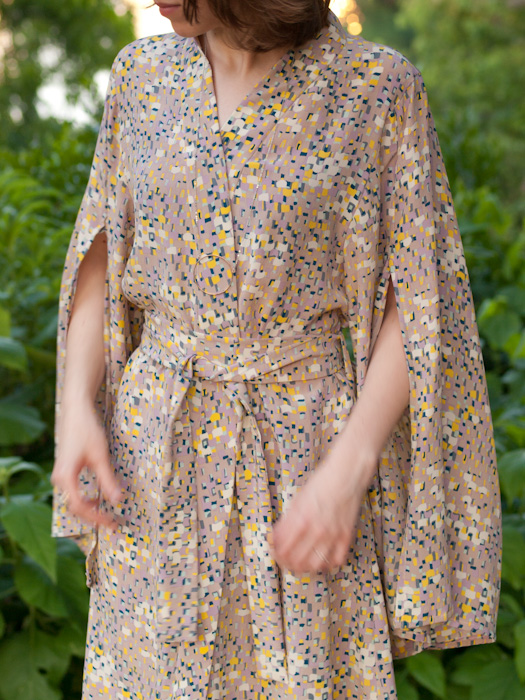 The fabric is a super-lovely silk crepe de chine which I won in last year's Anima Pant Contest. I'm so glad I finally found the perfect project for it! It feels amaaazing to wear, and was surprisingly not too difficult to sew. I think the slightly raised texture of crepe de chine makes it the easiest type of silk to sew – it was certainly much less shifty than the silk twill I used for my Belladone dress.
The hardest part of making this kimono was cutting it out. I had about a 1/2 meter less fabric than was called for, so pattern piece placement was crucial. Silk's not easy to cut out at the best of times, and with the added fabric shortage pressure the situation was a little stressful and time-consuming. I was just barely able to eke it out of the fabric I had, but the inner collar pieces and belt had to be pieced together, and there were only the tiniest of scraps left over.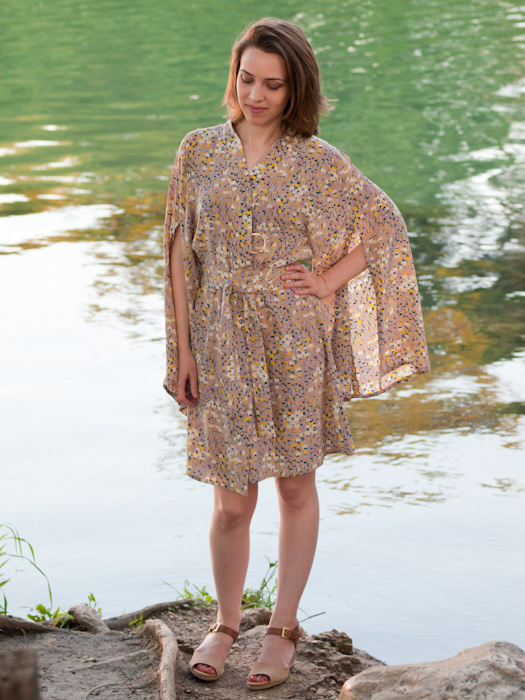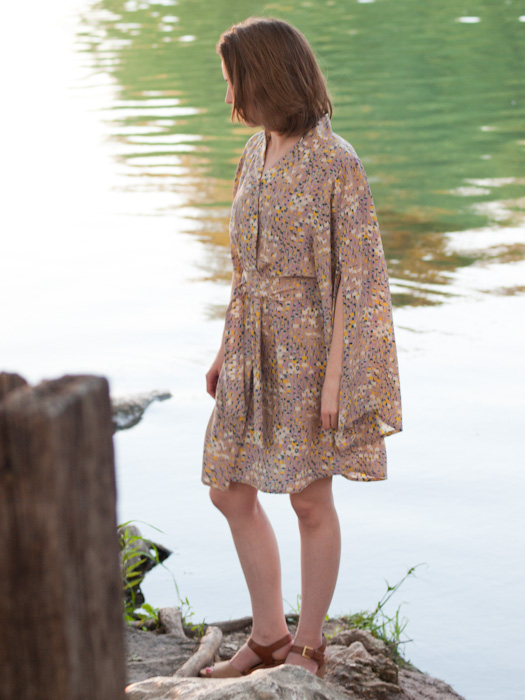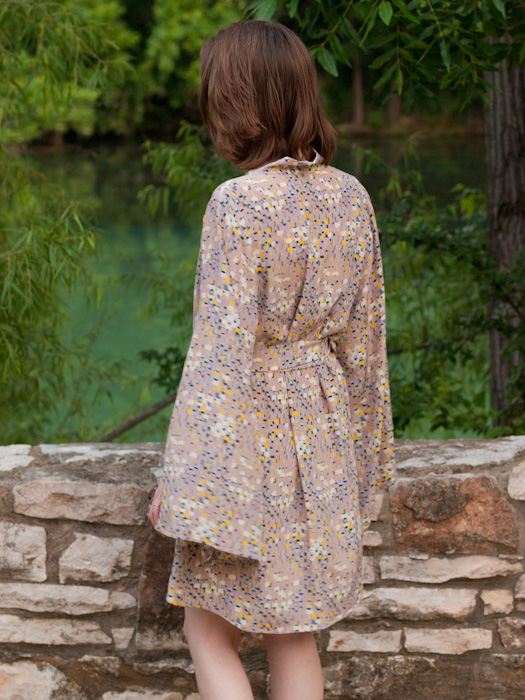 After the cutting drama thankfully the kimono itself came together pretty easily. The construction's actually fairly simple. The instructions are thorough, and there really aren't any tricky bits at all – not even a zipper or bias binding to deal with. It's a loose fitting garment, so you don't have to worry too much about fit. I didn't want it to be too loose, so I sized down to a 32 from my usual 34, which seemed to work well. I didn't make any other alterations.
If you want to wear the kimono as a dress, you'll need to address the center front situation. A kimono's basically a robe, so the collar will definitely gape open. I just stuck a pin through a couple layers of the collar, and it worked well for me. It's not visible from the outside since you're only sticking it through the under layer, and I didn't have any issues with the pin poking me or falling out even after hours of dancing/eating/etc. A more elegant solution would be to tack the collar pieces together or maybe add a snap, but the pin works! The kimono overlaps enough at the bottom that I didn't have any flashing issues there.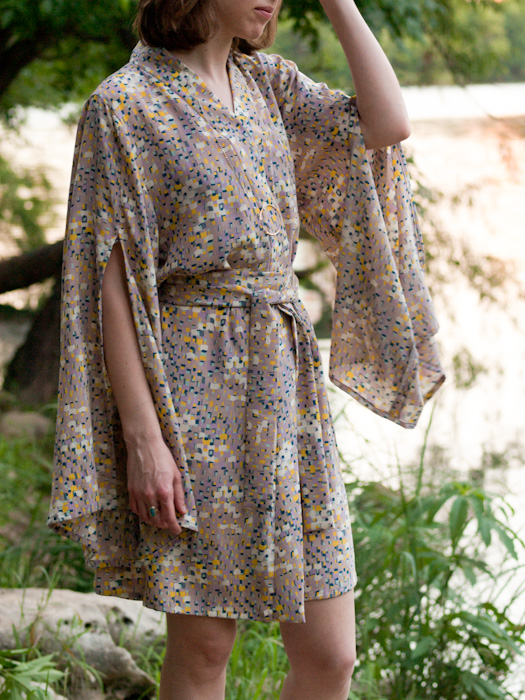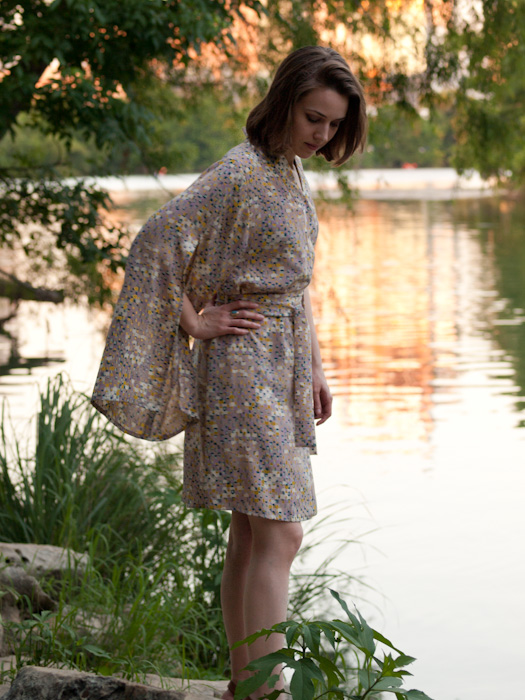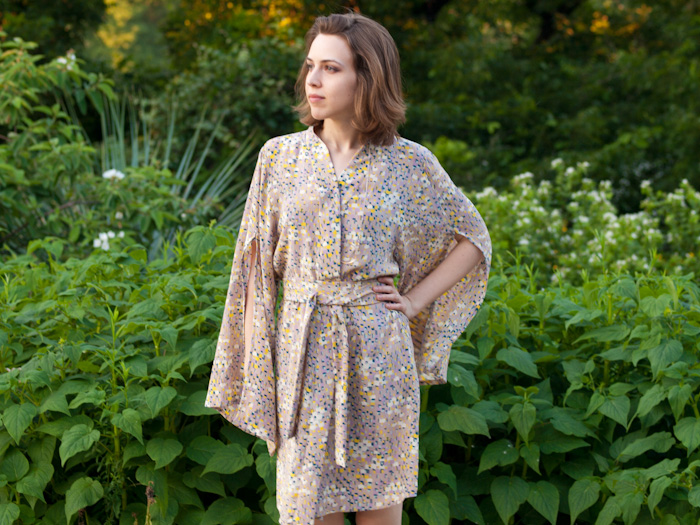 I can 100% recommend wearing kimonos to weddings! With the adjustable belt you can eat as much cake as you want (I might have had three slices…) and the flowiness of the kimono makes it so fun to dance in! The sleeves are basically the best ever.
I'm not really sure when I'll have an opportunity to wear this kimono again (it's not exactly an everyday kind of garment) but I'm very glad I made it! And if you can think of any kimono-appropriate events other than summer weddings let me know!
<3 Lindsay