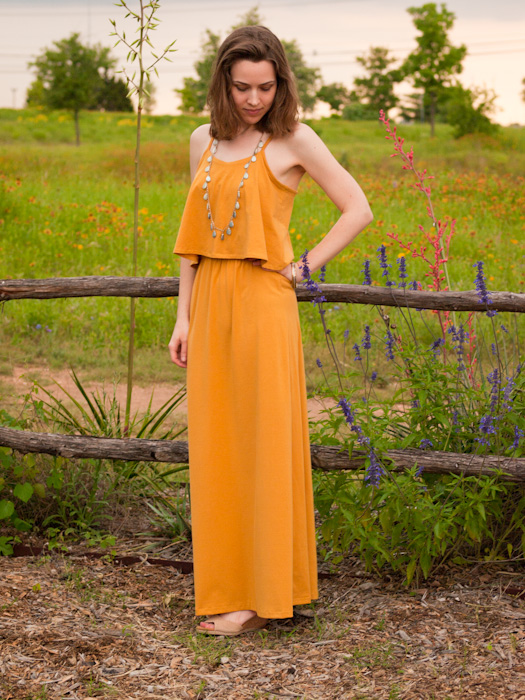 Last month, Art Gallery Fabrics contacted me to see if I'd be interested in reviewing some fabric from their new knit solids line. Free fabric? Of course I was interested! I know AGF makes some stunning printed quilting cottons, so I was curious to see what their knits were like.
I chose the vibrant and summery Sahara Sun color to make a project with. And the first pattern that came to my mind when confronted with a length of solid knit jersey was one of Named's new patterns, the Delphi Layered Maxi Dress. Obviously I have a bit of a thing for Named. What with my recent makes of two pairs of Jamie Jeans, an Augusta Hoodie, a Kaisla Blazer that's almost finished, and an Asaka Kimono cut out and ready to sew, I think it's safe to say I'm a fan of their designs!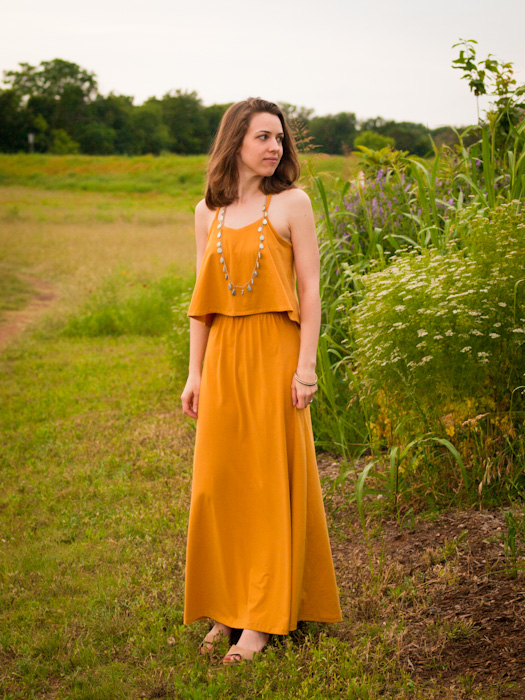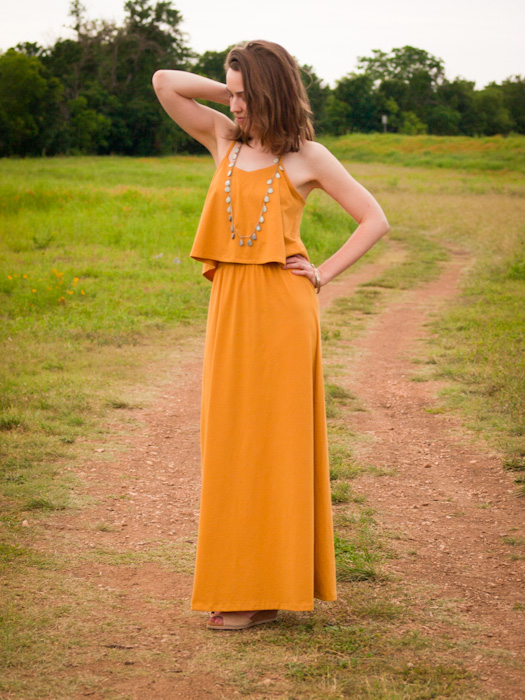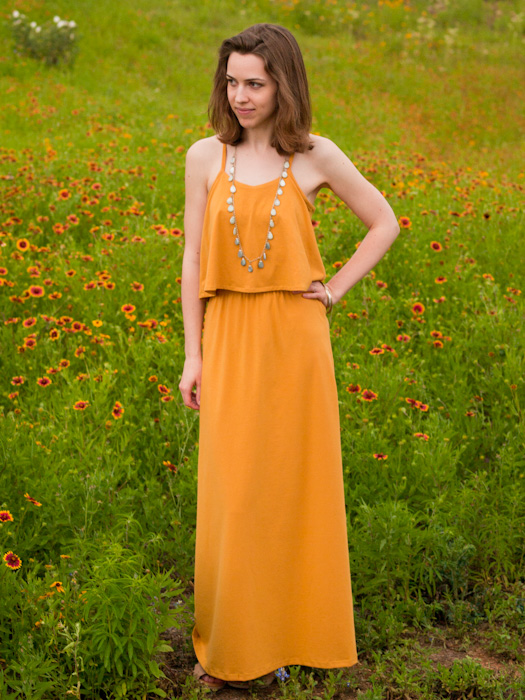 A maxi dress is a new silhouette for me, but it turns out it's one I really like! Growing up I always had the notion that maxi skirts and dresses were a look that only tall people could pull off. But since I started reading sewing blogs I've seen ladies of all shapes and sizes looking great in maxis.
I also wasn't sure how the layered section of this pattern would look, so I'm really pleased that the silhouette ended up being so flattering. I think the proportions of this dress are great!
The pattern was straight-forward and fairly quick to sew, with good instructions. You do want to be careful with the sizing on this one though. My measurements are exactly that of Named's size 2, and that's my usual size in their patterns. However, Priscilla's Delphi review recommended sizing down and mentioned underarm/back gaping issues. Since this is a knit I figured I'd be safe sizing down, so I cut out the 0 instead. I ended up with the same gaping issue though. The way the dress is constructed it's hard to tell until the very end how the bodice is going to fit. If I'd made a muslin I would have taken a good 1/2″ or so out of the bodice side seams, which I think would fix the issue. But honestly the gaping doesn't bother me much, so I'm not going to go to the trouble of unpicking.
The only change I made was to shorten the skirt by two inches to match my 5'4″ stature.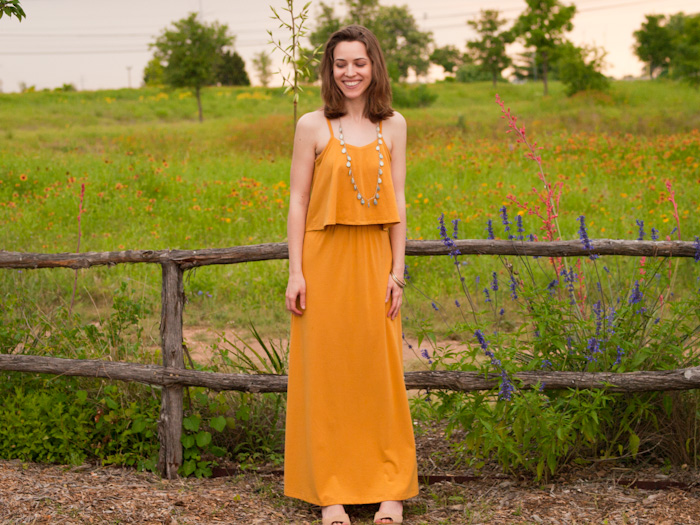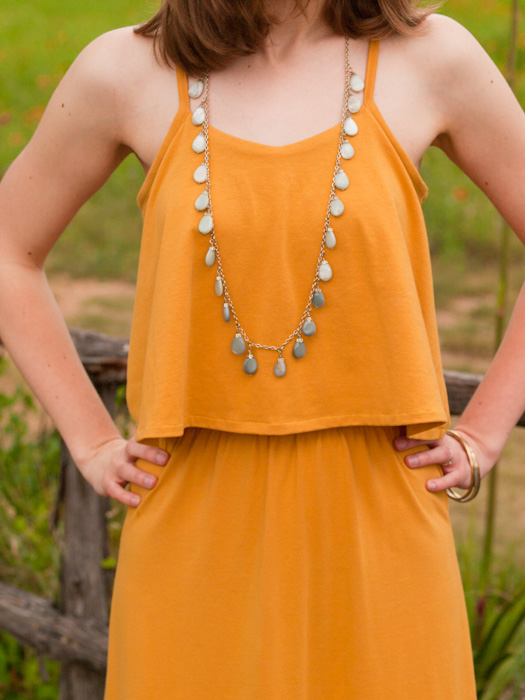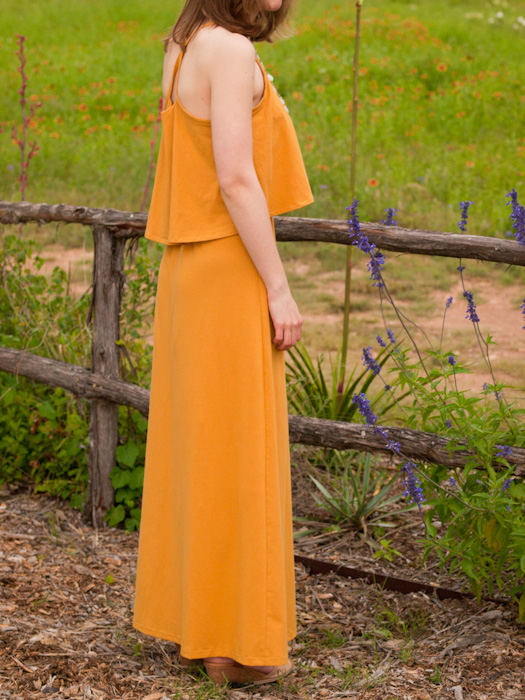 The fabric was really lovely to sew with – both my sewing machine and my serger sewed it perfectly without any tension issues. It's a nice, soft medium-weight cotton knit with a good drape. Thick enough to use for skirts, but still light enough for t-shirts. I love how vibrant the color is, and it feels great to wear!
The pattern called for 3.5 yards in my size, but I actually only ended up using about 2.5. Your mileage may vary, but just know that you can probably get away with less than it says!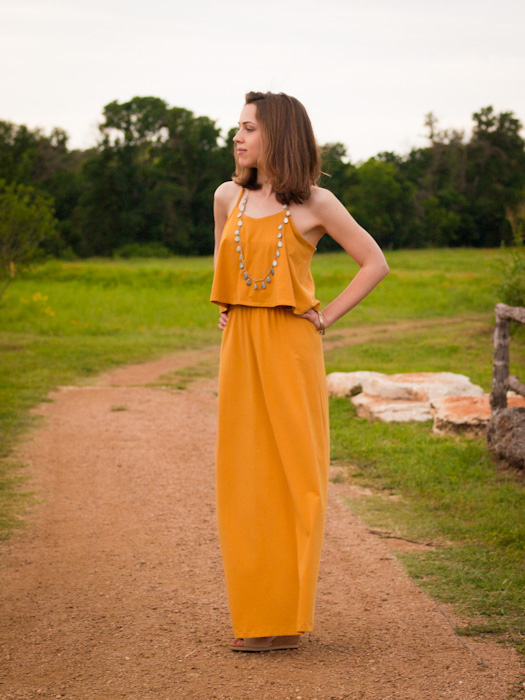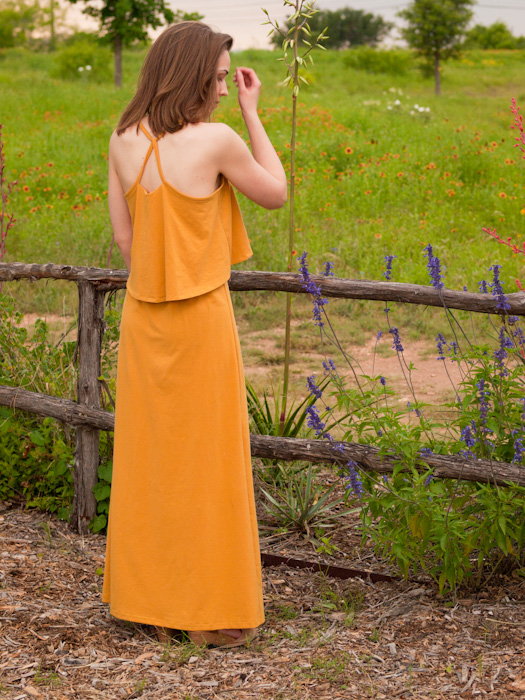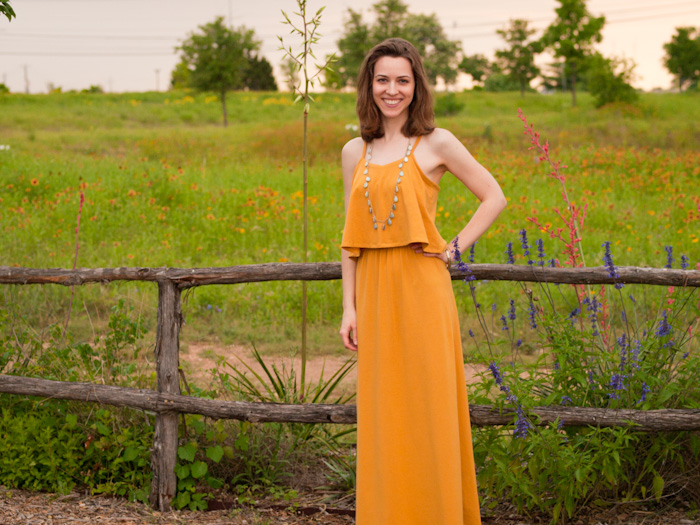 Are you planning on sewing any maxi dresses this summer? Now that I've dipped my toe in the water I'm excited to explore this silhouette some more! So many new wardrobe possibilities…
<3 Lindsay
The fabric for this post was provided by Art Gallery Fabrics. All content and opinions remain my own.