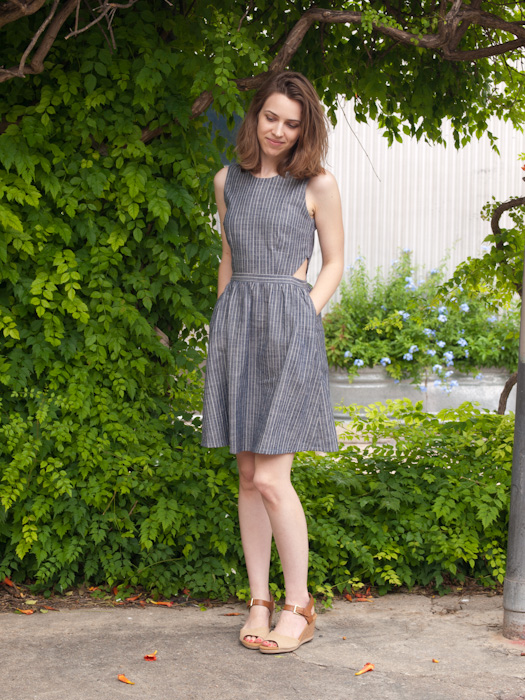 Recently I had the opportunity to test Dixie DIY's new pattern – the Bonnell Dress. I've had the pleasure of meeting Dixie a couple of times at Austin sewing meet-ups, and when I saw she was releasing this dress as a pattern I was super excited!
I love the silhouette of this dress. The cut-outs are not only fun, but combined with the waistband they really help create the illusion of a small waist and hourglass shape. The bodice and waistband are lined, so the cut-outs have a clean finish, and the dress looks great inside and out.
Description of the Bonnell dress from Dixie's website:
The perfect summer dress! Sleeveless dress has bodice darts, jewel neckline in front and V-neck in back, waistband, gathered skirt with side seam pockets, triangle cutouts at bodice side seams, and a center back invisible zip.
And, guys: I love this dress. Seriously. It's one of my favorite things I've ever made. Lately a lot of my sewing has felt more like a chore than a hobby. I've been making some boring house things like curtains and pillows, as well as fulfilling some sewing requests from family members. And even the stuff I've been making for me isn't exactly fun to sew. Like my last pair of jeans turned out great, and I'm really glad I made them, but the sewing itself wasn't that fun. So this dress was exactly what I needed for a breath of fresh air. Sewing semi-fitted cotton garments is definitely my favorite type of sewing. Button-up shirts? Yes. Love them. And making this dress definitely had a similar feel.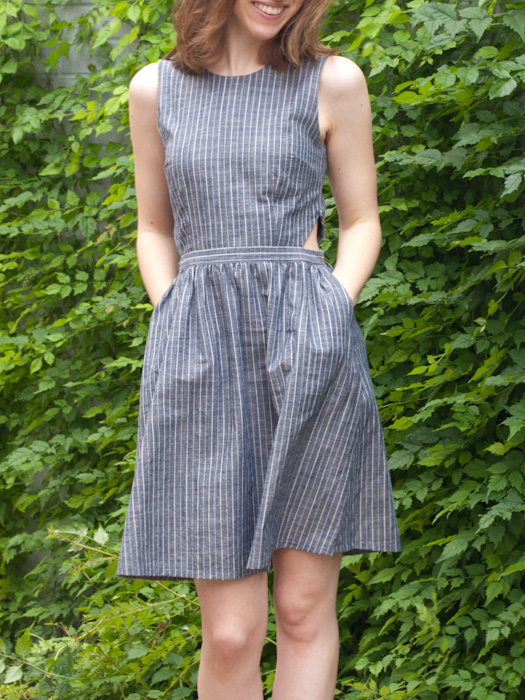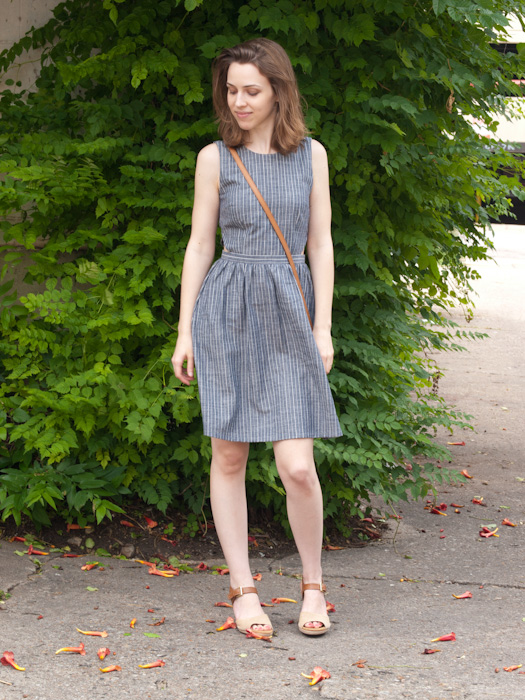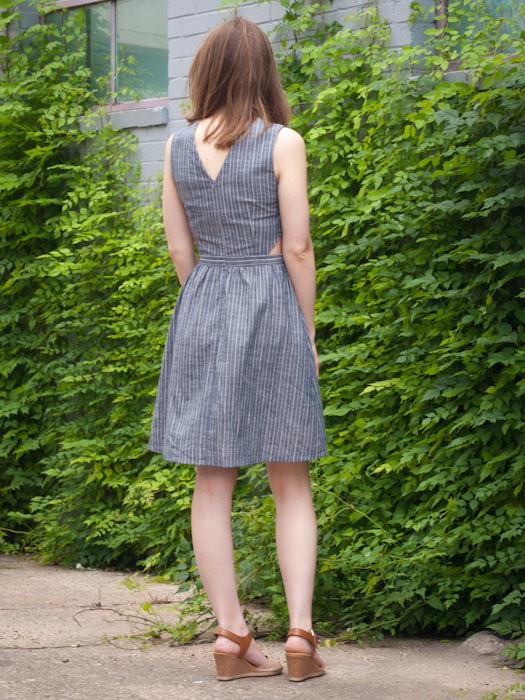 I never used to wear dresses much, but I've been making more of an effort lately. And while I have a few casual jersey dresses, I didn't have a single casual woven dress. Once I knew I'd be making this pattern, I took some time to really think about what type of fabric to use to make this dress as versatile as possible. Chambray is one of my favorite fabrics, both to wear and to sew with, so I finally decided on this lightweight Kaufman railroad chambray. I thought a print would be too busy, but a solid would be too boring, so I compromised with this striped fabric. Neutral, but still interesting.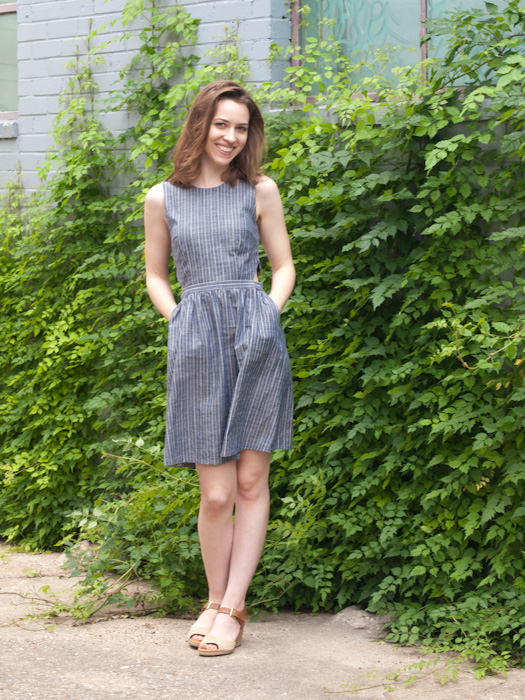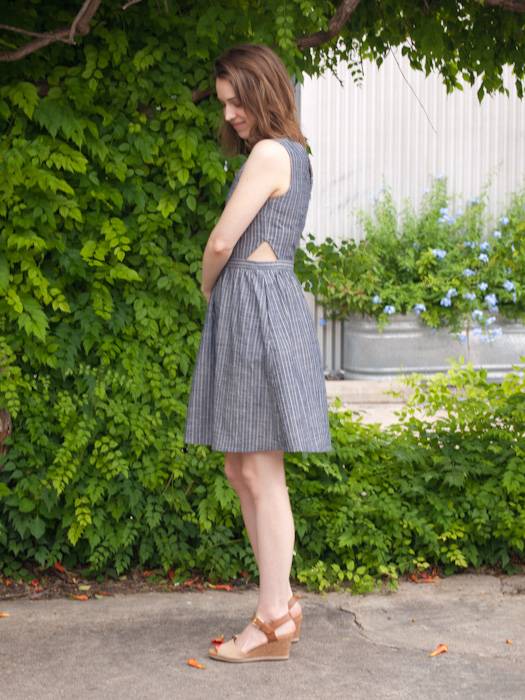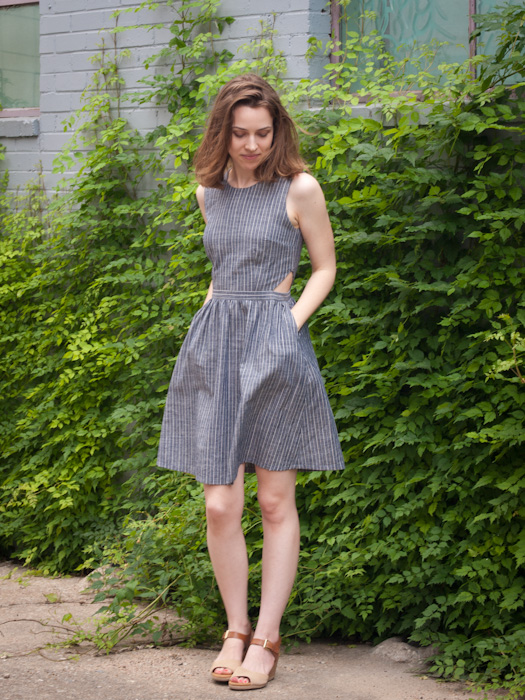 Before sewing, I did my standard 1/2″ SBA to the bodice. I made a size 0 for the bust and hips, graded to a size 2 at the waist, and the fit was perfect.  My hem is 3/8″ longer than called for because I only turned it up once instead of twice. I'm 5'4″ and think it's a good length, so if you're taller you may want to lengthen the skirt a bit. I also machine-stitched the waistband down rather than doing it by hand.
The original neckline was a bit too high for me, but I'm someone who doesn't like to have clothes touching my neck. After trying the bodice on I decided to lower the neckline by 1″ at center front, grading back to the original line at the shoulder seams. This is an easy change to make during construction, so if in doubt I'd just cut the piece out as normal and lower it later if you feel like you need to. Of course you could always do a muslin first if you're not as lazy of a seamstress as I am!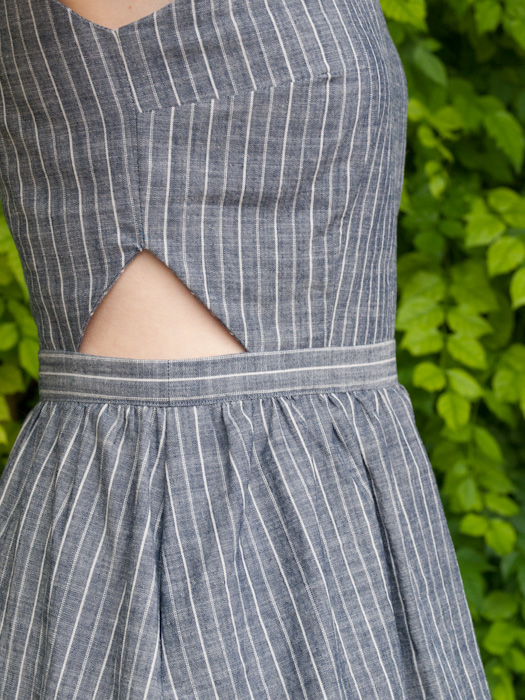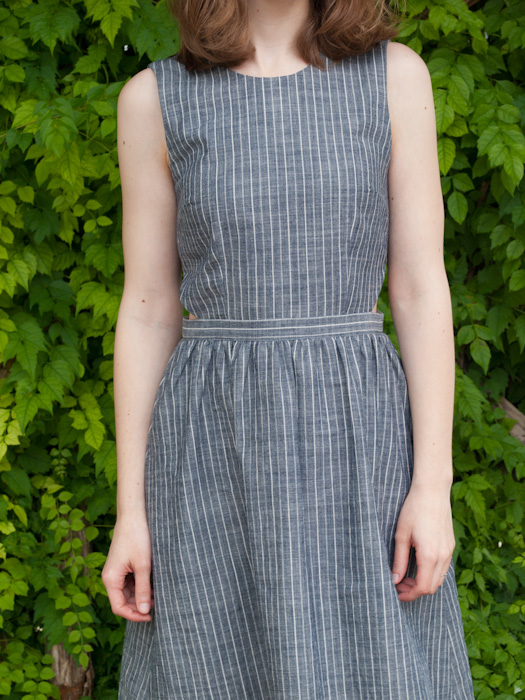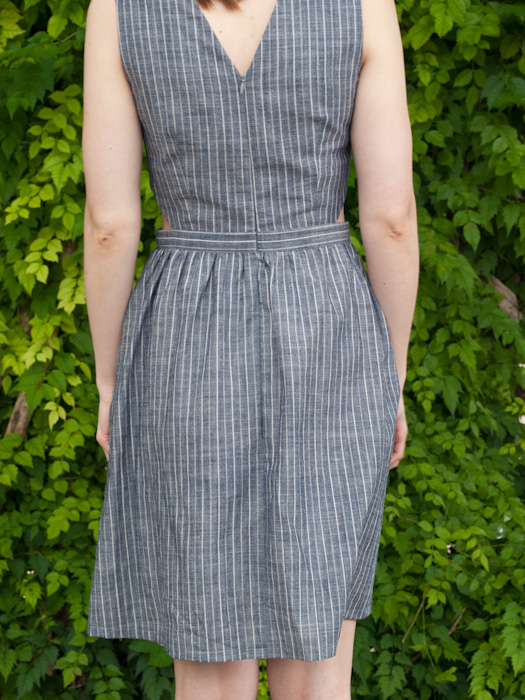 Nothing major changed with the pattern after I tested it. I made a few suggestions about small issues, and they were all incorporated into the final pattern. The instructions are very clear and easy to follow, and there's a tips section in the beginning with extra info if you need it.
Also, the printed pattern is just 16 pages, which I really appreciate!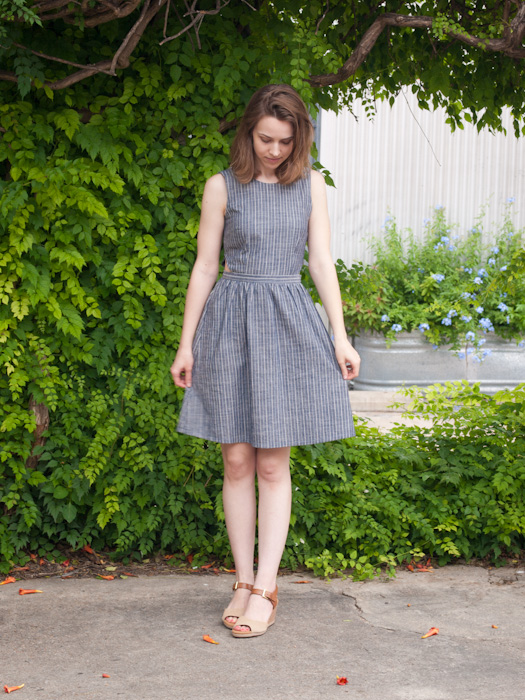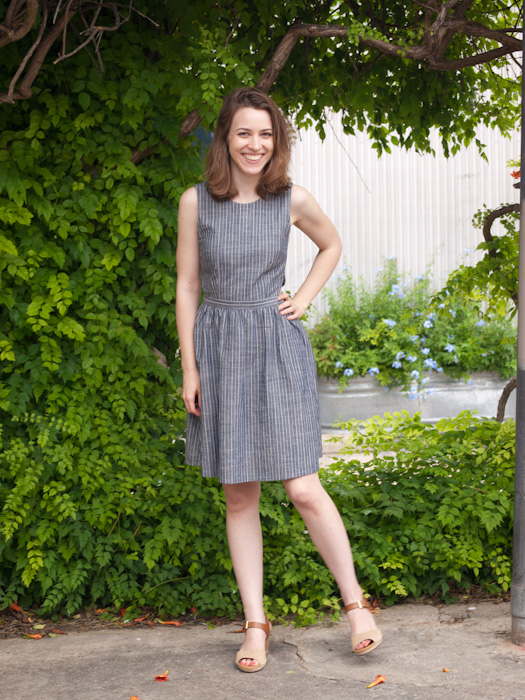 I've already worn this dress a handful of times, and I know it's going to get a ton of wear this summer. It fits both my style and my lifestyle perfectly, and I'm so, so happy with it! I could tell almost from the instant I started sewing that it was going to be one of my favorite dresses, and I'm glad it turned out exactly as I envisioned it!
After I finished this dress I had some good sew-jo going, and I made another dress and a kimono to wear to a wedding and a rehearsal dinner this past weekend. If it ever stops raining I hope to have them photographed and blogged soon!
Are you doing any summer sewing?
<3 Lindsay
I received a free copy of the final pattern in exchange for testing. All opinions are my own.