Hey there! It's been a while. I've been doing some re-decorating and re-organizing both in my sewing room and here on the web. Last weekend I switched my site over from Blogger to WordPress, and I've just about got it fixed up how I like it. Hopefully the rss feeds have switched over like they should and this post appeared in your blog reader. If it didn't or if you notice any other glitches in the site please let me know! EDIT: This post didn't appear in Bloglovin when I originally posted it two days ago, but it should be there now!
And now on to the backpack! This is the Cooper Bag by Colette Patterns. I first used this pattern over a year ago to make a backpack for my husband. He's used it almost every day since and it was starting to look pretty rough. The side seams of the lining had blown out and one of the straps was starting to fall out at the top. It was time for some repairs and since I hate mending things I decided a good motivator would be to make myself a new backpack at the same time that I was fixing his! Note: I really like the idea of mending things and prolonging their usefulness. Those kinds of projects just always tend to sit on the backburner while I make something new and exciting – even if it's the kind of thing that would only take me 10 minutes to fix.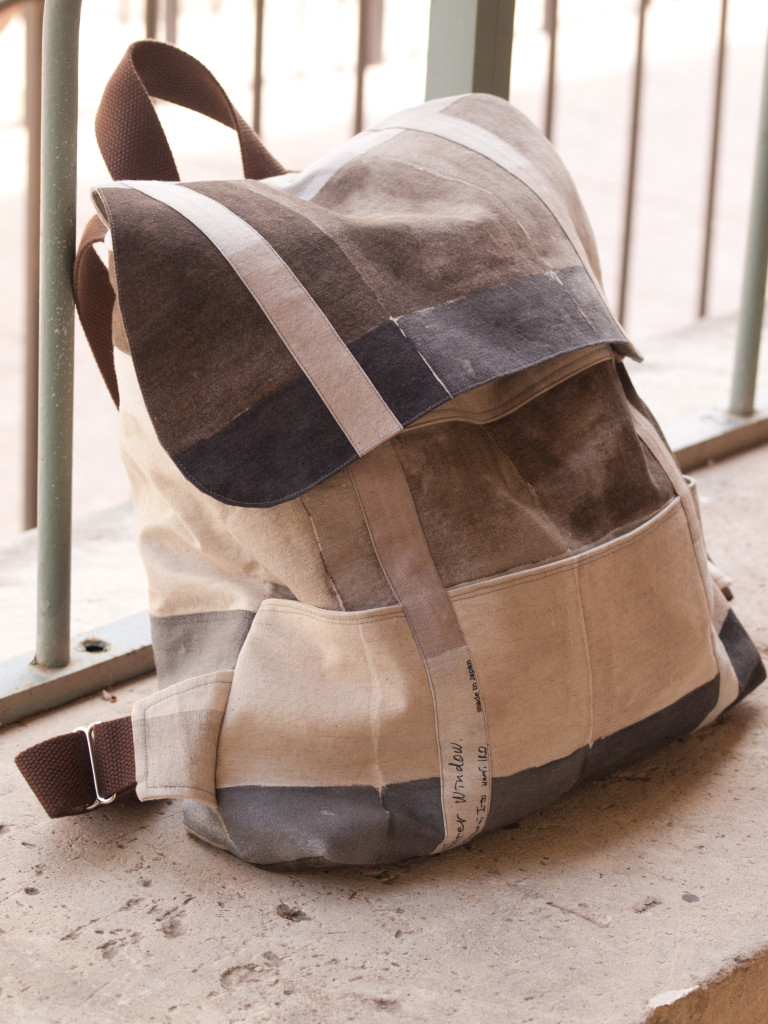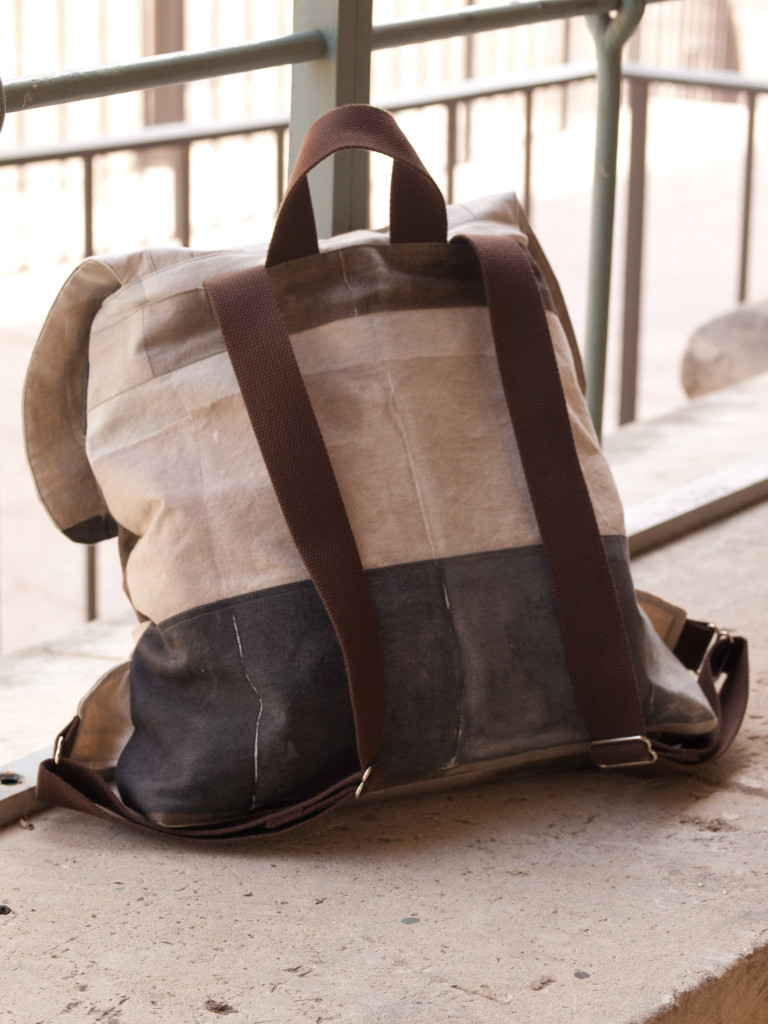 I've been a fan of the Nani Iro "water window" design since I first spotted it at Miss Matatabi and when I saw this canvas version in person at Form & Fabric I knew it would be perfect for a backpack! The lining is also from Form & Fabric – a quilting cotton that I picked up for super cheap at their going-out-of-business sale.
The canvas isn't terribly thick, so I used heavyweight interfacing on the body and flap pieces to give the bag a bit more structure.
It took me a really long time to cut out the pattern pieces just because there were so many options for pattern placement. I wanted to make sure I got a good mix of light and dark areas. I'm really happy with how it ended up looking. It was a happy coincidence that the printing on the selvedge was the exact width of the body strap – I think it's a nice touch.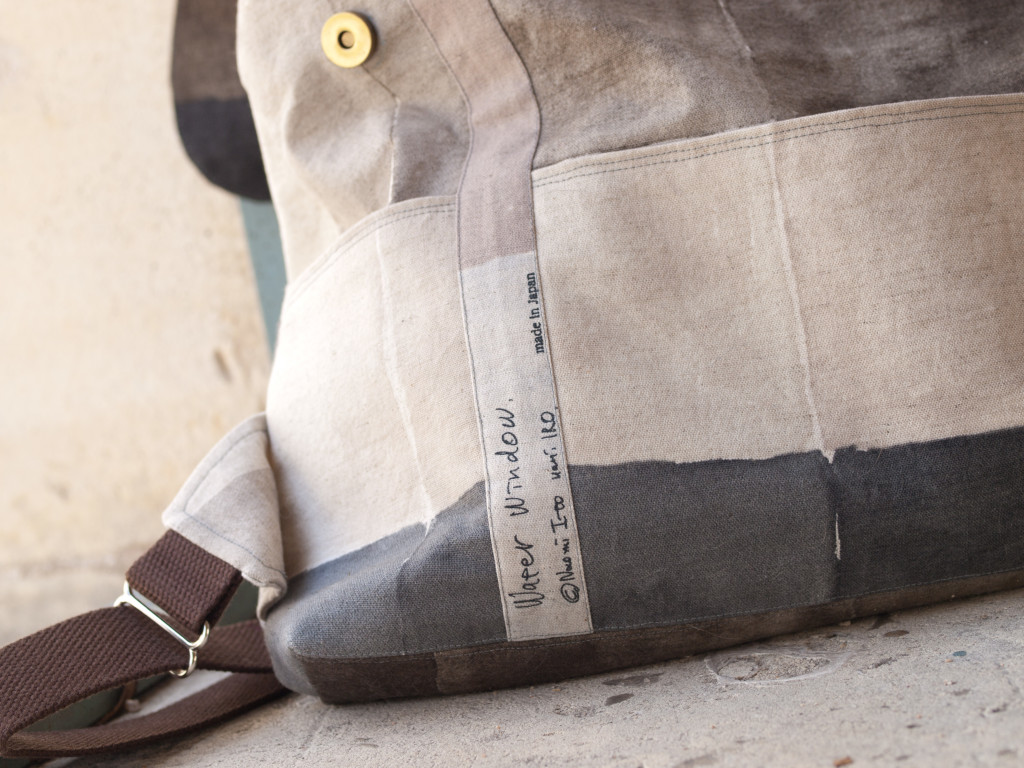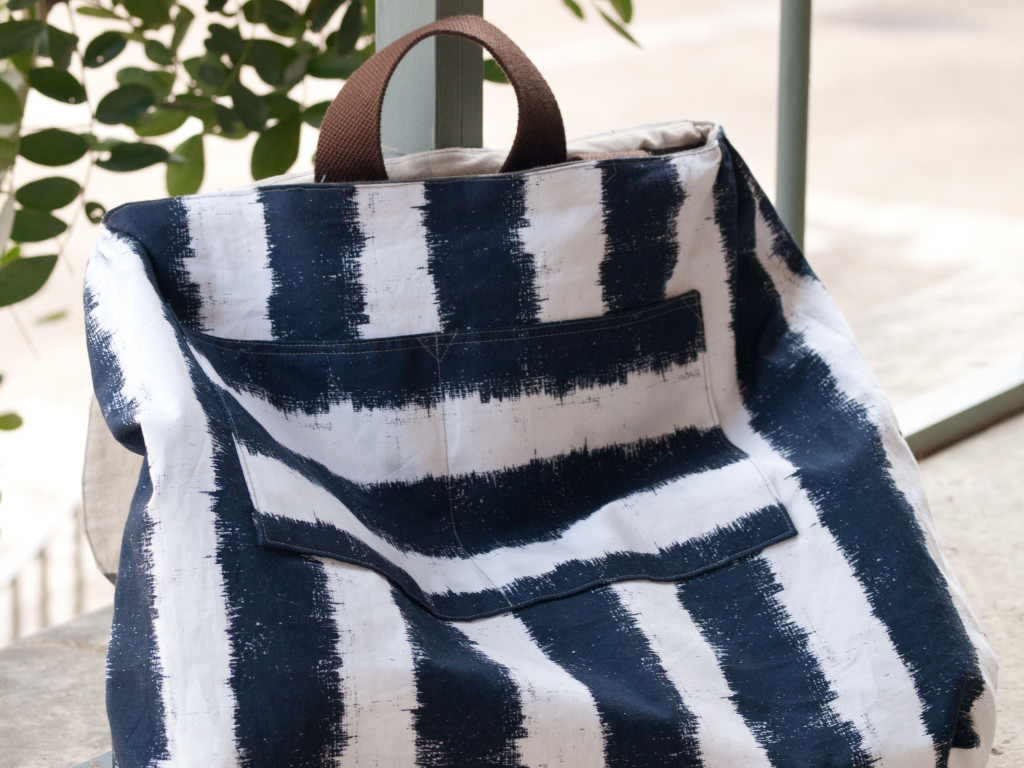 This is a pretty easy pattern to put together, unfortunately I made two stupid mistakes that prolonged my construction time. First I cut the slits for the magnetic snaps on the outside flap instead of the inside flap. Ugh. Luckily I had enough fabric left that I was able to cut out a new flap piece with the exact same pattern placement. I'd already put the straps on it, so I had to take my seam ripper to those and re-attach them to the new flap. Then I somehow managed to put the lining in inside out. Double ugh. Those time-consuming little mistakes are so frustrating.
Another mishap occurred before I even started sewing. For the first time ever USPS lost one of my packages. I'd ordered cotton webbing and magnetic snaps from this Etsy shop and though the tracking number said it had been delivered there was no package to be found. USPS was no help, but when I contacted the shop owner to let her know what had happened she surprised me by really going above and beyond to help me out. Even though it was no fault of hers she re-sent me my order for free and was so nice about the whole situation. The webbing and snaps ended up being really high quality as well, so I definitely recommend her shop if you're looking for bag-making supplies!
The double loop sliders are kind of hard to find – I ordered mine from Buckle Guy where they're reasonably priced and come in a few different finishes. I didn't bother adding rivets to the flap.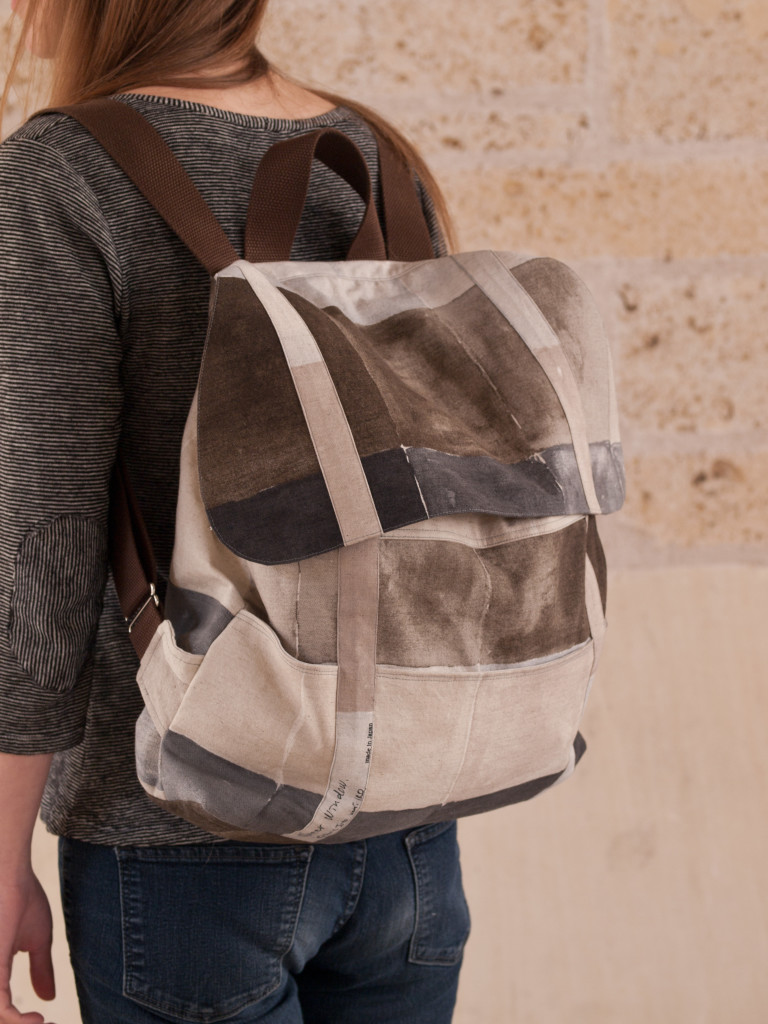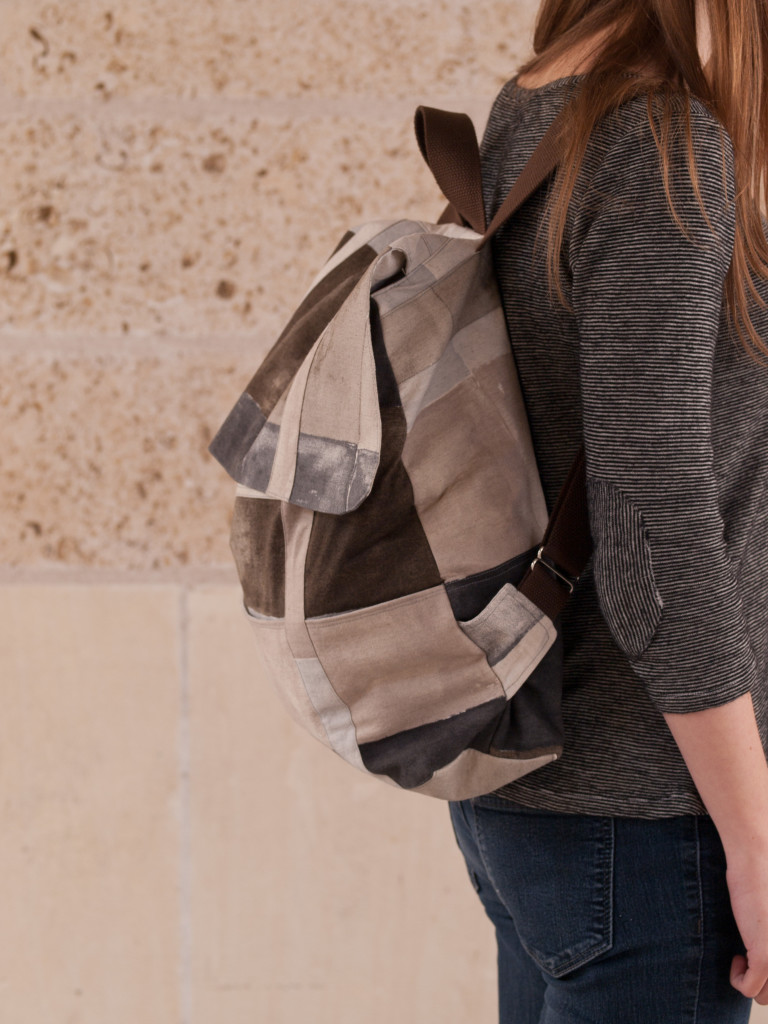 After seeing where my husband's backpack got the most wear and tear, I knew of a few improvements I wanted to make. The lining definitely needs some "action pleats" if you're planning on carrying around heavy things like laptops and textbooks. For my husband's new lining I used a heavy-duty ripstop and added side panels that are pleated at the top so the lining can still be sewn to the bag opening as usual. For my lining I just sewed the side seams at 1/4″ instead of 5/8″ and made mini pleats with the excess fabric at the top. I'm not planning on carrying a lot of heavy stuff so hopefully that'll work well enough.
My husband's old straps were made from self-fabric because I couldn't find any webbing that matched. They were starting to come apart from the bag where they attached at the top, so I replaced them with cotton webbing straps – which he reports are much more comfortable. The instructions only call for one line of stitching where the straps meet the bag. Again, if you're planning on carrying heavier things you're going to want some extra reinforcement here. I fed the webbing in an extra inch or so and made a rectangle of stitching with an X through it where each strap attaches to the body of the bag.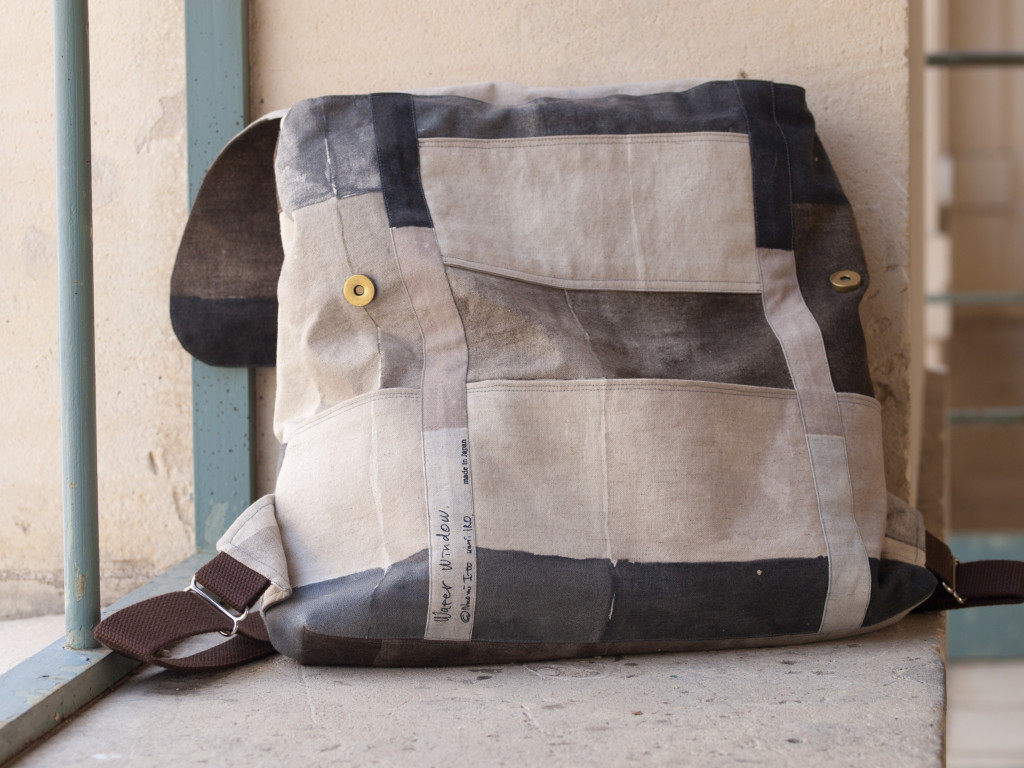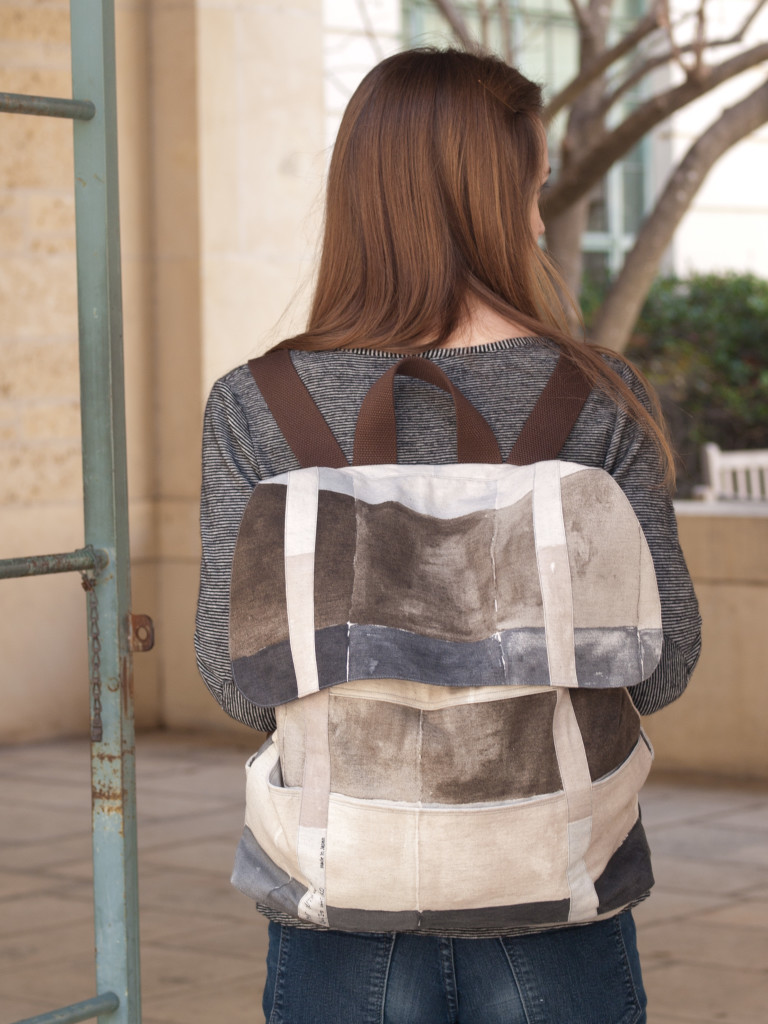 I think it ended up looking really cool! And it's going to be super useful for weekend trips and other traveling. Have you made a backpack or other travel gear? I may have to make the Portside Duffle next…
<3 Lindsay