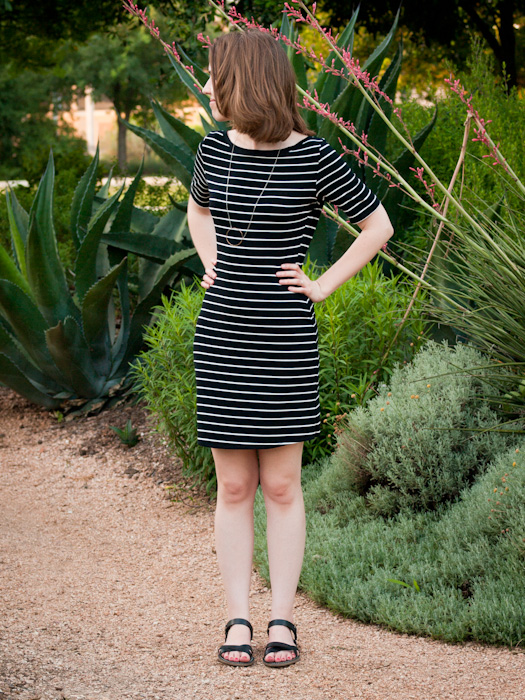 I've been all about summer dresses lately. And when I saw the latest pattern from Seamwork Magazine, the Mesa shift dress, I just couldn't resist bumping it to the top of my sewing queue. It's super quick – you can get it cut out and sewn within two hours. And I just so happened to have the perfect bamboo jersey in my stash!
I made an XS, and while my waist measurement is in that column, my bust and hips are about 1.5″ smaller. Funnily enough, I thought the fit was good in the bust and hips, but I had to take it in at the waist. I had a lot of fabric pooling at the low back (a common occurrence with shift dresses I think), so I took in the side seams 3/4″ at the waist on both sides as kind of a quick and dirty fix. It solved the problem pretty well, although I feel like there must be a better way to do it. There's no center back seam, so a normal swayback adjustment won't work. Any thoughts?
That's the only alteration I made to the pattern. The sleeve length and hem length are unchanged, and I'm 5'4″, for reference.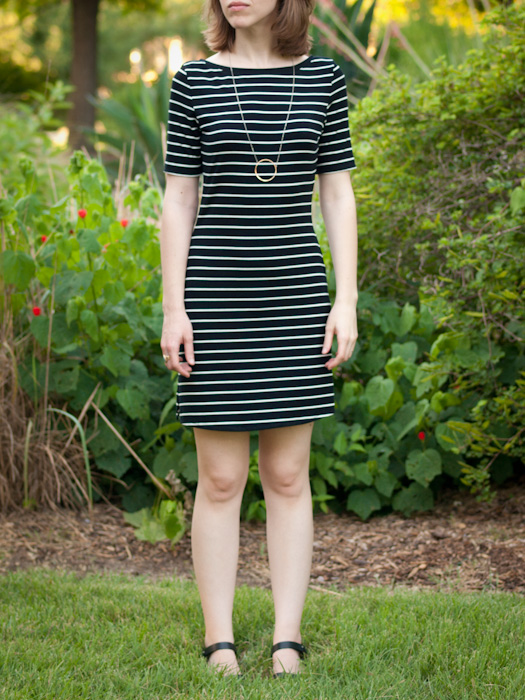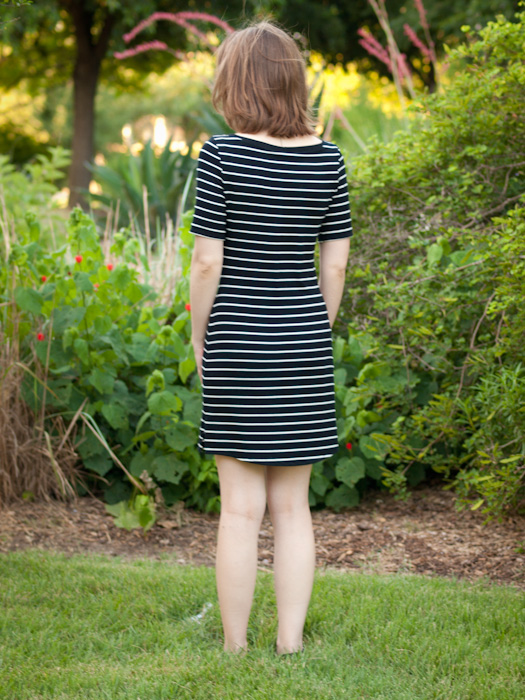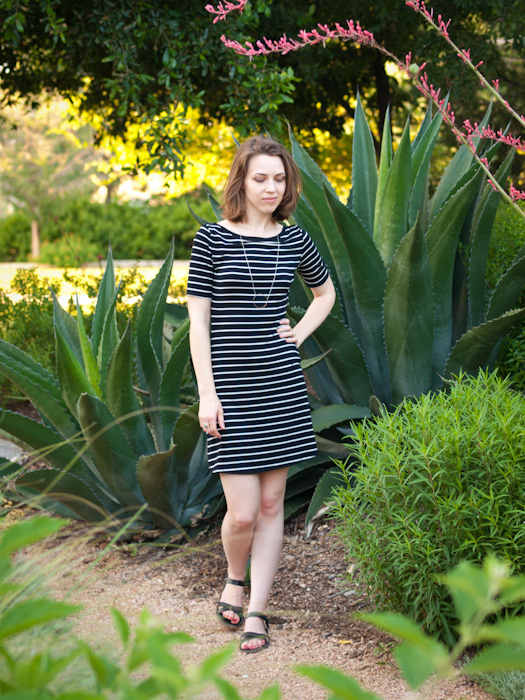 I used this striped bamboo rayon knit from fabric.com and I love it. After my Lady Skater and now this dress, bamboo is quickly becoming my favorite knit fabric. It's a bit more expensive that normal rayon, but I've found that it holds up much better. It's super soft and the perfect medium-weight thickness that is substantial enough not to cling to every lump and bump, but still light enough to wear for a summer dress. After some recent failures with flimsy lightweight rayon that pills if you look at it the wrong way, I think I may be a permanent bamboo convert.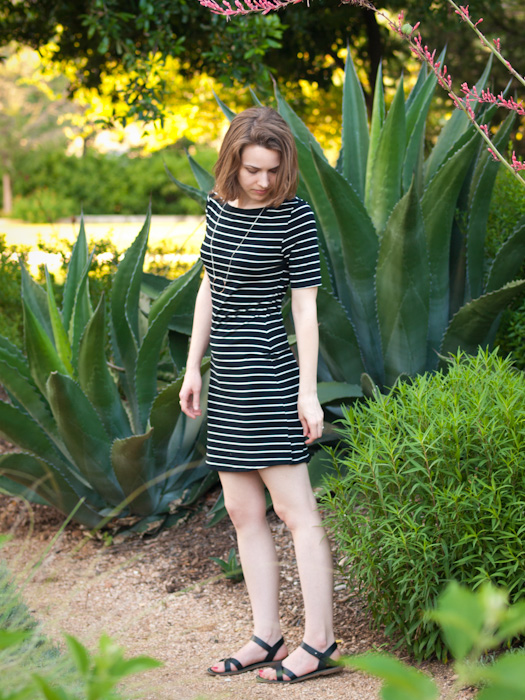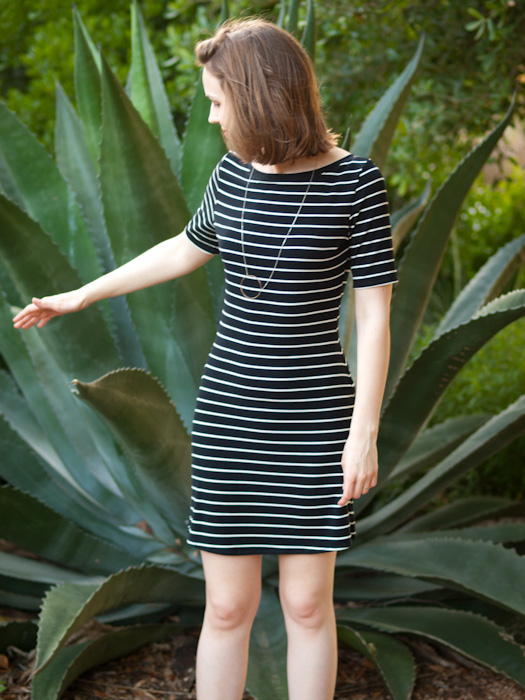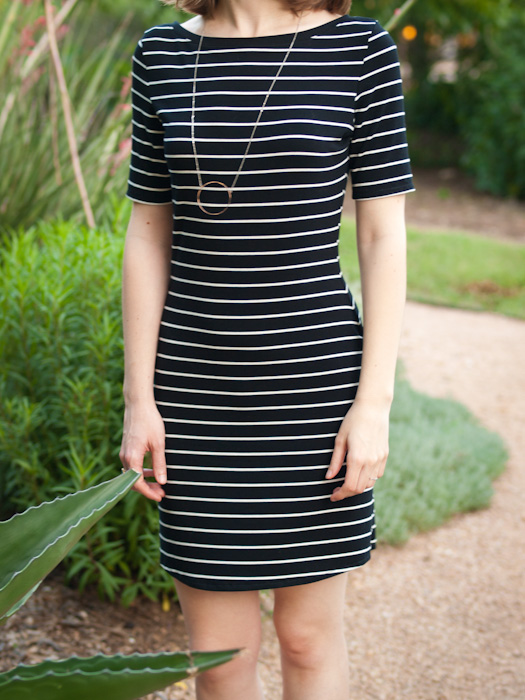 One quibble I have with Seamwork/Colette is that I wish they would be a bit more economical with their PDF patterns. This pattern took 33 pages, and all the other ones I've printed have seemed to take about 10 too many pages as well. The main problem is that their tiles are much too small and leave a lot of wasted space on the page. The pattern piece layouts aren't the best either. If you're cutting one of the smaller sizes you can take a look through the PDF before you print and omit pages that only have bits of sizes you don't need on them – I can usually save at least 5 pages that way.
The instructions are great though! And overall I'm definitely a fan both of this pattern and the magazine in general. It's really fun opening my e-mail to find two new patterns on the first of every month!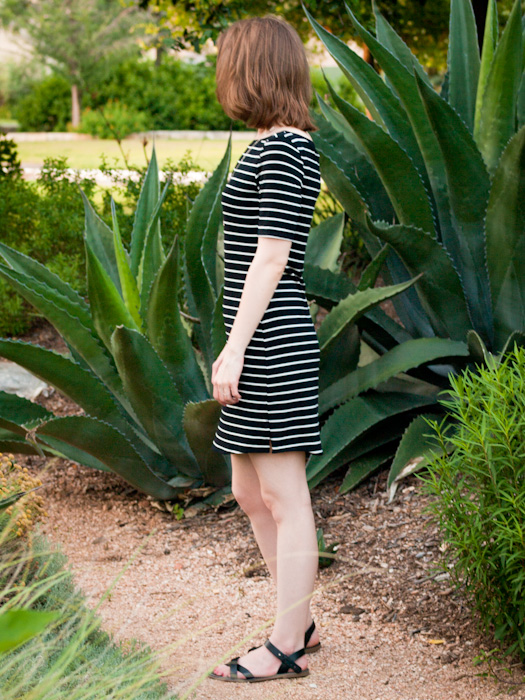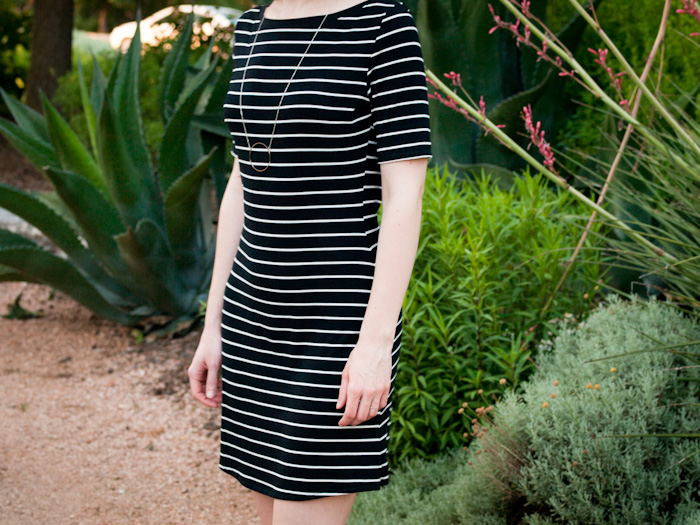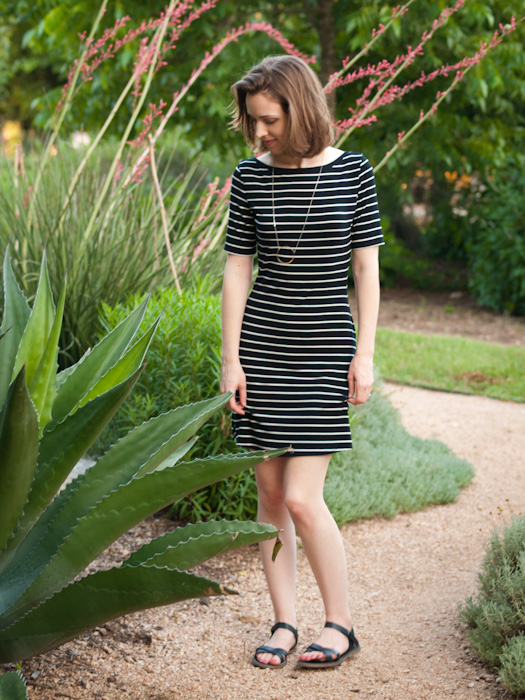 This is the most comfortable dress ever – it seriously just feels like wearing a t-shirt. It's the perfect easy outfit for hot and humid days. I'll be wearing this dress a lot this summer, and I'll definitely be making a couple more as well! With tights and boots, I think this pattern will also transition really well into fall.
Are you a Seamwork subscriber? A shift dress fan? Do you know where I can buy all the bamboo? Let me know!
<3 Lindsay