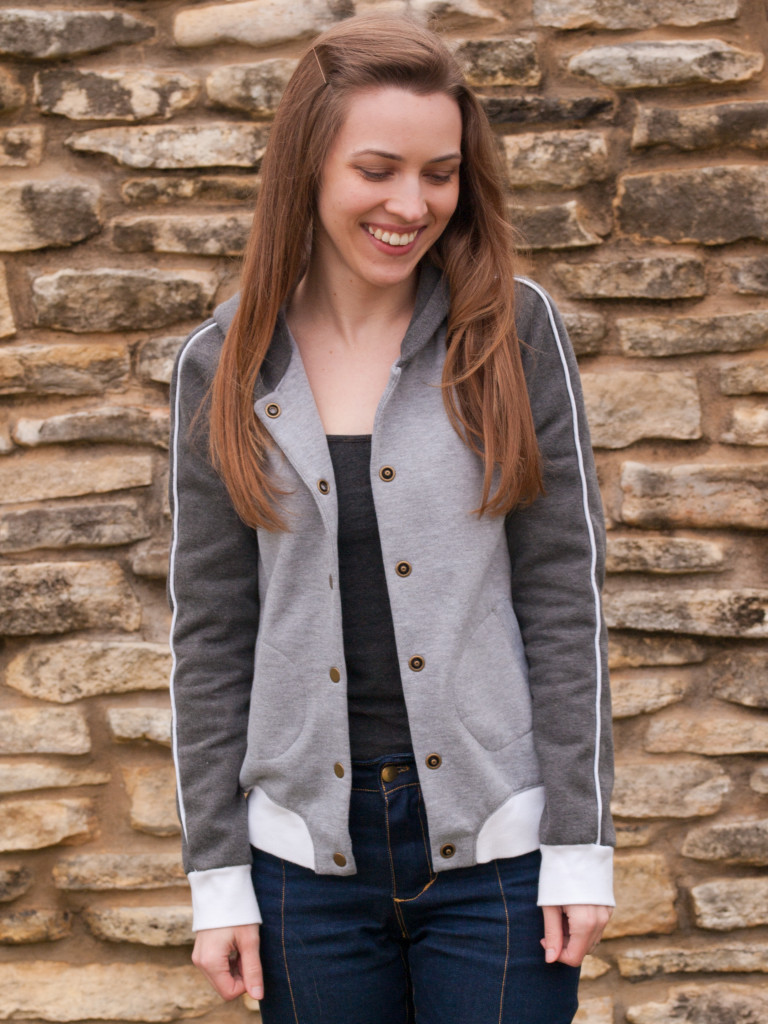 Yay! Named's new spring collection is out, so now I can finally share with you my Augusta Hoodie! A few months ago Named had a call for pattern testers in their newsletter, and I was lucky enough to be picked. I had the chance to preview their new collection and choose a pattern to test. There were a lot of tempting options, but I went with the Augusta Hoodie both because I knew it would fit in well with my wardrobe and because the pattern had a lot of interesting details to try out.
Testing took place over the Christmas/New Year holidays. I was afraid that if I ordered fabric online I wouldn't get it in time to meet the testing deadline. So, with expectations appropriately low, I went to JoAnn's. The recommended fabrics for this pattern are sweatshirt jersey or knit fleece. As expected, the selection at JoAnn's was uninspiring (I'm so not into those '90s-style saturated colors), but I did manage to find two shades of gray sweatshirt fleece. I threw in some white ribbing, pre-made piping, and brass snaps and I was ready to roll.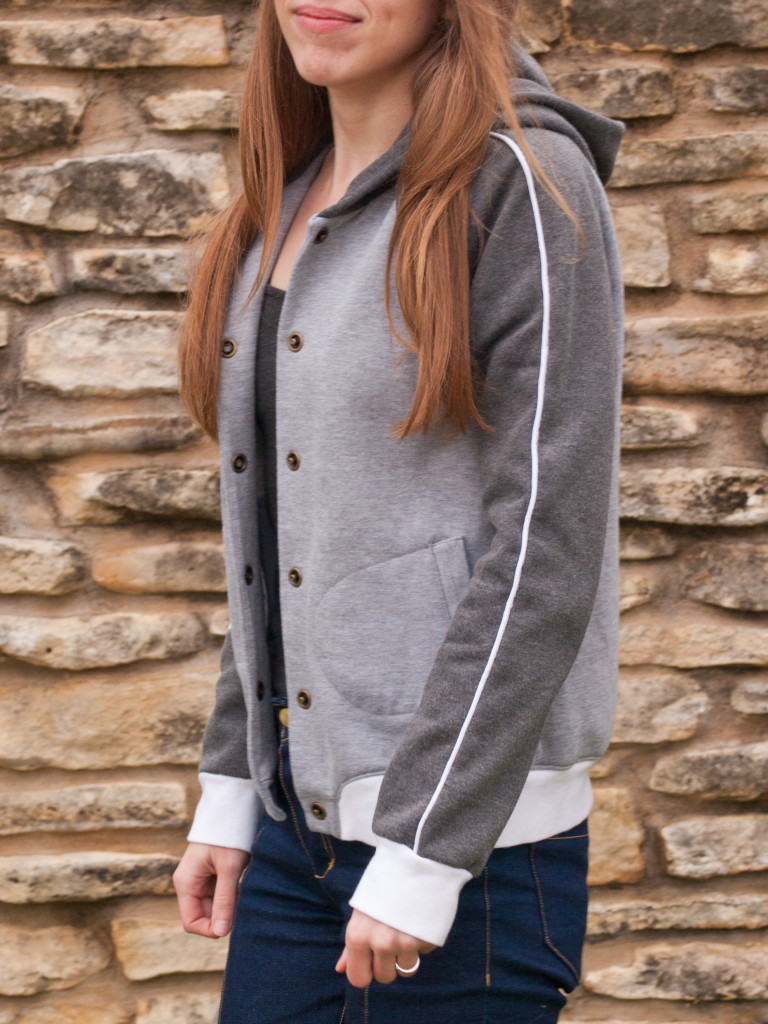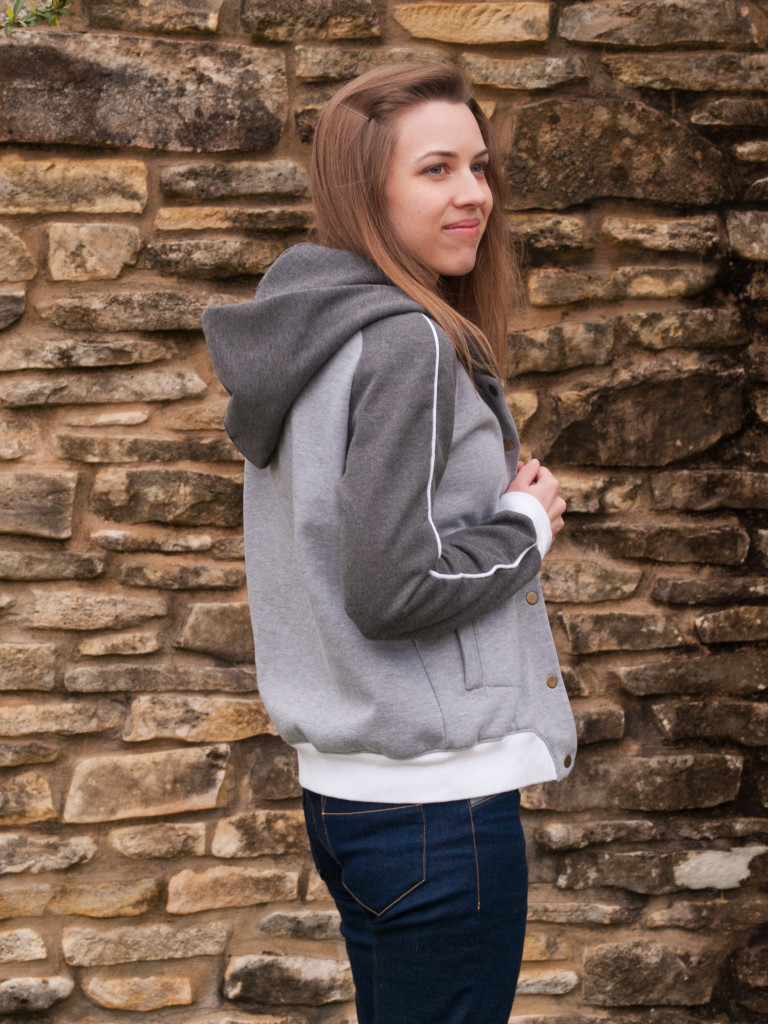 I match Named's size 34 measurements exactly, so made up the pattern as-is with no changes. The fit is spot-on, save for a little tightness through the shoulders.
My favorite details are the piping and the snaps. They're both easy to do, but I think they really elevate this pattern and make it look a bit fancier than your average hoodie. This was the first time I'd used snaps, so I was really pleased to find out how easy they were to install. My husband and I had an assembly line going where I would set them in place and he would hammer them in.
Also, I'm wearing my new Jamie Jeans in these pics – to be blogged soon! The fit is much better than my first pair.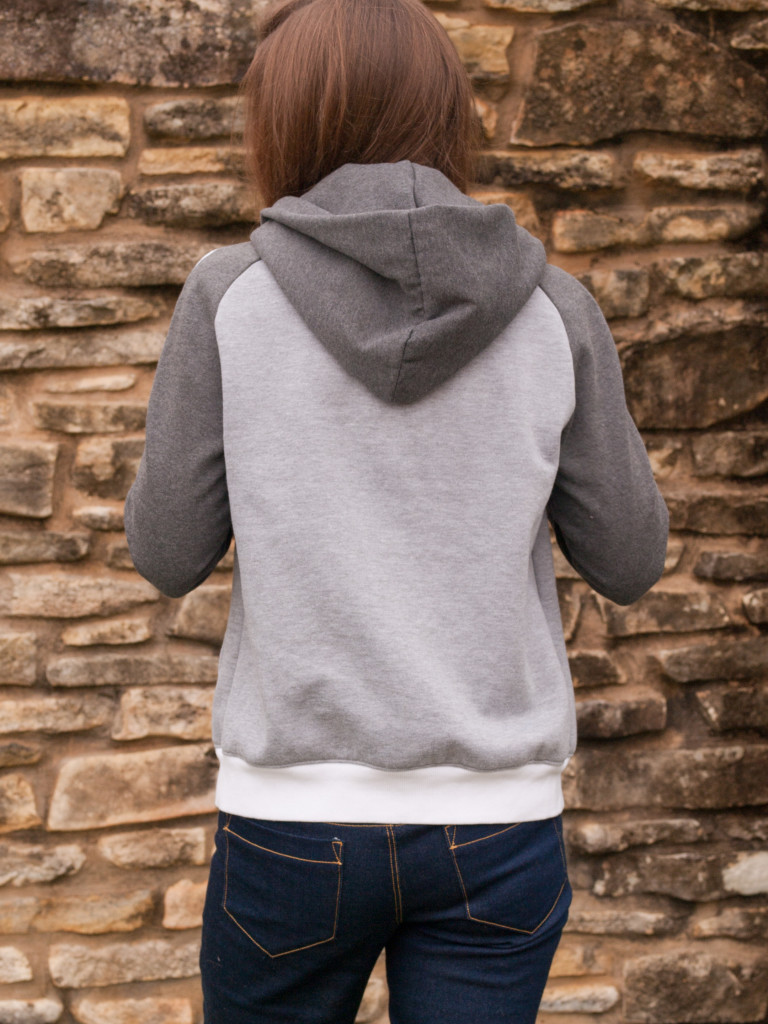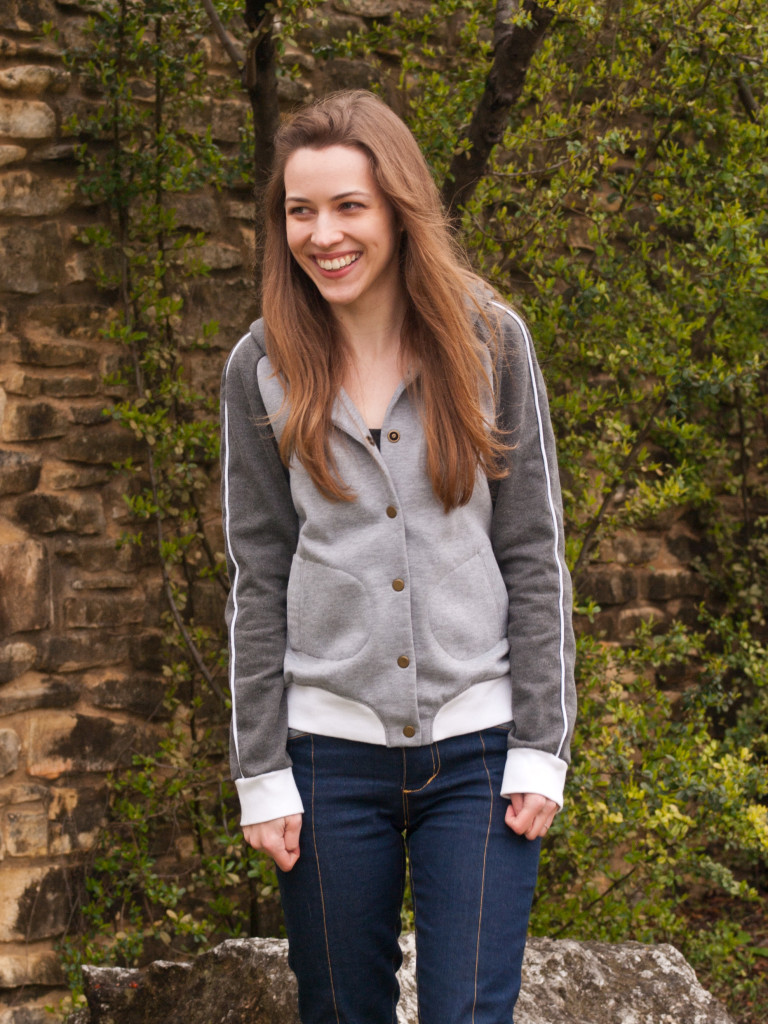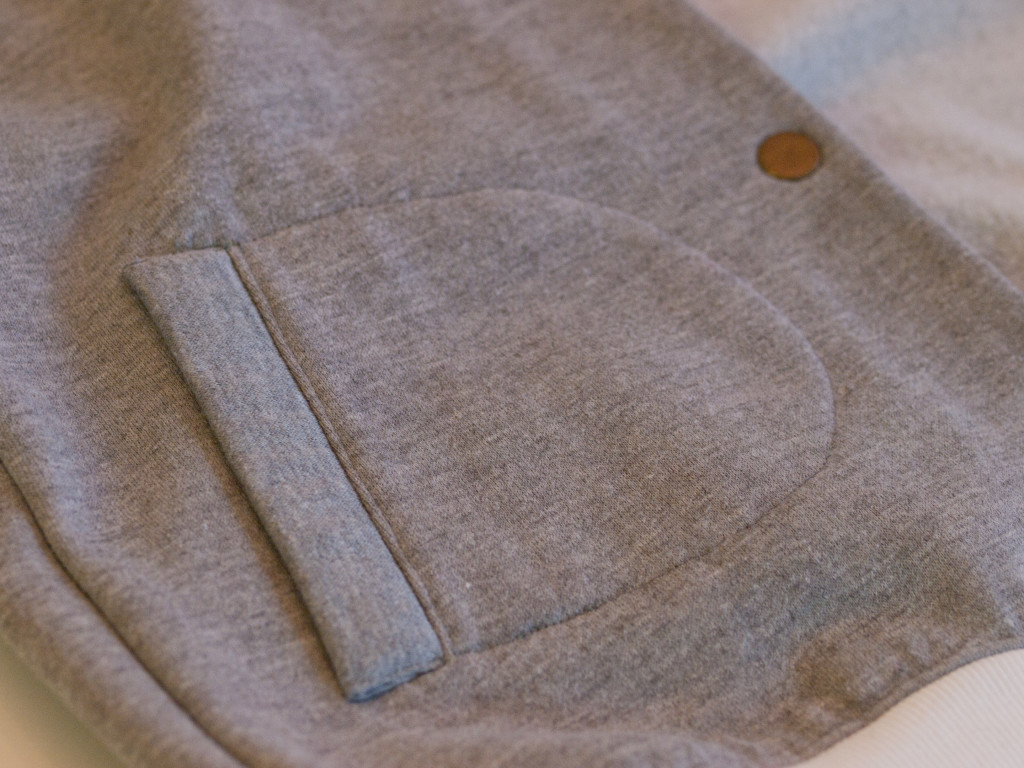 Construction was fairly straight-forward. If you can handle a welt pocket then you should be good to go. The one part I got confused about was how to attach the hood. However, the instructions have been updated to be much more detailed in the final version, so I don't think that should be a problem anymore.
I don't believe there are any major differences between the testing pattern and the final pattern. The pockets originally had a welt facing that was attached to the pocket piece, but it looks like they've been combined into one piece for the final version. That shouldn't really change anything, but it does mean that the insides will look a bit neater since that extra seam won't be visible.
I really like the way the top-stitched welt pockets look, but I have to admit they're not very practical. My hands are on the smaller side, and even they can hardly fit in there. I'm also not a big fan of all the visible guts on the inside, but I don't think there's really a good way around it. You could potentially add a lining, but then you wouldn't get the soft fleeciness against your skin. And the facing does give a nice, clean look from the outside.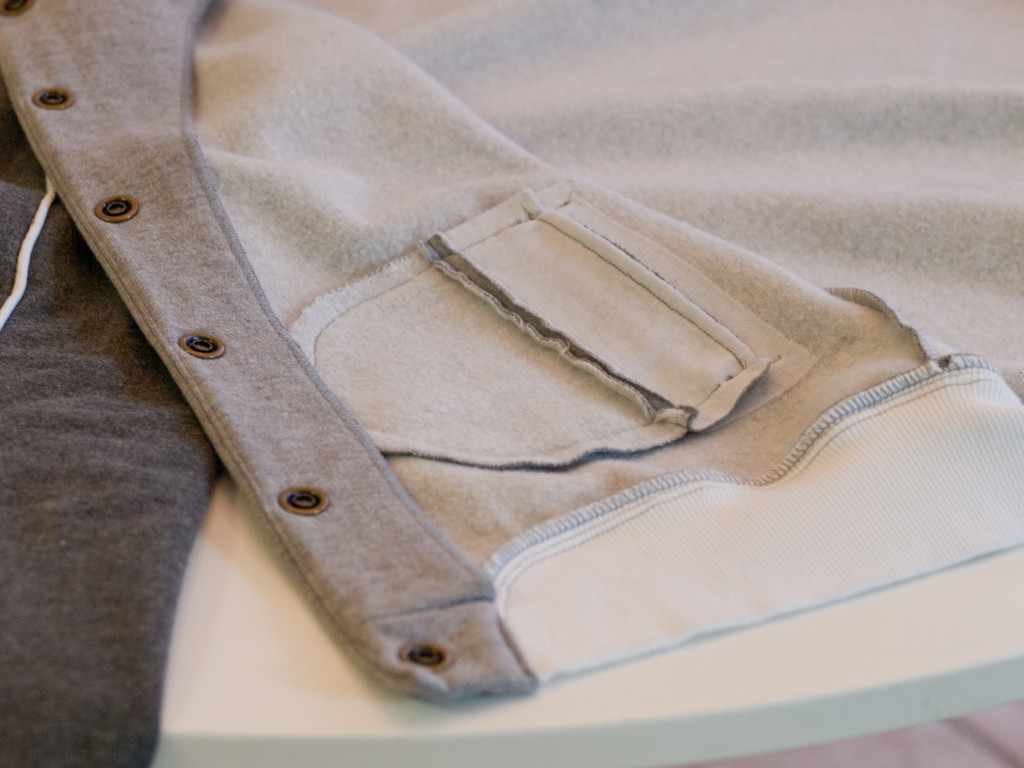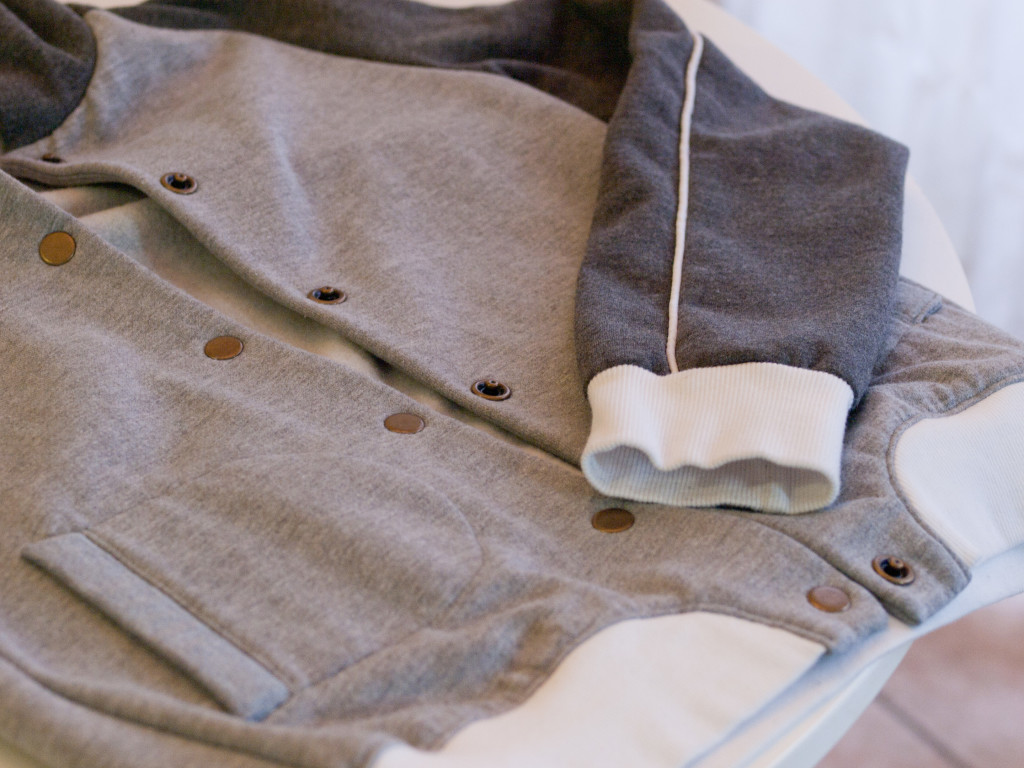 Overall I'm very happy with this pattern, and the Named girls were a pleasure to work with! Augusta is a really clever and interesting hoodie/jacket hybrid, and, as expected, I've already gotten a lot of wear out of it.
Make sure you take a look at the rest of Named's new collection – there are a lot of great patterns to choose from! I really love the Asaka Kimono, especially in the sample fabric they chose. It's definitely on my to-make list for the summer!
What are your favorites from the new collection?
<3 Lindsay